North Korea Calls for Perfecting War Preparedness 
During a meeting presided over by leader Kim Jong Un, North Korea again showed its ceaseless efforts to strengthen its military capabilities.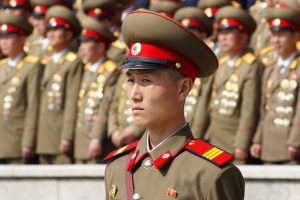 Kim Jong Un, the supreme leader of North Korea, presided over the fourth enlarged meeting of the eighth Central Military Commission of the North's Workers Party of Korea (WPK) on Monday, according to Korean Central News Agency (KCNA). It was his first appearance in the last 36 days in the North's state media reports.
"The enlarged meeting discussed in depth the major military and political tasks for 2023 and the long-term issues concerning the orientation for army building," KCNA said.
Among several tasks, the attendees including Kim discussed ways to expand and intensify North Korea's military capabilities "to cope with the prevailing situation and more strictly perfecting the preparedness for war."
Since South Korean President Yoon Suk-yeol took office in May 2022, the tensions on the Korean Peninsula have intensified through the North's unprecedented series of ballistic missile launches and the reinvigoration of the South Korea-U.S. combined military drills. Yoon has also opened the possibility of developing nuclear weapons or asking the U.S. to redeploy tactical nuclear weapons on the South's soil if North Korean threats grow.
Despite Yoon's walk-back on his nuclear ambition, his repeated remarks on South Korea's nuclear acquisition since he was a presidential candidate demonstrated his administration's approach to tackle the North's nuclear and missile threats.
According to surveys and polls, South Koreans' support for the country to develop its own nuclear weapons has continuously grown due to the growing missile capabilities of North Korea. Regardless of their trust in the South Korea-U.S. military alliance, South Koreans want to have nuclear weapons as an effective means of deterrence.
However, the United States is unlikely to allow South Korea to develop indigenous nuclear weapons or redeploy U.S. nuclear weapons on the South's soil due to the nuclear domino effect. If South Korea develops nuclear weapons, Japan and Taiwan could also seek to be a nuclear states, which would aggravate the instability in the region.
In the 2022 Nuclear Posture Review, Washington made clear that Kim's regime will not survive once it uses nuclear weapons. Also, it has vowed to use all resources, including nuclear assets, to protect its allies under the U.S. extended deterrence. However, these statements have not completely assuaged South Koreans' concerns about whether Washington would take a risk to use nuclear weapons against North Korea when its mainland is targeted by the North's intercontinental ballistic missiles (ICBMs).
In this context, South Korea and the United States have been in discussions on how to materialize the U.S. extended deterrence. Yoon once said that the two sides had been in talks on joint planning and joint execution for U.S. nuclear assets – an explicit attempt for Seoul to get more access to Washington's military arsenal.
While strengthening its military alliance with South Korea, the United States has also reached out to North Korea to renew the deadlocked nuclear talks since U.S. President Joe Biden took office in January 2021. Based on a "calibrated and practical" approach to North Korea, Biden administration officials have repeatedly said that they are ready to talk with their Pyongyang counterparts "anytime, anywhere, with no preconditions."
Since then-President Donald Trump unilaterally walked out of the Hanoi summit in February 2019, however, Pyongyang appears to have no interest in dialogue unless Washington first abrogates the so-called "hostile policy" against it. That was made clear yet again in a statement published by a spokesperson of the North's Foreign Ministry last week.
According to published satellite imagery, North Korea seems to have held rehearsals for a military parade in the Kim Il Sung Square in Pyongyang in recent weeks. It was also reported that Pyongyang imposed a five-day lockdown in Pyongyang in late January while it was rehearsing for a military parade. As February 8 is the 75th founding anniversary of the Korean People's Army (KPA), North Korea may hold a military parade on that day to show off its growing missile capabilities.