Philippines Lodges Formal Protests With China Following Laser Incident
As relations between Manila and Washington rapidly improve, Beijing is upping the intensity in disputed parts of the South China Sea.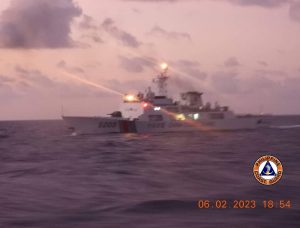 The Philippines has lodged a formal complaint with the Chinese government following an incident last week in which a Chinese coast guard vessel flashed a powerful laser at a Filipino vessel in a disputed part of the South China Sea.
President Ferdinand Marcos Jr. summoned Chinese Ambassador Huang Xilian in Manila yesterday to express his "serious concern" over the "increasing frequency and intensity of actions by China against the Philippine Coast Guard and our Filipino fishermen," his office said in a statement.
The day before, the Philippine Coast Guard (PCG) revealed that a Chinese coastguard ship had directed a "military-grade laser" at one of its vessels on attempting to resupply troops based on Second Thomas Shoal on February 6, temporarily blinding some its crew. The incident represented a "clear violation of Philippine sovereign rights," the PCG stated, as it released video and still photos of the incident.
Separately, the Philippine Department of Foreign Affairs sent a strongly worded diplomatic protest to the Chinese Embassy that "condemned the shadowing, harassment, dangerous maneuvers, directing of military-grade laser, and illegal radio challenges" by the Chinese ship.
Without mentioning the alleged use of a laser, the Chinese government has defended its actions near Second Thomas Shoal as proportionate and in compliance with international law, despite an international tribunal rejecting the "nine-dash line" as illegal in a landmark 2016 ruling. Ambassador Huang reportedly said that he discussed with Marcos how to implement the consensus reached by the two countries on managing maritime differences during the Philippine leader's state visit to China last month. During the visit, Xi Jinping reportedly said that China was ready to manage its maritime issues with the Philippines "cordially," while Marcos said he was aiming to shift the two nations' sometimes tense relations to a "higher gear."
The laser incident is the latest sign that these hopes for a diplomatic reset between Manila and Beijing are listing amid renewed tensions in the South China Sea, where China's expansive "nine-dash line" claim lops off a large part of the Philippines' Exclusive Economic Zone (EEZ), which has seen repeated Chinese incursions in recent years. Indeed, yesterday's protest from the Department of Foreign Affairs followed its filing of nearly 200 diplomatic protests against Chinese incursions into Philippine-claimed waters in 2022 alone.
The growing tensions have prompted, and to some extent been driven by, the Philippines rapidly warming ties to the United States, its longtime security ally. The seven-decade-old alliance went into a state of suspended animation under the administration of President Rodrigo Duterte, who oriented the Philippines more closely toward China, in a bid to gain access to infrastructure financing, downplaying maritime and territorial disputes in the process. But since the final year or so of Duterte's term, Manila has begun to rebalance back toward the U.S., a move that has gathered considerable momentum since Marcos took office in July of last year.
Most notably, the two sides recently agreed to expand the U.S. military's access to Philippine military facilities under the 2014 Enhanced Defense Cooperation Agreement, not long after green lighting the construction of new facilities for U.S. troops in five military bases in the Philippines. As Greg Poling of the Center of Strategic and International Studies noted earlier this month, after a period of uncertainty under Duterte, the U.S.-Philippine alliance has now "entered a new era."
Sure enough, the U.S. government repeated yesterday that it would come would defend its ally if Philippine forces come under attack in the disputed South China Sea. China's "dangerous operational behavior directly threatens regional peace and stability, infringes upon freedom of navigation in the South China Sea as guaranteed under international law and undermines the rules-based international order," U.S. State Department spokesperson Ned Price said.
"The United States stands with our Philippine allies," Price said in a statement.
Back in 2019, Secretary of State Mike Pompeo clarified that an armed attack on Philippine armed forces, public vessels, or aircraft in the South China Sea, would invoke U.S. mutual defense commitments under the 1951 Mutual Defense Treaty. (The Philippines' claimed features in the South China Sea were only formally incorporated in 1978, and whether the treaty applied to them as well was something that U.S. officials had long left purposefully vague.)
All of this has created a tense situation in the western Pacific. The growing concord between Manila and Washington, particularly the opening to U.S. forces of military facilities in Luzon, which sits in close proximity to the Taiwan, is unlikely to prompt China to back down on its claims in the South China Sea. In turn, further Chinese aggression will only further cement the U.S.-Philippine alliance. Taking place against a backdrop of growing U.S.-China tensions, a dangerous new reality is emerging.