A Chinese Businessman on Doing Business Inside North Korea
"North Korea doesn't have a stable political environment for foreigners to do business in, but because wages are so low, doing business there is worth a try," the businessman told Daily NK.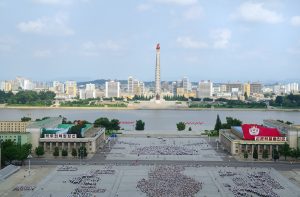 The land route between Hunchun in China and Najin-Sonbong in North Korea was recently reopened after being closed for close to three years due to the COVID-19 pandemic. The reopening has enabled Chinese business owners who built factories in Najin-Sonbong – but could not operate them due to the pandemic – to once again start business.
Earlier this month, Daily NK interviewed a Chinese businessman who built a factory in North Korea to produce finished goods for export to China. The businessman hired cheap North Korean labor and manufactured goods using raw materials imported from China. The man's identity cannot be disclosed due to security concerns.
According to this businessman, Chinese cargo trucks enter North Korea carrying raw materials and then re-enter China filled up various finished products, such as clothing, bags, shoes, and wigs.
The U.N. Security Council completely banned the export of textiles and finished clothing from North Korea through Resolution 2375, which slapped sanctions on Pyongyang following its sixth nuclear test in 2017.
Yet, based on the Chinese businessman's account, textile products produced in North Korea appear to be openly exported to China.
Even packaged goods that had been held up in North Korea due to the pandemic-related border closure are now being exported to China through the overland route. The businessman said Chinese businesspeople are currently focusing on recouping the losses they suffered during the course of North Korea's border closure.
The following is Daily NK's full interview with the Chinese businessman.
U.N. Security Council Resolution 2375 completely banned textile exports from North Korea. Why are you continuing to run a business that imports textile products made in North Korea using raw materials from China?
It's not easy for me to change what I manufacture because I already took equipment for making outerwear, shoes, bags and other items into North Korea and built a factory. I brought 10 million RMB [around $1.4 million] into North Korea to build the factory and started the business by lobbying North Korean cadres. That makes it difficult to suddenly shut down the factory or switch to another product. I think it's natural for any businessperson to recoup the money that has already been invested.
North Korea doesn't have a stable political environment for foreigners to do business in, but because wages are so low, doing business there is worth a try, even if you have to face risks like sanctions. Of course, we had no choice but to suspend business due to the unexpected COVID issue, but even now, it's a lot more profitable to build a factory in North Korea and make items there than to run a factory in China.
Are there many Chinese businesspeople who want to invest in North Korea nowadays?
There are far fewer Chinese interested in investing in North Korea than there were before COVID-19. Chinese traders suffered a lot of losses when North Korea completely sealed its border and unilaterally banned private trade [over the past three years]. People who are aware of [North Korea's actions] are negative about investing directly in North Korea, but businesspeople who have never done business with North Korea or who are unaware of the inside story are still interested in investing there.
Recently, for example, a person who runs a clothing factory in Guangzhou visited me to ask about building a factory in North Korea. I told him people who have already built a factory in North Korea and invested have to keep their business going, but it's very risky to bring new equipment into North Korea and build and operate a factory. You never know what trade-related measures North Korea will enact, and if China restricts business activity with North Korea, there's really nothing you can do. [The business environment in North Korea] is not stable.
Have there been cases where Chinese businesspeople who have invested in North Korea were unilaterally kicked out of the country without being able to recoup their investments? 
Of course. There was a person from Dandong who invested in a North Korean mine. He invested almost 30 million RMB [$4.3 million], and then they found rare earth metals at the mine. Suddenly, because there was money to be made, the North Korean authorities said the land was originally a military facility and that foreigners couldn't do business in the area, so he [had to] leave everything there.
Those kinds of unfair situations sometimes happen, but because establishing a manufacturing plant using North Korean labor is both beneficial to North Korea and profitable to foreign businesspeople, those kinds of businesses tend to be more issue-free than [investment] in specialized industries."
How much do you pay your North Korean workers? And have you set aside costs that you must regularly pay the North Korean authorities?
When I first built the factory, I spent a lot of money, but since then, I have not made regular payments to North Korea. The people who manage the factory really watch my back, so I give them lots of gifts. I regularly give them gifts of 10,000 or 20,000 RMB [around $1,456 to $2,913].
I pay the workers about 700 to 800 RMB [around $101 to $116] a month. People who have run factories in China would know, but that's a really low wage. If you hire a Chinese person to make an item, the head of the company has to pay social insurance, but with North Koreans, you only have to pay the monthly wage, so you can save on payroll. If North Korean authorities would allow foreign businesspeople to do business in a stable way, I think there would be a line of people in China who would want to build factories in North Korea.
This article first appeared in Daily NK, which contacts multiple sources inside and outside North Korea to verify information. The Diplomat was not able to verify the claims independently.