Honduras' China Switch and the Aftershocks
Honduras has officially terminated diplomatic relations with Taipei and embraced Beijing instead. Given China's positioning in Latin America, this is not an isolated event.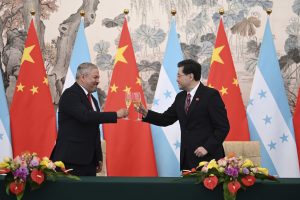 On March 26, the authorities of Honduras announced that the Central American state had cut off diplomatic ties with Taipei and recognized Beijing as the sole government representing China. Shortly after, Chinese official media declared the establishment of diplomatic relations between China and Honduras. 
Honduras is the ninth diplomatic ally Taiwan has lost since Tsai Ing-wen assumed office in 2016. Taiwan now only has 13 diplomatic allies left.
Compared with Nicaragua's sudden shift in 2021, Honduras' decision seemed to be well-planned, as the incumbent President Xiomara Castro put a farewell to Taiwan on the agenda when she was campaigning for presidency. But to everyone's surprise, Castro chose to maintain the status quo at first, and even invited Taiwanese Vice President William Lai to her inauguration in January 2022. Just when the world thought she would not break ties with Taiwan, she suddenly announced on Twitter on March 15 that she had decided to turn to China and would send Honduras' foreign minister to Beijing to discuss the arrangement.
According to Alex Tsai, a former Taiwanese legislator from the opposition party Kuomintang (KMT), when Castro's husband, then-Honduran president Manuel Zelaya, was overthrown by a coup d'état in 2009, Taipei told its embassy in Honduras by telegram that only Castro's daughter could be sheltered, but not Castro herself. Tsai intended to insinuate that the breakup of ties between Taiwan and Honduras was because of the embassy's indifference. 
On the contrary, Lai Chien-chung, former Taiwanese ambassador to Honduras, retorted that his suggestion that Castro take refuge in the U.S. embassy was to spread the risk. Lai said that the Taiwanese embassy actually had in fact provided much help to the first family. (Castro managed to gain asylum from the Brazilian embassy in the end.) 
The reason why Castro did not take refuge in the Taiwanese embassy may never be known – which makes it an easy tool for the bipartisan struggle within Taiwan. But even if Castro really resented this episode, it would be far-fetched to say that she chose to sever diplomatic relations with Taiwan to avenge the past.
Joseph Wu, Taiwan's foreign minister, might have revealed the real motivation. He said that the Castro government sought $2.45 billion from Taiwan to build a hospital and a dam, and asked Taipei to write off debts two weeks before Tegucigalpa's unilateral decision. "It felt like they what wanted is money, not a hospital," said Wu. 
After Castro's Twitter post, the Taiwanese ambassador tried to retain the relationship, but not by offering money. That echoed Taiwan's foreign policy of not engaging in "meaningless dollar diplomacy with China" under the Tsai Ing-wen administration.
There is no doubt that Tsai has made significant progress in semi-official and unofficial diplomacy aiming to expand Taiwan's international space, as in the case of Taiwan's participation in the Biden administration's Summit for Democracy, U.S. House Speaker Nancy Pelosi's visit to Taiwan, and Tsai's upcoming stopover visit to the United States. However, the Democratic Progressive Party (DPP)'s defeat in the 2022 local election and the recent breakoff with Honduras have taken a toll on the administration's reputation. In a poll released by Eastern Broadcasting on March 25, public dissatisfaction with Tsai is already over 50 percent. 
On the other hand, the KMT has been trying to take advantage of its local election victory to convince Taiwanese people that it could improve the crumbling relations with the mainland through the 1992 Consensus, a modus vivendi recognized by both sides across the Taiwan Strait. Former President Ma Ying-jeou's current visit to the mainland is part of this larger effort to woo Taiwanese by painting the KMT as the party better positioned to handle cross-strait affairs – and potentially restore the "diplomatic truce" in place during the Ma era. 
At the moment, prospective KMT candidate Hou Yu-ih is leading over the DPP's William Lai in early polls regarding the 2024 presidential election.
Since 2016, China has poached nine of Taiwan's diplomatic allies as a punishment for the Tsai administration's refusal to fully embrace the 1992 Consensus. Since Taiwan's diplomatic allies are almost all underdeveloped countries, China lures these allies through its Belt and Road Initiative (BRI) and huge domestic market, and sets the establishment of diplomatic ties with Beijing as the prerequisite for offering aid to them. 
But it's important to note that, in Honduras' case, the role of the United States seems dispensable. Washington adopted the Taiwan Allies International Protection and Enhancement (TAIPEI) Act of 2019 in reaction to Taiwan's diminishing diplomatic allies, with the explicit goal of pressuring Taiwan's remaining allies not to switch sides by threatening to the rethink U.S. "economic, security, and diplomatic engagement with nations" that undermine Taiwan's "security or prosperity." 
Yet neither the TAIPEI Act nor the U.S. senior envoy sent to Honduras succeeded in making Castro withdraw her decision. When the situation was irreversible, the United States did not take any action but said it "respects" Honduras' decision to welcome China; it did not threaten to cancel humanitarian aid to Honduras as imagined.
Paraguay, the biggest state among Taiwan's diplomatic allies, may be the next domino to fall. With a presidential election just around the corner, current President Mario Abdo Benítez openly called on Taiwan to invest $1 billion in his country last year to maintain the relationship. The opposition party candidate, Efrain Alegre, openly vowed to accept Beijing's offer to establish ties if he is elected as president.
It is noteworthy that the Brazilian president who agreed to shelter Castro back in 2009 is also the incumbent president, Lula. Although Lula has postponed his visit to China due to pneumonia, it is believed that one of the goals of the trip is for the two sides to negotiate a free trade agreement between China and Mercosur, the common market composed of four states in South America: Brazil, Argentina, Uruguay, and Paraguay. As Paraguay has yet to establish formal ties with Beijing, the other three members are highly likely to persuade Paraguay to abandon Taiwan, citing Honduras' example, in order to pave the way for a China-Mercosur deal.
It remains to be seen if Paraguay would switch direction after the presidential election on April 30. But as long as cross-strait relations remain rocky, Honduras will not be the last country to say goodbye to Taiwan. Taiwan, along with its remaining 13 diplomatic allies, is already caught into the greater power rivalry between China and the United States.