Hun Sen Announces Free Tickets for Southeast Asian Games
The Cambodian leader has also said that broadcast rights will also be free, ending a standoff with Thailand.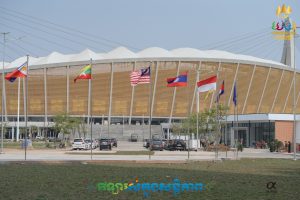 Cambodian Prime Minister Hun Sen has announced all tickets for the May 5 to 17 Southeast Asian Games will be free – for both Cambodians and foreigners – and that international broadcasters will not be charged for live television rights to cover the 608 events in 37 sports on offer.
"We have spent hundreds of millions of U.S. dollars, including grants from our Chinese friend, and many years to organize this event," Hun Sen said. "Therefore I will not definitely allow any ticket sales for the opening and closing ceremonies as well as during the competitions."
The decision also applies to the 12th ASEAN Para Games, to be held from June 3 to 9.
Hun Sen, well known for his authoritarian style of leadership, also warned that "any groups or any officials who act differently will be responsible to the Prime Minister and the law."
This will be the first time that Cambodia hosts the SEA Games, which are held every two years. It was slated to hold the 3rd Southeast Asian Peninsula Games – as the event was then known – in 1963 but those games were cancelled due to the political climate.
Three decades of war and another two decades spent in post-war recovery meant Cambodia simply was not in a position to stage the games. As such the government is keen to promote the 32nd edition as a showcase for the rapid development experienced here in recent years.
Cambodia's SEA Games logo is "Sport: Live in Peace."
Hun Sen said people who had already purchased tickets will receive a full refund and that broadcasting fees will be waived following complaints that they were excessively high and were counter to tradition, where the host nation charged only a token fee.
Vietnam charged $10,000 for live broadcasting rights when hosting the 31st SEA Games in 2021 but Thailand was reportedly asked to pay a record $800,000 for this year's live broadcasts.
"Samdech (Hun Sen) ordered not to charge a fee from foreign TV for broadcasting the 32nd SEA Games in Cambodia," Cambodian Information Minister Khieu Kanharith said in a dispatch from the government mouthpiece FreshNews.
Singapore, Indonesia, Vietnam, and Malaysia had already negotiated a deal to cover live broadcasts of the events to be contested by 11 countries, including all 10 members of the Association of Southeast Asian Nations (ASEAN) and Timor-Leste, which is expected to join the bloc later this year.
A $150 million stadium with 60,000-capacity has been built with a grant from China under its Belt and Road Initiative and the games were expected to provide a much needed boost to the local economy, especially tourism, which is struggling to recover from the COVID-19 pandemic.
An aquatic center with an Olympic size swimming pool and a capacity for 3,000 people, a multi-sports gymnasium with a 5,500 capacity, and dormitories for about 7,000 athletes and officials have been built. Another 7,000 people have volunteered their help.
The biggest controversy to date was the host's decision to officially introduce the Cambodian term "Kun Khmer" instead of the popular Thai term "Muaythai" for boxing, which has resulted in threats of sanctions by the International Federation of Muaythai Associations.
"The SEA Games, held for the first time in Cambodia after 64 years of waiting, is a historical event and a source of national pride," FreshNews added. "The Royal Government of Cambodia considers the organization of this event as a diplomatic policy to enhance Cambodia's reputation."
The SEA Games will also be held just two months before the July 23 national elections, which only Hun Sen's long-ruling Cambodian People's Party (CPP) can win, given the opposition Cambodian National Rescue Party (CNRP) was dissolved by the courts in 2017.
CNRP leaders have since been rounded-up and convicted of crimes ranging from defamation and incitement to plotting to overthrow Hun Sen and the CPP through a color revolution. Many have been sentenced to lengthy jail terms.