IMF to Assess Sri Lankan Governance as Part of $3 Billion Bailout
The country has the dubious distinction of being the first Asian country to face scrutiny for corruption as part of a bailout program.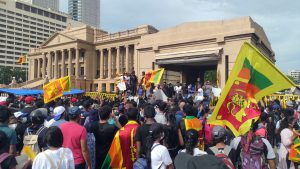 The International Monetary Fund said Tuesday it is assessing Sri Lanka's governance in the first case of an Asian country facing scrutiny for corruption as part of a bailout program.
The IMF executive board approved a nearly $3 billion bailout plan for the bankrupt nation Monday and about $333 million was to be disbursed immediately to alleviate the country's humanitarian crisis. The approval also will open up financial support from other institutions.
Sri Lanka suspended repayment of its debt last year as it ran short of foreign currency needed to pay for imports of fuel and other essentials. Shortages led to street protests that forced out Sri Lanka's president. The economic situation has improved under current President Ranil Wickremesinghe, but his plans to privatize state companies have raised objections.
The senior mission chief for the IMF in Sri Lanka said the development lender would assess corruption and governance vulnerabilities in Sri Lanka and provide recommendations.
"Sri Lanka will be the first country in Asia to undergo a governance diagnostic exercise by the IMF. We look forward to further engagement and collaboration with stakeholders and civil society organizations on this critical reform area," Peter Breuer told reporters.
Sri Lankans took to the streets last year demanding accountability for alleged corruption and demanding recovery of assets allegedly stolen by members of a former ruling family. Graft has been a main factor behind the country's economic meltdown, critics of the government say.
Sri Lanka's "institutions and governance frameworks require deep reforms," IMF Managing Director Kristalina Georgieva said in a statement.
The IMF's approval means Sri Lanka will no longer be considered a bankrupt nation and the country can resume its normal dealings, Wickremesinghe said in a brief recorded statement on Tuesday. It also will unlock financing of up to $7 billion from the IMF and other international financial institutions.
"As our foreign currency improves, we will gradually lift import restrictions. In the first cycle we will bring in essential goods, medicines and goods needed for the tourism industry," Wickremesinghe said, adding that he expects to present the agreement with the IMF to Parliament after making a detailed statement Wednesday.
Earlier this month, the last hurdle for the approval was cleared when China joined Sri Lanka's other creditors in providing assurances for debt restructuring.
Sri Lanka has raised income taxes and removed electricity and fuel subsidies, fulfilling prerequisites of the IMF program but also burdening the public. Authorities must now discuss with Sri Lanka's creditors how to restructure its debt.
The IMF mission chief, Breuer, said the "impact of the reforms on the poor and vulnerable needs to be mitigated."
"Tax reforms under the program are designed to be progressive, that is, ensuring greater contributions from high-income earners. Efforts to increase tax revenues should be pursued in a growth-friendly manner while protecting the poor and most vulnerable," he said.
Sri Lanka's foreign reserves ran short as tourism and export revenues dried up during the COVID-19 pandemic and it faced heavy debt payments for megaprojects funded by Chinese and other international lenders that did not generate enough income. It also used its currency reserves to try to stabilize the Sri Lankan rupee.
A Chinese Foreign Ministry spokesman said Beijing saw the agreement with the IMF as "good news." "We are willing to continue to work with relevant countries and international financial institutions to play a positive role in helping Sri Lanka cope with the current difficulties, ease the debt burden and achieve sustainable development," said the spokesman, Wang Wenbin. But he also urged other creditors to join in restructuring Sri Lanka's debt and sharing responsibility fairly.
China owns about 20 percent of Sri Lanka' s total foreign debt.
Since Wickremesinghe took over from ousted ex-President Gotobaya Rajapaksa, shortages have eased and hours-long daily power cuts have ended. The central bank says its reserves have improved and the black market no longer controls the foreign currency trade.
However, trade unions oppose Wickremesinghe's plans to privatize state companies as part of his reform agenda and public resentment may flare if he fails to take action against the Rajapaksa family, who people believe were responsible for the economic crisis.
Wickremesinghe's critics accuse him of shielding the Rajapaksas, who still control a majority of lawmakers in Parliament, in return for their support for his presidency.