Nepal Elects New President Amid Political Uncertainty
The president is largely a figurehead with little political power, but there has been considerable political turmoil around the selection.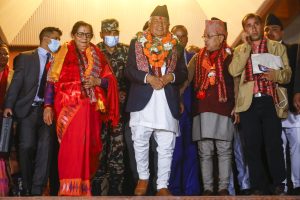 Lawmakers in Nepal elected a new president on Thursday, as the Himalayan nation faces increasing political instability with a fragile coalition government that has been in power for only a few months.
Ram Chandra Poudel, a former parliament speaker and senior leader of the opposition Nepali Congress party, was declared winner after five hours of voting, beating his lone opponent, Subash Chandra Nembang.
The president is largely a figurehead with little political power. But the election triggered a feud among partners in the governing alliance headed by Prime Minister Pushpa Kamal Dahal, who took office in December.
Dahal backed Poudel, angering his main coalition partner, the Communist Party of Nepal-Unified Marxist Leninist, which backed Nembang, its own candidate. The party has since pulled out of the coalition, threatening Dahal's control.
Dahal has now lost the support of three key political parties that were part of his initial coalition government.
A total of 884 members of the federal parliament and provincial assemblies gathered in the capital, Kathmandu, to vote for the new president. It is only the third time a new president has been elected since the country abolished its centuries-old monarchy in 2008 and became a republic.
There was no clear explanation of why Dahal decided to back the opposition candidate and endanger his alliance, but struggles for power among the main political parties are common. The country has had eight different governments in the past 10 years.
A national election last November left a hung parliament, leading to a fragile coalition government led by Dahal taking power.
Dahal also faces a vote of confidence in parliament later this month which could create further instability.
"The phase of political instability in Nepal has not ended despite the fact we had a successful national election and have a new coalition government in place," said Dhruba Adhikary, an independent analyst in Kathmandu.
Dahal may seek to remain in power but form a new coalition with the Nepali Congress. Many observers expected that outcome after the elections last year, as the two had contested the polls in a coalition. Instead, Dahal bucked expectation by joining hands with the CPN-UML to  form government.
Dahal's tenure had a rocky start even before he could address key issues facing the country of 30 million.
Nepal is still struggling to recover from economic troubles brought by the coronavirus pandemic, which caused a sharp drop in the number of foreign tourists coming to climb the country's mountains and hike its trails. Reviving tourism is needed to bolster the economy.
Dahal also must balance relations between the country's two giant neighbors, India and China. Both compete for influence in the tiny Himalayan nation.
Landlocked Nepal is surrounded on three sides by India with open borders allowing traffic into each other's territories without passports or visas. Nepal imports most of its food, supplies and oil from India.
But India may be losing influence to China, which has invested in infrastructure development in Nepal and provided it with millions of doses of COVID-19 vaccines during the pandemic.
New Nepal prime ministers typically begin their tenure with a visit to one of the two countries, but Dahal has not yet announced any such plans.