RFE/RL Is the Canary in the Coal Mine for Kyrgyzstan
Recent actions by the Kyrgyz government are placing the country's vibrant media – and, by extension, its democracy – at risk.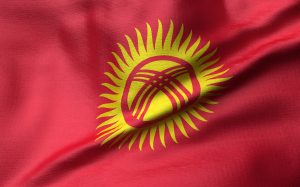 For decades, amid a sea of authoritarian neighbors, the Central Asian nation of Kyrgyzstan, sandwiched between Kazakhstan and China, charted a different path. As other governments in the region expelled journalists and shut down independent media outlets, in Kyrgyzstan they flourished.
Recent actions by the Kyrgyz government are now placing that legacy at risk. Several months ago, Kyrgyz anti-corruption journalist Bolot Temirov was forcibly deported to Russia and stripped of his Kyrgyz citizenship following murky government accusations. Temirov rejected the charges, which were brought after he published an investigation into corruption amongst top Kyrgyz officials.
Now, Kyrgyz authorities are threatening to shut down Radio Azattyk, the local branch of Radio Free Europe/Radio Liberty (RFE/RL), the U.S. congressionally funded news organization that I lead, over a refusal to take down coverage the government does not like.
For decades, Radio Azattyk has supported Kyrgyzstan's complex democratic transition in unique ways. Our coverage often focuses unflinchingly on corruption and abuse of authority. We've highlighted the threats of malign foreign interference in Kyrgyz society by authoritarian actors like Russia and China. Through cooperative reporting projects and by just being present in Kyrgyz society, our journalists have helped create space for smaller independent media outlets to also inform Kyrgyz society.
Perhaps that's why our reporting has made the current presidential administration so nervous. Kyrgyz leaders have consistently cited the important role played by Azattyk, publicly affirming that "traditionally, Radio Azattyk occupies a special place in the information space of Kyrgyzstan and … has remained as a reliable source of news."
Yet that tune changed suddenly last fall. Since October, the Kyrgyz government blocked access to our websites, froze our bank account, and now is threatening to shut down our ability to operate in the country completely. The Kyrgyz government began similar actions against another local outlet, Kloop, which has partnered in our investigative reporting in the past.
In response, bipartisan leaders of the Senate Foreign Relations Committee, Senators Bob Menendez (D-NJ) and Jim Risch (R-ID), wrote to the Kyrgyz authorities to condemn not only the attacks on us but the nation's crackdown on independent media writ large. They called upon the Kyrgyz government "to cease unlawful attacks on free and independent media" and noted that the "commitment to uphold the freedom of the press is a critical pillar in the U.S.-Kyrgyz Republic's relationship and necessary to advancing our nations' shared interests."
The senators understand that the Kyrgyz government will pay close attention to what U.S. officials do next.
But we need others to pay attention too, because this is about far more than one media organization's operations in one country – and it's about far more than just that country.
Russia may be on the defensive in Ukraine, but Vladimir Putin's preferred means of control, which has so effectively numbed the Russian public to the consequences of his devastating war, remains on the rise in many countries across Eurasia. The Kyrgyz government is drawing from the Kremlin's playbook: shuttering independent media and removing opposition to enact its anti-democratic agenda. Actions like these are the very things that media services like ours cover every day – coverage that is vital to the health of any democracy.
If yet another government is allowed to silence independent media without it affecting diplomatic relations with the United States and EU member states, other aspiring authoritarians across Central Asia will be emboldened. The message will be clear: If it can happen in Kyrgyzstan, where media and civil society have long flourished, it can happen anywhere.
For our part, I've made clear to the Kyrgyz government that our 70 years of reporting has shown again that when people want truthful information, they will find ways to access independent reporting, often in greater numbers than before. We've shown in country after country that government officials can block our websites, shutter our offices, even kick us out entirely, and that we will still serve our audiences.
But this doesn't mean that we should be complacent. The eyes of leaders in Kyrgyzstan, the region, and around the world will be watching what happens next. Let's be sure the message they receive is the right one.