Why China Wants to Knock India off Its Russia-US High-Wire Act
Russia and China are moving toward an alliance. Does India have the means to beat China at its own game with a counter-encirclement?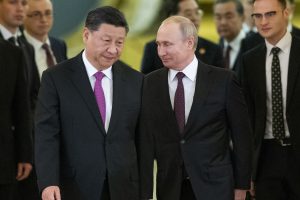 With Indian Prime Minister Narendra Modi walking a fine line between not alienating longtime ally Russia and keeping the United States on its right side, could China's ongoing encirclement of India see Chinese President Xi Jinping nudging Russia to re-examine India-Russia ties on his Moscow foray that began Monday?
Most Russia experts believe that's unlikely.
Russia, a reliable defense and energy supplier has stood India in good stead through the years, calling, in fact, for better Sino-Indian ties. India, in return, has thwarted attempts by members of the G-20 grouping that it now chairs to censure Russia on its invasion of Ukraine.
But there's little denying that an unarticulated Modi-fication of India's Nehruvian non-alignment is underway. There's an unspoken acquiescence to the United States' embedding of New Delhi as the fourth prong alongside Australia and Japan in the U.S.-led Quad alliance as the South Asian counterweight to Beijing.
Australian Premier Anthony Albanese's recent visit to India, which was to keep India tethered to the Quad and thwart the challenge posed by China's increased grey zone warfare in the South China Sea, was reinforced when he and his AUKUS partners sealed a deal for an undersea nuclear fleet in the Indo-Pacific. The 24-hour stop in Delhi by Japan's Prime Minister Kishida Fumio on Monday is part of the same prod for greater Indian support to counterweigh China's blocking of a "Free and Open India-Pacific."
China's growing distrust of India, meanwhile, must be seen against the backdrop of Xi casting himself as a global statesman.
The first indication of Xi pursuing a new avatar was China's dramatic intervention in West Asia, ending seven years of estrangement between Tehran and Riyadh. The Iran-Saudi rapprochement brokered by China could end the proxy war in Yemen, Syria, and Lebanon, and give Beijing uninterrupted access to Saudi and Iran's oil and gas reserves as Washington's influence wanes in the region.
Xi is now poised to pull off what could be the next geopolitical coup – a possible peace deal between Russia and Ukraine. This is a role that India had been expected to play given its close ties to Russia.
India is in Beijing's crosshairs, but as former Research & Analysis Wing official and noted intelligence commentator Vappala Balachandran points out in his new book "Intelligence over Centuries" (Mumbai: Indus Souce Books, 2022), India is unprepared. The June 2020 clash between Indian and Chinese soldiers that resulted in the death of 20 Indian soldiers was a gross intelligence failure, he writes.
China's militarization and infrastructure development on the Line of Actual Control (LAC), which led to the 2019 standoff at the Doklam tri-junction and skirmishes along the border at Arunachal Pradesh and Ladakh, is part of its larger plan to ring-fence India, the only rival to China's dominance of South Asia. Beijing's forging of strong relationships with Nepal and Myanmar, and attempts to break India's hold over Bhutan, Bangladesh, Sri Lanka, and Maldives while setting up a naval outpost in Djibouti at the far edge of the Indian Ocean, is part of that game plan, as is converting India's pragmatic ally Russia into a vassal state, rapidly more beholden to China to ensure Moscow will not act when Beijing takes Taiwan and punishes India.
China, the unreliable border power, has repeatedly indicated that it will show its anger at a time and place of its choosing, Balachandran notes. Yet, India mistakenly believed there would be no reaction on the ground when the government revoked the special status of Jammu and Kashmir (J&K) on August 5, 2019, and released new maps showing the newly formed union territories of J&K and Ladakh. This map showed Chinese controlled Aksai Chin as part of Ladakh.
China watchers had failed to factor in China's tendency to deliberately "exacerbat[e] border tensions when bilateral relations worsen," as articulated in a top-secret assessment by the CIA in 1970 on the Chinese reaction to the then-mighty Soviet Union.
India was unaware that the top levels of Chinese leadership objected to the map until June 12, 2020, when a national daily released a report by the China Institute of Contemporary International Relations (CICIR) linking the LAC  tensions to the new map, which it said "posed a challenge to the sovereignty of Pakistan and China."
The report, made public by the Chinese Embassy in Islamabad, said the new map "forced China into the Kashmir dispute, stimulated China and Pakistan to take counter actions on the Kashmir issue and dramatically increased the difficulty in resolving the border issue between China and India."
The CICIR report further revealed that when India's Minister for External Affairs S. Jaishankar visited Beijing in August 2019, China's Foreign Minister Wang Yi expressed his "strong opposition" to Home Minister Amit Shah's statement in the Indian Parliament a week earlier about taking back Pakistan Occupied Kashmir and Aksai Chin.
The final nail? The comment in the CICR report, as Balachandran noted, which went on to underline China's concerns over India being positioned by the U.S. to challenge Beijing, when it spells out that "India's double confidence behind the change of maps, stems from its 2019 election victory, and from United States and Western countries puffing India up from an ideological point of view to hedge against China."
India's communication to the Chinese that the China-Pakistan Economic Corridor (CPEC) was illegal as it passed through J&K was the other red flag, ignoring as it did the unfounded but sensational allegation that appeared in Open Democracy, a U.K.- based political website, that "India and America collude to disrupt CPEC," that the "US was out to unsettle Pakistan's Balochistan, the heart of CPEC, with India's help," blaming India-backed elements for the murder of Chinese engineers in Balochistan and the November 2018 attack by the Baloch Liberation Army on the Chinese consulate in Karachi.
India has denied the charges.
The U.S. intelligence community has only stoked tensions further. Its 2023 annual threat assessment sees a heightened risk of armed confrontation between India and China, predicts an end to India's pacifism and Modi responding with "military force to perceived or real Pakistani provocations," and a potential China-India armed confrontation seeing a U.S. intervention. U.S. strategists believe that India's stance on a rising China will have an impact on whether it will be Washington or Beijing that dominates the world.
"Violent unrest in Kashmir or a militant attack in India" will be potential flashpoints, the threat assessment added.
Unsurprising as Pakistan, a China proxy, has kept India's western front boiling, stoking the Kashmir insurgency, and some say, the new threat posed by Khalistan separatists in the Indian state of Punjab.
Pakistan's ability to leverage its geography to its advantage has always been its strong point, particularly the master stroke when it facilitated U.S. Secretary of State Henry Kissinger's secret trip to Beijing in July 1971, bringing China in from the cold to form the U.S.-Pakistan-China triad.
As Xi seeks to trip Modi's high-wire act to diminish New Delhi's say-so in Moscow, a re-invention of the Soviet-era China alliance is clearly in the making.
The question is: Does India have the means and the wherewithal to beat China at its own game with a counter-encirclement?