Is Beijing 'Internationalizing' Cross-Strait Trade?
China is following WTO procedures to investigate Taiwan's trade practices. That is unprecedented.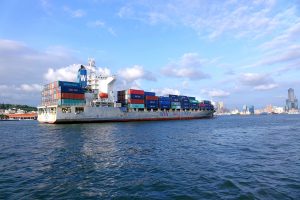 On April 12, China's Ministry of Commerce (MOC) announced that it had opened an investigation into tariffs and other unilateral restrictions on 2,455 Chinese items banned by Taiwan, including agricultural products, textiles, minerals, and petrochemicals. In doing so, Beijing is following the procedures of the World Trade Organization (WTO) to deal with a bilateral trade dispute.  
As far as cross-strait trade is concerned, this is both unusual and unprecedented. China has always opposed the so-called internationalization of the Taiwan issue, which Beijing firmly believes is an internal Chinese affair brooking no international interference.
Since the 1980s, Beijing has used cross-strait trade to expand and deepen exchanges between Taiwan and the Chinese mainland. Cross-strait trade has disproportionately been in Taiwan's favor. Mainland China is Taiwan's largest trade partner and export market, and its largest sources of trade surplus. In 2022, Taiwan's trade surplus with mainland China and Hong Kong amounted to $100.4 billion.  
Despite the Democratic Progressive Party (DPP) government's effort to reduce reliance on China and promote the New Southbound Policy (NSP) as a way to boost trade and integration with countries in Southeast Asia, South Asia and the Pacific, trade with China has continued to grow. Taiwan's exports to mainland China grew by 71 percent between 2016 and 2021.  In 2021, mainland China and Hong Kong accounted for 42 percent of Taiwan's exports, compared with the United States' share of 15 percent.
When Ma Ying-jeou of the Kuomintang (KMT) was in power from 2008 to 2016, cross-strait relations were friendly and the two sides signed 23 agreements, including the Economic Cooperation Framework Agreement (ECFA) reached in 2010 to cut tariffs and facilitate trade.  The DPP, as the biggest opposition party then, organized street protests against the ECFA and accused Ma of creating a "one China market."  
In 2014, the KMT planned to pass the Cross-Strait Service Trade Agreement (CSSTA) without a clause-by-clause review in the legislature.  This led to the Sunflower Student Movement, with hundreds of protesters occupying the Legislative Yuan, Taiwan's parliament, for weeks. As a result, the KMT suffered devastating electoral defeats. The DPP won the presidency and the legislative majority in a landslide in January 2016.
Although it opposed the ECFA while in opposition, the DPP did not do anything to scrap the agreement after returning to power in 2016. Obviously, the ECFA has benefited Taiwan enormously, and the DPP is unwilling to kill a goose that lays golden eggs.  
The DPP government, which typically criticizes China in high decibels, has been muted in its response so far to Beijing's trade investigation. The government fears that Beijing may terminate the ECFA as a result of the investigation. 
Chiu Tai-san, minister of Taiwan's Mainland Affairs Council, claimed that termination of the ECFA would hurt both sides economically and harm cross-strait relations. The truth is if the ECFA is terminated, it will be a huge blow to Taiwan's economy but have little impact on mainland China, as trade with Taiwan only accounted for 2.3 percent of China's total trade in 2022. 
Under the ECFA, Beijing treats Taiwan as a special trade partner and gives Taiwan preferential treatment unmatched by anybody else. Through the ECFA, Taiwan's agricultural products – such as bananas, pineapples, coconuts, and pomegranates – were able to enter the Chinese market essentially tariff-free. However, the same cannot be said about Chinese products to Taiwan, which face unilateral restrictions set by Taipei. 
When cross-strait relations were friendly, Beijing was willing to turn a blind eye to the trade imbalance and Taiwan's discriminative policies. However, cross-strait relations have deteriorated to a post-Cold War low under the DPP's leadership. The foundation of cross-strait cooperation has evaporated as the DPP government refuses to accept "one China." The DPP government has ditched the one China-based "1992 Consensus," as DPP officials consider Taiwan and mainland China two separate countries. 
Since the DPP government has worked to internationalize cross-strait relations, Beijing is now fighting back and countering the DPP government with WTO rules. 
The trade probe is scheduled to last six months and conclude on October 12, but can be extended by three months to January 12, 2024 if necessary. The timing is calculated; Taiwan's next presidential election falls on January 13, 2024.  Beijing can decide what next steps to take depending on the election results.
It is unlikely that either Taipei or Beijing will unilaterally terminate the ECFA, and Beijing will not actually internationalize the trade dispute with Taiwan. However, Beijing's message is clear and significant: The DPP government caused the tensions in cross-strait relations, therefore Taiwan under the DPP's rule cannot continue to reap the "peace dividend."