Southeast Asian Tech Giants Continued Losing Money in 2022
After a single-minded focus on growth and expansion, the region's leading tech firms face a rocky transition to sustained profitability.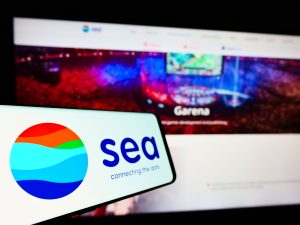 2022 earnings are in for most of Southeast Asia's big tech companies, and the picture they paint is an interesting one. Let's start with Indonesia's GoTo (the result of a merger between ride-hailing app Go-Jek and e-commerce platform Tokopedia) which in 2021 reported a pre-tax loss of 22 trillion Indonesian rupiah ($1.5 billion). In 2022, losses increased to IDR 40.5 trillion ($2.7 billion) despite net revenue growing by 150 percent. This means even as GoTo increased revenue across its delivery, ride-hailing, e-commerce, and digital finance segments it still lost more money than it brought in.
One thing that stands out is how much the company spends on marketing (IDR 14 trillion or $939 million in 2022, roughly equal to net revenue). Another is that GoTo ended 2022 with large cash reserves (IDR 29 trillion or $1.9 billion) that exceed its liabilities. And while disappointing results led to a management shakeup in the beginning of 2023 the truth is GoTo has always been sold as a forward-looking company. It's not about how profitable GoTo is today, but its future in Indonesia's growing digital economy.
This means the company is a commercial entity that needs to appease investors by, for instance, reducing payroll expenses. But it also plays a key role in the economy by lowering transaction costs and increasing market activity. According to GoTo, the total value of financial, e-commerce and other service transactions conducted through the platform in 2022 was IDR 613 trillion ($40.9 billion), a 33 percent increase from 2021.
Would these buyers and sellers have found each other without GoTo? Some of them, but not all, and the additional commercial activity directly generated by the platform is what makes it valuable to the Indonesian economy, and to the country's political class. As long as the volume of these transactions keeps increasing, GoTo will be creating value for the economy that goes beyond profit and loss statements or share price. How long investors and management are willing or able to keep eating billion-dollar losses for the greater good of the economy remains an open question.
Growth at all costs was, until recently, a strategy being pursued by one of GoTo's regional competitors Sea Ltd., which is listed on the New York Stock Exchange but based in Singapore. Sea is the parent company of e-commerce giant Shopee, runs online gaming company Garena and has recently branched out into digital financial services. Historically, its profitable gaming unit offset losses in other areas, like e-commerce and now digital banking. This was the case in 2022, with the gaming division booking $1.97 billion in operating income while e-commerce and digital banking combined for $2.3 billion in losses. Net losses for 2022 amounted to $1.5 billion.
During the COVID-19 pandemic, Sea's digital entertainment unit onboarded a lot of new users. As lockdowns ended, active users fell from 654 million in fourth quarter 2021 to 486 million a year later. Gross orders and value of transactions on Shopee are also showing signs of slowing. Sea can no longer pursue growth at all costs, because it is not growing as fast as it once was, making it harder to justify the costs.
As a result, the company has now turned to improving efficiency. Like other tech companies around the world, Sea laid off staff and cut costs. Sales and marketing expenses fell from $1.2 billion in fourth quarter 2021 to $474 million in fourth quarter 2022. By the end of 2022 e-commerce, gaming and finance were all posting net positive income, so the pivot toward cutting costs and focusing on making money from existing customers may be working.
Then there is Bukalapak, another e-commerce site that was one of Indonesia's first tech unicorns to go public. The IPO in 2021 raised almost IDR 22 trillion ($1.5 billion), but Bukalapak doesn't seem to have spent much of it as they ended 2022 still holding IDR 20.5 trillion ($1.4 billion) in cash and long-term investments. The company recorded about IDR 4.5 trillion ($300 million) in investment gains and finance income in 2022. This translated into a pre-tax profit of IDR 2.3 trillion ($154 million), even as its core business of operating an online marketplace lost money.
A few weeks ago, I posed the question: What kind of companies do Southeast Asian tech giants want to be? Looking back at last year, we have gotten a variety of answers that don't add a whole lot of clarity. GoTo continues to play a key function in Indonesia's growing digital economy, while management promises shareholders this can be reconciled with positive earnings in the near future. Sea appears to be pivoting away from growth at all costs toward efficiency and profits, while Bukalapak sits on cash and made more money from its investment portfolio than its online marketplace.