China's Crackdown on Foreign Firms Is a Symptom of a Much Deeper Problem
Investigations in the business sector are just the tip of the iceberg. Politicized prosecutions are a growing blight on Chinese society.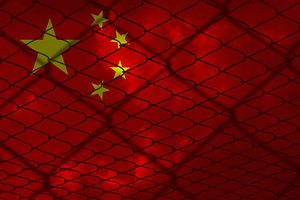 In recent weeks, China's security and propaganda apparatus has turned its sights on foreign consulting and auditing companies, conducting coordinated raids, detaining employees, broadening an espionage law, and airing slickly produced "special reports" about its crackdown on state television.
The campaign has sent waves of alarm across the international business community, but recent prison sentences against high- and low-profile civic activists serve as a reminder that the private-sector cases are just one piece of a much larger pattern of politicized prosecutions in China.
China is home to arguably the largest population of political and religious prisoners in the world. Following substantial increases since the regime launched a campaign of mass detentions in Xinjiang in 2017, the total appears to have risen more recently since March, with courts handing down sentences in long-awaited trials and perhaps playing catch-up in the wake of restrictions associated with COVID-19.
A review of over two dozen cases that have gained public visibility in the past three months provides some sense of the scale of the problem, the sorts of behavior that are being punished, and the profound flaws in the legal system that enable such prosecutions.
A Nationwide Hunt for Offenses Small and Large
It is clear from the latest batch of cases that political and religious imprisonment in China is a nationwide phenomenon. The people detained or prosecuted since March for peacefully exercising their right to free expression do not come just from major cities like Beijing or Shanghai, or regions with large ethnic minority populations like Xinjiang or Sichuan. Recent cases have included individuals in Shandong in the northeast, Guangdong in the south, and Hunan or Hebei in between, as well as in Hong Kong – a territory that may now hold more than 1,400 political prisoners, according to some sources.
Those arrested or sentenced include Han Chinese, Tibetans, Uyghurs, and an Inner Mongolian writer and historian who was taken from neighboring Mongolia within months of fleeing China. Human rights activist Yu Wensheng and his wife Xu Yan were also detained while traveling to meet with European Union diplomats.
Harsh punishments and deprivations of freedom are being meted out even for seemingly minor infractions or activities that would be not just tolerated but commended in more democratic countries. The sentencing last month of Xu Zhiyong and Ding Jiaxi, two legal and democracy activists, to 14 and 12 years in prison, respectively, was especially severe. Their crimes appear to have been meeting with fellow activists to discuss citizen rights and democratic reform, and in Xu's case, an open letter criticizing President Xi Jinping's handling of the COVID-19 pandemic.
Such long sentences are not necessarily an anomaly. Other recent cases include those of Guo Feixiong, a free expression advocate who received an eight-year prison term in early May; a Falun Gong practitioner and citizen journalist who was also imprisoned for eight years; and a Uyghur singer who was sentenced to 11 years in prison.
Many others have received shorter sentences, but they are still harsh given the actions being punished. A Tibetan writer was sentenced to four years in prison for arguing that it was important for young people to learn the Tibetan language. A petitioner from Henan appealed to higher officials over village corruption and was held for 10 days of administrative detention. A man in Shanxi was jailed for a year and a half for accessing banned global social media platforms and posting messages and videos that were reportedly shared or liked about 7,000 times but deemed harmful to the reputation of China and the Chinese Communist Party (CCP). A housewife in Hong Kong is facing "sedition" charges for Twitter posts in which she criticized police and expressed support for Hong Kong independence.
Growing Surveillance and Shifting Redlines
The regime's expansive surveillance capacity, as well as the massive resources it can devote to individual cases, is evident from some of the recent verdicts. One prosecution centered on Ruan Xiahuan, a technologist who had blogged anonymously for over a decade, offering instructions on how to circumvent website blocks and sharing translations of articles about the censorship apparatus. Upon learning that he had been captured and sentenced to seven years in prison, some netizens reacted with shock and dismay, noting that if someone as technically sophisticated as Ruan could be identified, then ordinary internet users are even more vulnerable.
In the case of Xu Zhiyong, security agencies conducted a weeks-long manhunt across China, finally catching him after nearly two months. But the authorities do not always rely on high-tech surveillance to zero in on dissidents. Aihua Liu, the mother of two U.S. citizens and a Falun Gong practitioner, was sentenced to four years in prison in late March for possessing books and printed materials related to the banned spiritual practice and the persecution of its adherents, after a neighbor reported to police that she had been distributing leaflets.
While some dissidents are fully aware that their behavior could be punished, others may be surprised to learn that they have done something illegal. The CCP's redlines are constantly shifting, and actions that were permissible or tolerated in the past can suddenly be deemed "sensitive" and penalized, even retroactively. Similarly, activity outside of mainland China or Hong Kong can be subject to prosecution if or when the individual returns to Chinese territory, regardless of whether years have passed or previous visits have proceeded without incident.
Three recent cases illustrated these dangers: On April 21, news emerged that a student who returned home to Hong Kong from her studies in Japan to renew her identification documents was arrested and charged under the National Security Law for comments made on Facebook from Japan two years earlier, in which she expressed support for Hong Kong independence. She was released on bail, but her passport has been confiscated, and she is unable to return to Japan to complete her studies.
On April 23, Li Yanhe, a Taiwan-based publisher of nonfiction books, including some that are critical of the CCP, was detained in Shanghai while visiting his ill mother.
At around the same time, it was belatedly reported that Dong Yuyu, a journalist for the Chinese state-owned newspaper Guangming Daily, had been detained since February 2022 on espionage charges after meeting with a Japanese envoy. Dong, a savvy observer of China's international relations, was widely known and respected among foreign journalists and diplomats. Sensing the regime's growing sensitivity to such interactions, he had become more circumspect in his writings and careful in his meetings with foreigners, but his precautions were apparently insufficient.
Dong was detained three months before retiring, and his family did not initially publicize his arrest, hoping the charges would be dismissed because his contacts with foreign representatives were a routine part of his job. Dong's case is now moving to trial and is perhaps the most chilling for the business community, given that the raids on consulting and auditing firms are also linked to the enhanced espionage law.
Societal Costs
Political prosecutions in China have long-term repercussions for those targeted and for society at large. Conditions in detention are poor; malnourishment, torture, and denial of medical treatment are widespread, and deaths in custody are documented every year. Families are separated, careers are derailed, and livelihoods are ruined. Even after release, former detainees continue to be monitored and harassed, especially around politically sensitive dates.
This past month, the families of two human rights lawyers who had been jailed for their work – Li Heping and Wang Quanzhang – were evicted by landlords who had come under pressure from authorities. This was Li's seventh eviction since 2015. Fang Bin, whose videos of hospitals in Wuhan in the early days of the pandemic gained global attention, was released from a three-year prison sentence, but relatives were afraid to take him in for fear of police harassment, leaving him effectively homeless.
The examples outlined above are only the tip of the iceberg when it comes to political and religious imprisonment under CCP rule. The total number of such detainees is estimated to be in the millions. Companies like those targeted in recent raids have often been perceived as separate and more protected from abuse than such victims. But the underlying problem the business community now faces is comparable: A system in which the law is arbitrary, redlines shift without warning, and there is no recourse from judges beholden to the CCP.
Foreign executives, investors, and indeed anyone with exposure to China's legal regime would do well to learn from the cases of targeted activists and religious believers. Even if their activities are different, the regime increasingly sees the potential threat that they pose to its interests as the same.