China's Special Envoy Concludes Talks in Ukraine
China attempted to downplay expectations from its first serious attempt at mediation, emphasizing that "there is no panacea for defusing the crisis."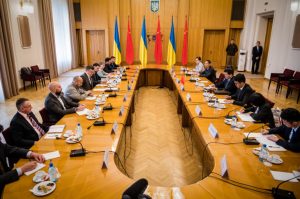 Li Hui, China's special representative on Eurasian affairs, has concluded talks in Ukraine, a Chinese Foreign Ministry spokesperson said on Wednesday, without offering details on next steps in China's bid to explore a negotiated resolution to the Russia-Ukraine War. Previously, China had announced that Li would visit Ukraine, Poland, France, Germany, and Russia "for communication on a political settlement of the Ukraine crisis."
That China would send a special envoy to speak to the governments of Ukraine and Russia was the major takeaway from President Xi Jinping's late April phone call with Ukrainian President Volodymyr Zelenskyy – the first contact between the two leaders since Russia's full-scale invasion of Ukraine began in February 2022. It was the first indication that China was adding some action to the rhetoric of its February 2023 position paper on Ukraine, which offered a 12-point proposal for reaching a "political settlement of the Ukraine crisis" (in China's official rhetoric, it is always a crisis, never a "war" or even a "conflict").
As I wrote of China's shuttle diplomacy plan back in April:
Whether anything comes of that is an open question. China's history of mediation ranges from pro forma gestures mostly designed to look good (seen, for example, in China's approach to the Israel-Palestine crisis) to serious mediation with concrete results (most notably the Iran-Saudi breakthrough achieved in March). Which model China's Ukraine mediation follows remains to be seen.
Now that Li's meetings in Ukraine are complete, we have a bit more to go on. China's Foreign Ministry confirmed that Li met with Zelenskyy as well as "Head of the Office of the President Andrii Yermak, Minister for Foreign Affairs Dmytro Kuleba, and officials from relevant departments including the Ministry for Communities, Territories and Infrastructure Development, the Ministry of Energy and the Ministry of Defense." In those meetings, Foreign Ministry spokesperson Wang Wenbin said, "The two sides exchanged views on the political settlement of the Ukraine crisis and China-Ukraine relations."
For Li's part, it sounds like he merely reiterated the 12 points from China's previous position paper. "China stands ready to work on the basis of the document of China's Position on the Political Settlement of the Ukraine Crisis, seek out the broadest common ground among the international community for settling the crisis, and contribute our part to an early ceasefire and restoration of peace," Wang said, adding that "China has played a constructive role in alleviating the humanitarian situation in Ukraine in our own way."
"There is no panacea for defusing the crisis," Wang declared. "All parties need to do their part to build up trust and create conditions for ceasefire and peace talks." He later repeated that statement verbatim when asked specifically whether China would " accept Ukraine giving up parts of its territory if it would stop the fighting."
This is perhaps the key question facing any negotiated solution to the war. Russia, having already unilaterally annexed parts of eastern Ukraine, is unlikely to give back the territory it has occupied to Ukraine. Ukraine, meanwhile, is demanding nothing less than a return of its full territory – also including Crimea, which was occupied and annexed by Russia back in 2014.
According to the read-out from the Ukrainian Foreign Ministry, Kuleba spoke to Li "in detail about the principles of restoring a stable and just peace based on respect for the sovereignty and territorial integrity of Ukraine." As part of that, the statement said, Kuleba "emphasized that Ukraine does not accept any proposals that would involve the loss of its territories or the freezing of the conflict."
Rather than embracing China's 12-point proposal, Kuleba called for China to participate in implementing Zelenskyy's own 10-point "peace formula," which calls for the full withdrawal of Russia troops and a restoration of Ukraine's "control over all sections of our state border with Russia."
"I want this aggressive Russian war to end justly and on the basis of the UN Charter and international law," Zelenskyy said in the speech first outlining his peace proposal. "…Ukraine should not be offered to conclude compromises with its conscience, sovereignty, territory and independence."
Notably, China's own peace plan does not including any mention of Russian troops withdrawing from Ukraine's territory, although it opens with the point that "The sovereignty, independence and territorial integrity of all countries must be effectively upheld." Kyiv has long pushed for China to speak out against Russia's blatant violation of those principles in Ukraine, but Beijing is unwilling to jeopardize its partnership with Moscow by criticizing its primary ally in the competition with the United States.
Given the divergent positions, no one expected to see immediate results from Li's trip. However, there is room for productive cooperation on smaller issues – for example, food security, which both Zelenskyy's peace formula and China's position paper emphasized. Beijing's paper specifically stressed the implementation of the Black Sea Grain Initiative – which Russia just agreed to extend for two more months. The initiative allows grain to be safely exported from certain Ukrainian ports in an attempt to address a growing food crisis.
Many analysts attribute the re-extension of the deal to Chinese pressure placed on Russia. Notably, Kuleba specifically noted the importance of China's participation in implementing the Black Sea Grain Initiative. A peace deal may be out of reach, but China has proven willing to exert its efforts to more limited, though still important, ends.
Li will head to Poland next, with the Polish Foreign Ministry confirming that the Chinese special envoy will be holding meetings in Warsaw on Friday. There is no word yet on the scheduling of his remaining stops: France, Germany, and Russia.