Japan Welcomed This Ukrainian Refugee. Here's What He Had to Say About the Process.
The experience of Oleksii Yashchyrynskyi reflects Tokyo's surprising willingness to open its arms to refugees from the Russia-Ukraine war.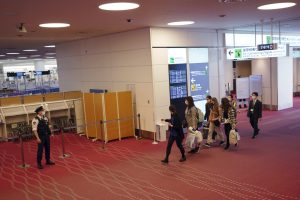 Over a year ago, Japan shocked the world by agreeing to accept thousands of Ukrainian evacuees into its borders. Given Japan's strict refugee policies and ethnic homogeneity, its eagerness to accept Ukrainians came as a welcome surprise to the global community. Recently, I spoke with Oleksii Yashchyrynskyi, an 18-year-old Ukrainian now living in Toyota City, about his experience transitioning to the Japanese way of life. If Ukrainian evacuees like Oleksii can positively integrate into Japan, a traditionally closed society with a challenging language, the United States has no excuse not to improve integration systems for its own Ukrainian refugees.
Oleksii was 17 years old and living in Kyiv when the Russians invaded in 2022. His mother, a military police officer, had advance notice on the attack and demanded Oleksii and his younger brother leave the city. The pair packed a few belongings to stay with their grandmother in a small city outside the capital. Oleksii brought a gun and some of his family's military gear.
Despite his young age, Oleksii served in a territorial defense unit in his grandmother's town, which sits on the main highway to Kyiv. Their team was preparing to defend the city and, if necessary, deter a Russian military convoy on its way to the capital. "Luckily, they didn't come to our city," Oleksii said. Once things settled down a bit, he returned to Kyiv while his brother stayed at their grandmother's house. "After this, it was quieter than you might expect. There were still a lot of explosions, still a lot of rockets that hit Kyiv, but luckily no one in our family has died," he recalled.
With Oleksii's 18th birthday rapidly approaching, his mother demanded he leave the country while he still could. "I was considering staying in Ukraine and fighting of course," Oleksii told me, "but my parents were strictly against it. They didn't raise me through all of the problems they had in life just to go and die." Oleksii's mom sat her son down and demanded he pick a country, any country, and they would find a way to get him there. Oleksii, who always admired the country and was eager for a unique opportunity, chose Japan.
After some research, Oleksii and his mother found a company called Kowa that recruits people for employment in service industries throughout Japan. Oleksii was surprised to find his contact at Kowa was Ukrainian and could speak Japanese. Several international nonprofits helped coordinate Oleksii's housing, visa application, and other necessary steps so he could get to Japan and start working.
Oleksii spent a few months in Poland while the Japanese embassy processed his visa application. "It was really easy, way easier than I expected," he said. "I expected some interview in the embassy and they would try to make me fail or something. The only hard part was waiting for the ticket."
On his 18th birthday, after resolving vaccination issues and obtaining his ticket, Oleksii finally boarded a plane to Japan. If he returned to Ukraine today, he wouldn't be able to leave under the martial law currently in place.
Now, Oleksii lives in Toyota City, making desserts for one of the main food production companies for 7-Eleven, Prime Dedica. Oleksii and his 10 Ukrainian colleagues represent a small, but growing, percentage of evacuees in Japan with full-time employment. Getting employment was a critical step for Oleksii's overall integration, and as he excitedly tells me, he's already making more money than his mother back in Ukraine. He's starting to save for college and a driver's license, and can even save money to bring his brother to Japan if he chooses.
Oleksii is eager to learn Japanese to move up in the workplace and make local friends, and despite the challenges, he's off to a good start. With a complex writing system and few linguistic similarities for foreigners to rely on, Japanese is a notoriously difficult language to pick up. "In the city I live in, very few Japanese people even know English," Oleksii says. "It's quite hard to be in a country where no one understands you and you don't understand anybody." Oleksii has been learning Japanese characters and phrases on his own, and many other Ukrainians are taking advantage of free language classes offered by local nonprofit organizations.
While the language is still a barrier, Oleksii and his Ukrainian coworkers emphasize that the cultural differences aren't as challenging as expected. They say people are very kind and show a genuine desire to help and understand Ukrainians.
Oleksii also emphasizes that Japan doesn't have many foreign residents, which cuts both ways. While there isn't a big Ukrainian community to interact with, the Japanese "think way better of Ukrainians than all the other countries, especially Poland where there are so many Ukrainians. In Japan, when someone hears that you're Ukrainian, they become really, really interested in you. If you are a good individual, you can make them think better of us."
Japan is still much more conservative than Oleksii is used to. Gender roles are more traditional, and the Japanese are protective of their culture at large. While Oleksii says this will be hard for very liberal migrants, adjusting to the culture is easier once you understand where the Japanese are coming from.
Oleksii described how his Ukrainian coworker was refused entry at a "Japanese-only bar" when he went out with a group of his Japanese friends. "They called the police, the police came, and they said, "well it's a Japanese-only bar. You can go somewhere else." While I expected Oleksii to feel outraged by this, as someone whose cultural and national identity is threatened daily, he was sympathetic. "These people, they don't understand the reasoning for that," he said. "They're protecting their culture."
Japan's system for assimilating refugees still needs improvement, but stories like Oleksii's prove integration can happen anywhere. All he needed was an opportunity, and now Oleksii is contributing to Japan's struggling labor market, building his finances, and planning to return to Ukraine one day.
The U.S. hosts over 100 times more Ukrainian refugees than Japan and is better at initially employing them, but discrimination, limited opportunity for career growth, and a complex approval process is preventing better integration. Pointing the finger at cultural and linguistic differences in America isn't enough, and we have to address the broader systems preventing refugees from finding stability. Japan is still learning these lessons too, and people like Oleksii are proving integration is possible in a context some thought was impossible.
Oleksii's message for other Ukrainians bears a similar promise: "If you can overcome this, then there is nothing to stop you."