Vietnam War Legacies and America's Controversial Support for Ukraine
Netizens in Vietnam are pointing out the apparent U.S. hypocrisy on cluster munitions and human rights.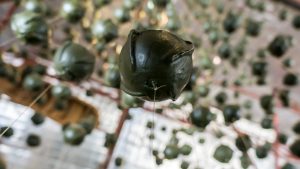 The recent decision by the United States to transfer cluster munitions to Ukraine has sparked a wave of criticism from U.S. Congressmen, human rights advocates, and the international community. The deployment of these weapons, notorious for their indiscriminate nature and the risks associated with unexploded ordnance (UXO), raises alarming concerns about civilian safety. Many stressed that the U.S. has failed to heed the lessons of the Vietnam War, where the devastating impact of cluster bombs continues to afflict civilians in Vietnam, Laos, and Cambodia, even after the passage of more than half a century.
During the Vietnam War, the U.S. dropped 12.7 million tons of ordnance on Cambodia, Laos, and Vietnam. Many of these munitions failed to detonate upon impact, posing an ongoing threat to anyone who crosses their path, from children to soldiers. More than 200,000 people in the three countries have been killed or maimed by unexploded ordnance since the war ended. Estimates suggest that more than 20 percent of the land in Cambodia, Laos, and Vietnam remains contaminated by UXO and the process of clearing this could require a century or more to complete, given the current pace.
Both Laos and Cambodia have urged the U.S. to reconsider the transfer of cluster munitions to Ukraine, which stirred painful memories of the U.S. dropping similar bombs on their soil to disrupt North Vietnam's logistical transportation system.
Cambodian Prime Minister Hun Sen warned Ukraine not to use cluster munitions and called on U.S. allies to prevent the deployment of these weapons. He highlighted the potential long-term dangers these weapons pose to the Ukrainian people, drawing upon Cambodia's own painful history with U.S. cluster munitions and UXO. Likewise, Laos, the world's most bombed country in per capita terms, expressed "profound concern" over the potential use of cluster munitions, calling countries "to refrain from all use, production, transfer and stockpiling" of these weapons.
Meanwhile, netizens in Vietnam have quickly pointed out what they see as U.S. hypocrisy on cluster munitions and human rights. They highlight the glaring contradiction between Washington's previous condemnation of the use of cluster munitions as a war crime and its recent decision to supply them to Ukraine. This is not the first time Vietnamese netizens have underlined U.S. hypocrisy over the war in Eastern Europe. Last year, the U.S. Embassy's Facebook page refuted false Russian allegations of American secret development of chemical weapons in Ukraine, asserting that "Russia, not the United States, has a long and well-documented history of using chemical weapons." Vietnamese netizens reacted with overwhelming indignation, recalling the U.S. Army's deployment of the dioxin-laced Agent Orange herbicide during the Vietnam War.
It is estimated that millions of people in Vietnam, Laos, and Cambodia were exposed to the 20 million gallons of Agent Orange sprayed by U.S. forces to destroy forest cover and food sources in their fight against North Vietnam. Many of these individuals suffer from chronic diseases and severe disabilities linked to dioxin exposure. The intergenerational transmission of health and disability effects means that there are multiple generations of victims, and it is unclear when it will stop.
Despite providing funds to support individuals with disabilities in affected areas in Vietnam and Laos, the U.S. has yet to accept responsibility for its use of Agent Orange. Campaign groups and victims have persistently underscored the double standard, with the U.S. acknowledging and compensating its own victims while neglecting those in Southeast Asia.
Coming to terms with past injustices extends beyond merely addressing their physical consequences. It necessitates a genuine acknowledgment of such atrocities, a commitment to prevent their recurrence, and the elimination of the tools that enable them. The U.S.' failure to do so only erodes its credibility in promoting human rights and a rules-based global order, particularly in the eyes of nations in the Global South. Thus, controversial actions like the transfer of cluster munitions and the insensitivity surrounding the issue of Agent Orange have exposed the U.S. to accusations of hypocrisy.
Despite the inadequacies of official U.S. responses, it is crucial to acknowledge the tireless efforts of numerous American citizens, NGOs, and officials who strive to address the lingering issues of Agent Orange and UXO in Southeast Asia. Their activism compelled the U.S. government to extend some assistance in addressing these painful war legacies. One could hope that the ongoing opposition against the U.S. transfer of cluster munitions will also yield a positive result.