Will Africa Rather Than China Be the Peacemaker in the Russia-Ukraine War?
Africa's proposal for an end to the war is broadly similar to China's, but there are some important differences.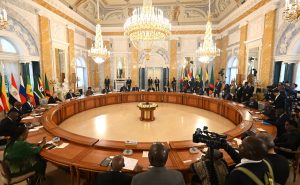 Last month, an African delegation comprising of the presidents of Senegal, South Africa, Comoros, and Zambia, as well as senior officials from Egypt, Uganda, and the Republic of Congo met separately with Ukraine's President Volodymyr Zelenskyy and Russia's President Vladimir Putin as part of a so-called "African peace initiative" to end the Ukraine war. This initiative was praised by some, dismissed by others, and at times even mocked.
Prominent analyst Stephen Chan from the School of Oriental and African Studies was quoted as saying, "The African initiative will make no difference whatsoever to the situation in Ukraine. Both Putin and Zelenskyy will receive the delegation with protocol and politeness and send it on its way." Indeed, Putin and Zelenskyy separately welcomed the effort but disagreed with the content. But does that mean the initiative is dead, or other initiatives, such as that proposed by China, were any better?
The 10-point African proposal, while tailored to address some immediate African priorities, offered nothing radically different from proposals presented by other actors like China. But there were some divergences worth mentioning. The African plan – like China's – called for cessation of hostilities and put forward that sovereignty must be respected in line with the United Nations Charter. However, the African plan explicitly called for Russia to withdraw its military from Ukraine and remove its nuclear arsenal from Belarus, points China did not raise in its own 12-point plan for the "political settlement of the Ukraine crisis." 
On the other hand, the African proposal arguably abstracted from potential explanations of root causes of the war, while China pointed to more international conventions around nuclear risks and use, which some might argue is a more consistent approach with multilateral law.
The African proposal also called for the unblocking of shipping lanes in the Black Sea, as transit disruptions had led to food and energy price increases globally. China's plan also referred to the importance of implementing the "Black Sea Grain Initiative" (which, as it happens, Russia has just revoked). However, the African region has benefited the least from the deal when it was in effect. During their visit, African leaders also suggested that Ukraine's Zelenskyy should boost his interactions with African countries.
Finally, we can infer different goals behind the two proposals. Both are, of course, seeking to "build confidence" in the ultimate goal – peaceful resolution of the war in Ukraine. However, analysts believe China's mediation effort is largely aimed at winning favor in Europe, where governments have been especially critical of China's perceived pro-Russia stance. For African leaders, meanwhile, the motive is to secure an end to the war along with sanctions relief – and the discussion of a recent International Criminal Court (ICC) arrest warrant against Putin, which could have been applied if he attended the BRICS Summit in South Africa in August 2023. 
While there might be reasons to be skeptical about Africa's attempt to silence the guns in Ukraine, aside from the fact that it seemed to make both sides equally unhappy (which some believe is a good start to any negotiation), the initiative has more potential for success than others presented to date – including China's. 
First, the African plan could succeed because it represents a continuation of African policies, both globally and with Russia and Ukraine themselves. 
In recent months, and especially since the COVID19 pandemic, it has become impossible to ignore Africa's seriousness in becoming an active player and influencer on the global stage – to go from "rule taker to rule maker," as the civil society group AFRODAD put it. From increased calls for more representation in the United Nations Security Council to suggested expansion of G-20 membership, African governments and leaders have become not only more vocal but action-oriented. With great-power conflict as the context, African governments are working hard to reorganize and reform global institutions, from development finance to trade to security. In such a reformed architecture, for example, the idea is that it should – in principle – be just as plausible for Africans to intervene in an external conflict as it is for NATO to intervene in an African conflict (putting aside the question of whether intervention is the right course of action or not). The peace initiative fits into this vision.
The peace initiative also represented a continuation of Africa's engagement with both Kyiv and Moscow since the start of the conflict. 
Africa's seemingly "rogue" and neutral position following the first UNGA resolution in March 2022 was subject of much debate in European and North American capitals. To some extent, this was a misunderstanding, as the African position on the war was not uniform. However, there is one view that has united the vast majority of African countries: the need for dialogue and diplomatic solutions. Hence, mandated by African Heads of State in May 2022, the then-African Union chair – Senegal's President Macky Sall – and African Union Commission Chairperson Moussa Faki made a visit to Moscow to propose diplomatic solutions to the war as well as advocate for Africa's interests, especially given the food and energy price inflation many African countries were experiencing at the time. 
When South Africa abstained from all six UNGA resolutions on Ukraine, it cited insufficient emphasis on diplomacy and the peace process in the drafts (although some other African states do appear to be happier with more recent drafts). The fact that the new African peace initiative has dialogue and diplomatic solutions at its core – and was forged by countries that have voted so differently on U.N. resolutions on the topic – is a major tick in its favor, especially versus countries like China that have maintained singular positions.
The second reason the Africa peace initiative could succeed is that it draws from African experiences at home on the continent. This is contrary to the critique expressed by some that the initiative would not be able to succeed because Africa is still pockmarked with conflict, most recently the Sudan crisis and security in the Sahel. Africa houses half of all U.N. peacekeeping operations. Indeed, many G-7 countries still have little regard for African diplomacy, as well as Chinese diplomacy.
Yet, such a critique disregards the incredible work that was done in neighboring countries and South Africa in 2022 to halt conflict in Ethiopia; the work that countries such as Rwanda and South Africa have done to not only escape genocide and apartheid but also create truth and reconciliation processes to avoid future conflict; and numerous other peace delegations that have engaged in conflict resolution processes around the continent since independence. These experiences, as well as the experience of colonialism itself, as Kenya's Ambassador Martin Kimani eloquently explained during a March 2022 Security Council session on the Russia-Ukraine war, give credence to African thinking and proposed solutions. Unlike China, and even Ukraine and Russia themselves, African leaders really have "been there before," and survived. The African peace initiative thus comes with a significant dose of reality, and that makes it more credible.
The third and final reason why the African peace initiative holds promise is that both Ukraine and Russia have upped their engagement with the continent since the war. That both the Ukrainian and Russian presidents agreed to give audience to the African delegation came as no surprise. With Africa representing the largest voting bloc in the United Nations, both Putin and Zelenskyy saw it as an opportunity to score diplomatic points and push their narratives. Putin's opening address stressed Russia's commitment to the continent. 
In engagement with Africa, Kyiv is playing catch-up to Moscow. In Ukraine's entire diplomatic history, no Ukrainian foreign minister had visited Africa until the war started. When Zelenskyy tried to address the African Union last year, only four out of 55 leaders attended the call. So, Zelenskyy, like Putin, stood to benefit from engaging with his African counterparts. Again, this contrasts with other peace proposals – in most cases, it is either Russia or Ukraine that stands to benefit from engagement, not both. Hence, for example, Russia seems more enthusiastic than Ukraine about China's proposal.
That said, skepticism regarding the Africa peace initiative remains on two fronts. 
First, while China put forward its proposal before the anticipated Ukrainian spring offensive, the African peace initiative was seen by some as a hastily engineered plan by South Africa's President Cyril Ramaphosa to launder the country's image, and in particular counter voices in the U.S. government who are calling for sanctions against Pretoria because of its ties to Moscow. The peace initiative might simply disappear if South Africa is able to hold off sanctions and pull of the BRICS Summit.
Second, while the variety of Africa positions on the Ukraine war strengthens the meaningfulness behind the peace proposal, the absence of a more robust, AU-steered crafting of the proposed framework means the African leaders during their missions to Kyiv and Moscow could really only speak for their respective countries, like China speaks for itself. Hence, it is likely that the specific African leaders who crafted the proposal will now use every opportunity – such as AU meetings as well as the second Russia-Africa summit at the end of July – to follow up and strengthen the initiative.
Nevertheless, African leaders have put forward a more detailed and explicit proposal than others have presented, yet framed it as complementary to them. Indeed, for instance, the African and Chinese proposals can work in tandem. By making this peace initiative, however, African leaders are attempting to break new ground. The world may well benefit from that.