Linking Together Asia's Digital Future
Digital connectivity promises to be a driving force behind Asian growth, particularly in Southeast Asia.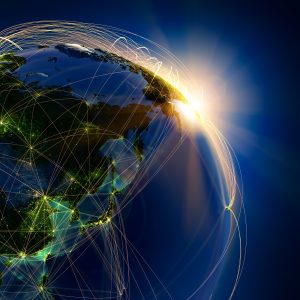 The Boao Forum for Asia Annual Conference 2023 was held in China's Hainan Province from March 28 to March 31. First held in February 2001, the idea of an Asia-specific economic forum was supported by Chinese leadership when it was first proposed in 1998 by former Philippine President Fidel V. Ramos, former Australian Prime Minister Bob Hawke, and former Japanese Prime Minister Hosokawa Morihiro. With the aim of establishing a world-class forum similar to the World Economic Forum in Davos, Switzerland, Asian countries aimed to create a forum that "is truly from the perspective and for the benefit of Asia, and that can be dedicated to the discussion of Asian issues and aimed at enhancing cooperation and exchanges among Asian countries, and between Asian countries and other parts of the world."
In a world of geopolitical turmoil and technology transformation, this year's Boao Forum, under the theme "An Uncertain World: Solidarity and Cooperation for Development amid Challenges," tried to tackle pressing issues while continuing to foster an Asian community with a shared future that aligns with its initial founding mission: fostering an Asian perspective that can benefit Asia while contributing to the rest of the world.
The "Asian Century" and "Open Asia"
The 21st century has long been predicted to be the "Asian century," referring to the dominance of Asia and the Pacific in government, business, politics, and culture. Asia is home to more than half of the world's population, with an increasingly better educated and skilled labor force. In Chinese Prime Minister Li Qiang's speech at Boao, he pointed out that Asia's post-COVID economic recovery could bring greater certainty to the world's economic recovery if Asian countries can seize the opportunities in the fourth industrial revolution and foster new drivers of economic growth through green economy and digital economy.
Singapore's Prime Minister Lee Hsien Loong also addressed the forum and stressed the importance of maintaining peace and stability in Asia. As China has become the largest trading partner for almost every Southeast Asian country, they should continue to strengthen economic ties and promote good relations with China, particularly through regional and global initiatives such as the Asian Infrastructure Investment Bank (AIIB), the Belt and Road Initiative (BRI), and the Global Development Initiative (GDI).
Singapore, as one of the Four Asian Tigers from 1960s to 1980s, is considered a successful developmental state, whose prosperity largely depends on globalization. China began to view it as an economic model when Deng Xiaoping, the paramount leader during the early reform and opening period, was visiting Singapore in 1978. Deng's visit enabled him to see for himself a country with no natural resources that had developed economic prosperity through foreign investment, foreign technology transfer, and investment in global talents, which boosted Deng's confidence in China's economic modernization.
As two prominent Asian countries whose economic successes derived from globalization, China and Singapore's call for a peaceful and stable Asia cannot make more sense. As I previously wrote in another article, in spite of China-U.S. tensions, international peace and stability will ensure China's next round of economic development, which will further advance Asia's regional development. "Open Asia" is not an empty slogan.
Strengthening Regional Connectivity
Developing and fostering a big regional market of greater openness in Asia will largely rely on cross-border connectivity in terms of trade and digitalization. According to a 2018 International Monetary Fund Report, digitalization has been changing economic activity since the start of the 21st century. The digitalization of economic activity includes "the incorporation of data and the internet into production processes and products, new forms of household and government consumption, fixed-capital formation, cross-border flows, and finance."
While the United States and the European countries focus on building an open and free internet and digital regulations, their Asian counterparts emphasize more on the economic benefits and opportunities from digital connectivity. China and its Asian neighbors thus have formed government-to-government national level cooperation projects to advance Asia-focused regional connectivity.
Take the Singapore-Chongqing Initiative, part of the BRI, for example. Chongqing is a major centrally-administered municipality in western China, where economic development is lagging behind cities and provinces in eastern China. In 2019, Chongqing and Singapore launched the China-Singapore (i.e., Chongqing-Singapore) exclusive international data channel, which is China's first "point-to-point" exclusive international data channel connected with one single country. This data channel starts in Chongqing, runs through Guangzhou and Hong Kong, and arrives in Singapore.
The initiative proves that digital connectivity further enables the realization of financial connectivity. The Monetary Authority of Singapore reported in 2023 that despite challenging global financial and political challenges, in 2022, the Chongqing-Singapore Connectivity Initiative realized about $6 billion cross-border finance deals, bringing the total amount of the value of deals to over $29 billion since its establishment in 2015.
More than Singapore: Building ASEAN's Digital Economy
Digital connectivity and cooperation goes far beyond this one example. An increasing number of e-commerce businesses in Southeast Asia are borrowing China's innovation lessons, and some start-ups in the region are funded by Chinese internet giants. For instance, the Singapore headquartered e-commerce start-up Shopee has investment from China's Tencent. In a recent interview with China Central Television Station, Prime Minister Lee emphasized the role Singapore can play in facilitating and expanding cooperation between China and ASEAN countries.
The Regional Comprehensive Economic Partnership (RCEP) framework officially signed in 2022 paves the way to create the largest world's free trade zone, including the 10 ASEAN member states as well as Australia, China, Japan, New Zealand, and South Korea. ASEAN holds enormous growth potential in the digital economy and the possibility of integrating the manufacturing sector with digitalization.
In terms of social media, as shown in Figure 1 below, ASEAN's social media penetration rate (65 percent) is higher than Europe's (56 percent in 2019). In absolute numbers, that equates to 401 million active social media users across Southeast Asia. Widespread access to social media provides potential e-commerce business opportunities in the region, sometimes as a replica of China's e-commerce models.
Another sector that presents opportunities in Asia's economic integration process is banking services. As shown in Figure 2, across ASEAN, only 50.6 percent of adults have access to financial accounts or mobile money services. Only Singapore, Malaysia, and Thailand surpass that average.
According to an e-Conomy report conducted by Google and Temasek, Southeast Asia's "digital decade" has just begun. The region's digital economy is rooted on strong social and economic fundamentals and offline to online trends. Additionally, many ASEAN countries are in the process of urbanization, and the increasing number of consumers in the urban areas will continue to drive growth in the digital economy.
Asia's Economic Future
Asia is a region of cultural diversity, where most countries are at different developmental stages. But in Southeast Asia especially, economic growth is expected to change the list of top global economies. As PwC projected, by 2050, China will surpass the United States to become the world's top economy while Indonesia will rank fourth, the Philippines ninth, and Vietnam 20th. Asia's economic potential is undeniable.
Connectivity, especially in the digital sector, will help further boost economic growth. Negotiations are underway on the China-ASEAN Free Trade Zone 3.0, with regional digital economy being the priority. Imagine a customer from China orders some sub-tropical produce from Thailand online, pays through a mobile app, and gets the package delivered within three days. That future will be made possible through fast-growing digital infrastructure projects and the expansion of digital financial services and businesses in Asia.