Momentum Building in the Japan-South Korea Partnership 
Asia's two leading democracies have no choice but to put their historical differences aside. That's clear from recent engagement between Kishida and Yoon.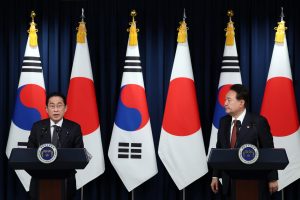 On May 7, Japanese Prime Minister Kishida Fumio and South Korean President Yoon Suk-yeol met for the second time this year. After 12 years of stalled talks due to historical disputes, Kishida's visit to Seoul signaled a return to shuttle diplomacy. 
The signs were clear. Kishida expressed remorse toward Korean victims of Japanese wartime forced labor but failed to deliver an apology. Yoon urged his country to focus on the present rather than dwell on the past. His willingness to repair bilateral ties despite staunch criticism indicates the gravity of the security situation in the Indo-Pacific.
As a gesture of goodwill, Kishida made two pledges. First, he and Yoon would pay respects at a memorial for Korean victims of the 1945 atomic bombing at the Group of Seven Summit in Hiroshima. Second, Tokyo invited South Korean experts to test the water at the Fukushima power plant for traces of radioactivity following the 2011 nuclear disaster.  
The G-7 meeting scheduled for May 19-21 comes at a pivotal moment on the global stage amid North Korean missile threats (and anticipation of a seventh nuclear test), Chinese belligerence, and Russia's invasion of Ukraine. Although South Korea is not a G-7 member, Kishida invited Yoon to attend as one of eight outreach nations. The two leaders are also expected to hold a trilateral meeting with U.S. President Joe Biden on the sidelines of the summit.  
As the relationship between Japan and South Korea is built on rocky foundations, trilateral cooperation with the United States appears the safest approach to guarantee progress while at the same time limiting domestic pushback. 
Washington has already succeeded in mediating tensions and encouraging cooperation. At their recent White House summit, Biden applauded Yoon for his political courage and personal commitment to diplomacy with Japan. This not only reinforced U.S. commitment to South Korea but also encouraged Kishida to move up the date of his Seoul visit.  
To counter Pyongyang's saber rattling, Biden and Yoon adopted the Washington Declaration, which includes the formation of a Nuclear Consultative Group (NCG) and deployment of a U.S. nuclear-armed submarine to South Korea for the first time since 1981.  
Japan was not the only country paying attention to the visit. North Korea's foreign ministry warned Japan not to join the NCG and indicated that such action would destabilize Northeast Asia. 
Irrespective of Japanese membership, coordination among Washington, Seoul, and Tokyo is imperative as they toe a fine line between holding Kim Jong Un accountable and preventing unnecessary nuclear escalation. This will require the sharing of real-time information on ballistic missiles through mechanisms such as linked radar systems. 
Another threat that looms large is China's assertive foreign policy. The more economically dependent Seoul and Tokyo are on Beijing, the more vulnerable they are to coercive actions.  
This period of rapprochement with two forward-leaning administrations offers Japan and South Korea a rare opportunity to advance areas of mutual interest particularly freedom and prosperity in the region.  
In recent surveys, China has replaced Japan as the country regarded least favorably by South Koreans, especially in younger populations. But 64 percent of the population sees no need to improve ties unless Japan changes its attitude on history. 
At the highest level, Yoon and Kishida have vowed to promote mutual understanding among their peoples by enhancing bilateral security, economic, and technology cooperation. But high-level dialogues will only move the needle so far. Public sentiments will only improve if meetings between leaders are coupled with regular and meaningful engagement across government and civil society.  
On that score, the two countries can point to progress. Emerging from the Yoon-Kishida meeting, private sector and civil society announced a Future Partnership Funds spearheaded by the Japan Business Federation and the Federation of Korean Industry Leaders. The $1.5 million fund aims to strengthen industrial cooperation as well as youth and cultural exchanges in the areas of semiconductor supply chain resiliency, energy security, and climate change. It isn't much, but it's a start.  
The world is at a historic crossroads as Kim, Xi, and Putin seek to subvert the rules-based international order. Asia's two leading democracies have no choice but to put their historical differences aside. Countering these shared challenges will only succeed with robust bilateral economic and security cooperation through a whole-of-country approach and with steady pressure from the United States.