South Korea, EU Agree to Boost Pressure on Russia, Condemn North Korean Missile Tests
European Council President Charles Michel said Russia's continued attacks against Ukraine show that deeper cooperation between the EU and South Korea is "not a luxury. It's a vital necessity."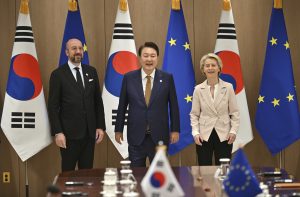 Leaders of South Korea and the European Union agreed Monday to increase pressure on Russia over its war against Ukraine and condemn North Korea's ballistic missile tests.
South Korean President Yoon Suk-yeol met with European Council President Charles Michel and European Commission President Ursula von der Leyen in Seoul, after the three leaders attended the weekend summit of the Group of Seven leading industrialized nations in Hiroshima, Japan.
"We agree to maintain and increase the collective pressure on Russia, particularly through effective implementation of the respective restrictive measures," they said in a joint statement. "We are committed to support Ukraine's recovery and reconstruction and remain resolved to support Ukraine for as long as it takes."
Michel said Russia's continued attacks against Ukraine show that deeper cooperation between the EU and South Korea is "not a luxury. It's a vital necessity."
The three leaders called on North Korea to cease actions that raise military tensions and return to nuclear disarmament talks.
"The European Union will never accept (North Korea's) possession of nuclear weapons as the normal state of affairs, just like we do not accept Russia's military aggression against Ukraine," von der Leyen said at a joint news conference.
Yoon said the three leaders recognized that North Korea's nuclear and missile programs pose a threat beyond the Korean Peninsula.
North Korea has launched about 100 missiles since the start of 2022, many of them nuclear-capable weapons that place the U.S. mainland and South Korea within striking distance. Experts say North Korea believes its expanded weapons arsenal will help it wrest concessions from its rivals.
At the G-7 summit, the leaders of Japan, the United States, the United Kingdom, France, Germany, Canada, and Italy as well as the European Union condemned Russia's invasion and reiterated their support for Ukraine. They demanded that North Korea refrain from any destabilizing or escalatory actions.
Ukrainian President Volodymyr Zelenskyy met with some of his biggest backers as the G-7 summit closed on Sunday, building momentum for his country's war effort even as Russia claimed a battlefield victory that was quickly disputed by Ukraine. Even before Zelenskyy landed Saturday, the G-7 nations had unveiled new sanctions and other measures meant to punish Moscow over its invasion that began in February last year.
Yoon also met with Zelenskyy on the margins of the G-7 summit and promised to send demining equipment, ambulances, and other items. South Korea has provided humanitarian and other support to Ukraine while joining U.S.-led economic sanctions against Russia, but it hasn't directly provided arms to Ukraine in line with its longstanding policy of not supplying weapons to countries actively engaged in conflict.