South Korean President Holds Meeting With Japanese Prime Minister in Seoul
For the first time in 12 years, the Japanese prime minister visited Seoul for a bilateral meeting with the South Korean president.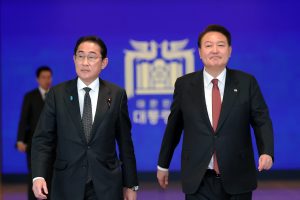 South Korean President Yoon Suk-yeol held a summit meeting with Japanese Prime Minister Kishida Fumio in Seoul on Sunday. It was the first time that a Japanese prime minster had come to Seoul for a bilateral summit meeting since 2011.
In March, Yoon visited Tokyo as a follow-up step to his foreign minister's announcement on resolving the issue of wartime forced labor. In 2018, South Korea's Supreme Court ordered Japanese corporations to compensate South Korean forced laborers. The companies refused to pay, and the Japanese government vehemently protested. The Yoon administration's proposal will bypass the ruling by instead setting up a government fund to compensate the workers – without any mandatory monetary contributions from Japanese firms.
The forced labor ruling had been the main factor causing tensions between South Korea and Japan during the previous Moon Jae-in administration. Although it is impossible under the country's constitution for the South Korean government to modify a Supreme Court ruling, the Yoon government actively sought alternatives to soothe Tokyo's anger. Its eventual proposal appears to have satisfied Tokyo, although it is unpopular with South Koreans.
Considering Moon Jae-in's decision not to unconditionally follow the agreement made between the foreign ministers of South Korea and Japan in 2015 over South Korean "comfort women" who were sexually assaulted by the Japanese military, the long-term future of Yoon's proposal remains in doubt. Yoon has said future governments will not overturn his bold decision; however, the next South Korea president to have different perspectives on the historical conflicts with Japan could devise a new plan that is less to Tokyo's liking.
Regarding the historical disputes, Kishida did not make a formal apology during the summit with Yoon but expressed his personal feeling toward the South Korean forced laborers. Kishida also noted that his administration is following the 1998 Joint Declaration made between South Korean President Kim Dae-jung and Japanese Prime Minister Obuchi Keizo, which contained Tokyo's official apologies. However, Japanese politicians, especially late Prime Minister Abe Shinzo, have made controversial remarks that Imperial Japan never forcefully harassed South Korean victims – which is historically incorrect, even according to documents and materials found within Japan.
Another issue Yoon and Kishida discussed in Seoul was Tokyo's plan to release about 1.3 million tons of contaminated water from the disaster-stricken Fukushima Daiichi nuclear power plant. According to the South's Presidential Office, the leaders agreed to send an inspection team consisting of South Korean experts to conduct a scientific inspection of the radioactive water, which Japan claims is now safe to release after being treated. Showing his acknowledgment of South Koreans' concerns about his government's plan to release polluted water, Kishida said it was important for his administration to accept an on-site inspection by South Korean experts.
However, many South Koreans disagree with the plan due to concerns about radiation exposure. In this context, South Koreans also strongly oppose importing seafood from Fukushima even though Tokyo has asked Seoul to lift the import bans for the past years.
Predictably, North Korea also featured prominently in the discussions. Calling the North's nuclear and missile development a grave threat not only to the Korean Peninsula and Japan but also to the entire world, Yoon and Kishida agreed to enhance the South Korea-U.S.-Japan trilateral cooperation. One possible avenue for doing that could be the participation of Japan in the Nuclear Consultative Group established by South Korea and the United States in late April. However, the substantive steps on the NCG between the South and the United States must be taken first before discussing Japan's participation, according to the South's Presidential Office.
To secure more credible information on the North's missile launches, the leaders agreed to normalize the General Security of Military Information Agreement (GSOMIA), a bilateral information exchange pact between Seoul and Tokyo that lay moribund due to the tensions between the countries in recent years.
The ruling People Power Party touted the summit between Yoon and Kishida as a reinvigoration of "shuttle diplomacy." However, the main opposition Democratic Party denounced Yoon's unilateral gesture toward Japan while Tokyo has not made any significant changes to its stance on historical disputes.
Since the schedule for the Yoon-Kishida summit was arranged, there were hopes of Kishida making sincere apologies as a prime minister of Japan toward the South Korean forced laborers as a response to the controversial plan Yoon's foreign minister proposed months ago. Acknowledging the historical facts that South Koreans were forced to labor for wartime Japanese corporations during World War II was one a possible scenario. However, Kishida only expressed personal sympathy toward South Korean forced laborers, refraining from any official apology.
Yoon said the relations between South Korea and Japan are finally on the right track. Saying that South Korea and Japan share the same universal values such as freedom, human rights, democracy and constitutionalism, Yoon confidently assured that South Korea and Japan will enhance the cooperation based on a future-orientated approach.
However, Japan's overall approach to the the major issues has not changed. Tokyo continues to publicly claim South Korea's Dokdo Island (known as Takeshima in Japan) and publish inaccurate historical information regarding South Korean comfort women and forced laborers (among other wartime issues) in textbooks. In this context, it is questionable how long the thaw in Japan-South Korean relations can last.