Can China Tip the Scales in the Palestine-Israel Peace Process?
Beijing's strategic partnership with Palestine and its potential to mediate the conflict challenges U.S. dominance in the region.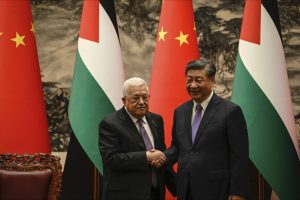 In a groundbreaking move, Chinese President Xi Jinping and Palestinian Authority (PA) President Mahmoud Abbas have forged a strategic partnership, signaling Beijing's intent to play a pivotal role in mediating between Palestine and Israel. China's growing involvement in the Middle East's most daunting conflict not only marks a significant shift in regional dynamics but also poses a challenge to the waning influence of the United States.
China has made remarkable strides in the realm of Middle East diplomacy, with a notable achievement being its successful mediation between Saudi Arabia and Iran in March. This development raised concerns in Washington, which has traditionally considered the region as its exclusive sphere of influence. Against this backdrop, from June 13-16 Abbas embarked on his fifth visit to Beijing, encouraged by China's readiness to mediate between Palestinians and Israelis – a role previously reserved for the United States.
While publicly expressing support for Palestine's just quest for statehood, China has also fostered strong ties with Israel over the past two decades. Demonstrating its commitment, China has invested more than $19 billion in Israel between 2007 and 2020, spanning various sectors such as technology, defense, academia, telecommunications, and shipping. By participating in projects like the Haifa port construction under the Belt and Road Initiative, China has solidified cordial relations with both Israel and Palestine.
The pivotal question remains: Can China act as a neutral broker and achieve lasting peace?
With its investments in Israeli infrastructure and public support for the Palestinian cause, China demonstrates a more balanced approach than the United States. For decades, the United States has viewed Israel as its staunch outpost in the Middle East, with U.S. President Joe Biden openly endorsing the nationalist ideology of Zionism. This unwavering commitment has led to unconditional U.S. financial, diplomatic, and military support for Israel, even when it compromises American interests. Conversely, the United States designates Palestinian political entities like Hamas as terrorist organizations, undermining their potential for dialogue and peace.
Since 2014, the United States has failed to bring Israel and the Palestinian Authority to the negotiating table to pursue a two-state solution, despite widespread support from the international community. A two-state solution is also the United States' official policy preference, but Washington has shown little interest in forcing the issue. On the contrary, Israeli settlements have expanded, breaching U.S. red lines and contributing to the current far-right Israeli coalition government, which includes proponents of annexation and ethnic cleansing.
In contrast, China adopts a less partisan stance. It upholds the international consensus on resolving the conflict and engages with various Palestinian political groups, including Hamas, with whom it maintains dialogue. This allows China to communicate with leaders who enjoy popular support among Palestinians, offering a unique advantage over the United States.
However, the absence of a viable path to resolving the conflict poses a significant challenge. The first step toward a political roadmap is achieving a unified Palestinian political platform that encompasses both Fatah, which governs parts of the West Bank, and Hamas, which controls the Gaza Strip.
Israel must also be compelled to come to the table, necessitating China's steadfast opposition to any violations of its red lines and ensuring cooperative engagement. The current Israeli government, led by Benjamin Netanyahu, contains ministers who advocate for annexation, ethnic cleansing, and altering the status quo of Jerusalem's holy sites. Convincing such a government to consider a two-state solution would be arduous, but China's influence could test the limits of the Israel-U.S. relationship and Israel's alignment with the West.
China's involvement in the peace process serves two tangible objectives: fostering Palestinian unity and diminishing U.S. influence in the region. Without a unified leadership spanning the West Bank and Gaza Strip, reaching an agreement to resolve the conflict remains elusive. Beijing could play a pivotal role by persuading Abbas to hold democratic legislative and presidential elections, which could deliver a more representative leadership and pave the way for progress. However, such a move would face staunch opposition from the United States, Israel, and their Western partners, as recent polls indicate that the majority of Palestinians oppose Abbas' leadership and favor Hamas and other figures in elections.
Moreover, China's potential to influence the Israeli government is a crucial factor. While convincing Israel to agree to a solution with the Palestinians may be challenging, China could exert pressure that tests the limits of the Israel-U.S. relationship. As the United States counters China's Belt and Road Initiative with its Partnership for Global Infrastructure and Investment, its key allies find themselves straddling both spheres of influence. Concerns over security risks have been raised in the U.S. regarding Chinese investments in Israel, particularly after allegations of technology transfer to China in the 1990s. China's significant investments and influence across the Middle East, including its relations with Iran, the UAE, Syria, and Lebanon, empower Beijing regionally and provide leverage to act as a potential middleman without the baggage carried by the United States.
China's public announcement of its intent to engage meaningfully in the Palestine-Israel negotiation process deals a substantial blow to the United States, which lacks the requisite influence and neutrality to make progress toward peace. By strategically applying pressure on the Israeli government and aiding Palestinian political unification, China can make tangible progress while simultaneously building up its influence at the expense of its major rival.
In conclusion, China's growing involvement in the Palestine-Israel peace process poses a significant challenge to U.S. dominance in the region. By leveraging its economic and diplomatic influence, Beijing can serve as a neutral broker, promoting Palestinian unity and pushing Israel toward constructive engagement. While the road to peace remains fraught with challenges, China's entry onto the negotiating scene disrupts the status quo and ushers in a new era of multipolar diplomacy. As the United States grapples with its own global initiatives, China's entry into the Middle East power play heralds a paradigm shift that could reshape the geopolitical landscape for years to come.