China Hosts Palestinian President Abbas as Beijing Steps up Middle East Diplomacy
After mediating between Iran and Saudi Arabia, is Beijing serious about addressing the Israel-Palestine conflict?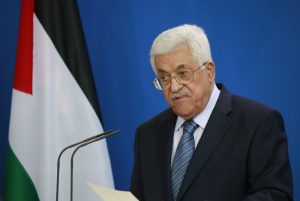 Palestinian President Mahmoud Abbas began a visit to China on Tuesday that comes as Beijing is seeking a larger role in Middle East politics and competing for energy resources.
In announcing the visit, China's Foreign Ministry said China was willing to help broker relations between the Palestinian Authority and the Israeli government, which have deteriorated to the lowest level in recent years. The ministry did not say who Abbas would meet in Beijing or give other details of his four-day visit.
Abbas met with Chinese President Xi Jinping during his last visit to China, in July 2017, when the two sides signed "bilateral cooperation documents in such areas as diplomacy, economy, personnel training and culture." More recently, Abbas attended the China-Arab Summit hosted in Saudi Arabia in December 2022, where he again met with Xi.
In previewing the visit, Chinese Foreign Ministry spokesperson Wang Wenbin pointed out that Abbas would be "the first Arab head of state to be hosted by China this year. This speaks volumes about the high-level friendly relations between China and Palestine."
He added that "China will continue to work with the international community for a comprehensive, just and enduring solution to the Palestinian question at an early date."
Increased fighting over the last year between Israel and the Palestinians in the West Bank has resulted in the deadliest period of violence between the sides in years in that territory.
State broadcaster CCTV quoted Foreign Minister Qin Gang as saying that "China supports the resumption of peace talks between Palestine and Israel as soon as possible on the basis of the 'two-state solution,' and is willing to play an active role in this regard."
China's potential ambition to try its hand at mediating the Israel-Palestine conflict raised eyebrows back in April, when Qin held back-to-back phone calls with Israel's Foreign Minister Eli Cohen and Palestine's Minster of Foreign Affairs and Expatriates Riyadh al-Maliki. Qin told both men separately that China was "concerned" about escalating tensions between Israel and Palestine, and urged the two sides to resume peace talks toward "the two-state solution."
In particular, Qin pointedly told Cohen, "It is never too late to do the right thing. China encourages Israel and Palestine to show political courage, and take a step forward to resume peace talks, and China is ready to facilitate efforts in this direction."
As Guy Burton pointed out in an article for The Diplomat at the time, China's offer to mediate was not new. Its last concrete effort to that end, in December 2017, brought together delegations from Israel and Palestine, but "both sides struggled to agree to anything more than a non-binding resolution," Burton wrote.
Earlier, in May 2021, Qin's predecessor as foreign minister, Wang Yi, laid out China's "four-point proposition" for reaching an Israel-Palestine peace: 1) a "ceasefire and cessation of violence"; 2) the provision of humanitarian assistance, with Israel lifting "the blockade and siege of Gaza" to ensure access for aid; 3) "vigorous action" from the United Nations Security Council to promote peace; and 4) ultimately "resuming peace talks based on a 'two-state solution' as soon as possible, to establish an independent State of Palestine that enjoys full sovereignty with East Jerusalem as its capital and based on the 1967 border."
Based on recent actions by the Israeli government, the dream of an independent Palestine within the borders drawn in 1967 looks to be a non-starter. That may be why China is hosting Abbas, not Israeli Prime Minister Benjamin Netanyahu. Netanyahu last visited China in March 2017.
While China and Israel have robust ties, particularly in the economic sector, much of China's recent diplomacy in the Middle East has centered on Arab states, which have been the most outspoken advocates for Palestine on the international stage. Even if Abbas' visit leads to nothing more, hosting the Palestinian leader amid a particularly tense period in the Israel-Palestine conflict sends a strong message of support that will resonate with China's Arab partners in the Gulf region.
The latest tentative foray into the Israel-Palestine dispute came after China played a successful mediation role between Iran and Saudi Arabia. China hosted talks between the two Gulf rivals that resulted in the two restoring diplomatic relations in March.
That development was seen as representing a diplomatic victory for China as Arab states in the Gulf perceive the United States slowly withdrawing from the wider region. As in the Israel-Palestine conflict, China was uniquely situated to serve as a mediator between Iran and Saudi Arabia because it has friendly ties with both sides and is viewed as a truly neutral party.
But it remains to be seen how far the reconciliation efforts between Iran and Saudi Arabia will progress. The rivalry dates to the 1979 revolution that toppled Iran's Western-backed monarchy, and in recent years the two countries have backed rival armed groups and political factions across the region. As analysts pointed out when the Iran-Saudi Arabia breakthrough was announced, China's role as a mediator did not extend to enforcing the agreement; there appears to be no mechanism to ensure both Tehran and Riyadh actually follow through.
Notably, the original agreement said that Iran and Saudi Arabia would reopen their respective embassies "within a maximum period of two months" – effectively setting a deadline of May 10. Neither side met the goal. Iran opened its embassy in Riyadh on June 6, nearly a month late, and Saudi Arabia has yet to reopen its embassy in Tehran.
The Associated Press contributed reporting from Beijing, China.