China, Pakistan, and the Taliban: CPEC in Afghanistan
Insights from Claudia Chia.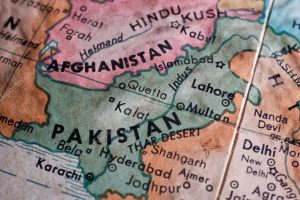 The Diplomat author Mercy Kuo regularly engages subject-matter experts, policy practitioners, and strategic thinkers across the globe for their diverse insights into U.S. Asia policy. This conversation with Claudia Chia – an independent researcher and former research analyst at the Institute of South Asia Studies at the National University of Singapore  ̶  is the 370th in "The Trans-Pacific View Insight Series."  
Explain the implications of Afghanistan's recent decision to join the China-Pakistan Economic Corridor (CPEC) under the aegis of the Belt and Road Initiative (BRI).
Statements considering Afghanistan's entry into CPEC have been published on multiple occasions by Pakistan and China, and Afghanistan is a formal member of the BRI. However, no real progress has been made until Afghanistan's recent decision. The successful signing of the 25-year Amu Darya oil contract worth $540 million between Xinjiang Central Asia Petroleum and Gas (CAPEIC) and the Taliban-led administration in January 2023 was a huge win that probably hastened the process.
Joining CPEC is a wise move for the Taliban to show their commitment to the Afghan population of rebuilding the Afghan economy. As Afghanistan is landlocked, the development of more transit routes through Pakistan and China would be important for trade and exports. However, whether this development entails that the Taliban will make progress on Chinese concerns like restricting Uyghur militant activities and improving security for Chinese personnel remains to be seen. 
The Taliban have not received official recognition from any country, and the signing party for Afghanistan's entry into the BRI was done under the previous government; hence the current administration technically does not hold legal competence to enter into a contract. This may be tricky for projects to be implemented in the long run.
In Pakistan, the pace of CPEC projects has been slowing down post-pandemic and facing uncertainties against the backdrop of Pakistan's ongoing economic crisis. The inclusion of Afghanistan might not be a boost at the present stage, but it does highlight that there is substantial political will among the three countries to cooperate together.
What are the Taliban's objectives in cooperating with CPEC?
The Taliban remain essentially cash-strapped and unable to go ahead with significant economic and infrastructure development due to frozen assets abroad, lack of foreign aid, and sanctions. The regime also clamped down on cultivation of opium poppies in April 2022, which had previously been a source of income. There is a need to prove that the regime is capable of leading and governing Afghanistan through the severe economic disruption and humanitarian crisis. Joining CPEC/the BRI is thus a logical decision to attract potential investment and business into Afghanistan.

Further, the Taliban want to break out of their diplomatic isolation, but they have limited partners and international parties that are willing to help without impositions and demands. China and Pakistan are the easiest cooperative partners that the Taliban could find. Keeping the bigger player with more financial might, China, engaged in Afghan affairs is crucial to the Taliban.
How does this development serve the geoeconomic and geostrategic interests of China and Pakistan?
For China, this development has largely served its belief of achieving security through economic development. It has proven that the financial assistance and prospects of development offered by China to the region in exchange for allaying Chinese security concerns has worked. China's position as the positive mediator between Afghanistan and Pakistan further cemented its importance and influence in the region.

Economically, China has not really gained much from Afghanistan. While the media have widely talked about Chinese interests in the Afghan rare minerals and natural resources, there has been a history of cancellations and delays of such projects in Afghanistan due to the dismal security situation. Even if it's implemented, the development of these sectors does take years, so it will take some time for economic rewards to flow back to China.
For Pakistan, the inclusion of Afghanistan into CPEC might improve its transit routes, especially through Gwadar Port and the Trans-Afghan Mazar Sharif-Kabul-Peshawar corridor. It also brings some useful leverage for the Pakistani authorities to negotiate peace along the Pakistan-Afghanistan border and to persuade the Afghan Taliban to curb support for the Pakistani Taliban.
How realistic are the Taliban's expectations of Beijing delivering substantial infrastructure projects?
I think the three parties currently have realistic expectations that the projects would be of low-risk and lower costs at this initial stage. The Taliban do harbor hopes for Beijing to invest more in Afghanistan, but they are also skeptical due to a historical lack of implementation. According to reports, the January 2023 Amu Darya oil contract contained a clause: "if the said company does not fulfill all the materials and items mentioned in the notice within one year, the contract will be automatically terminated." That reveals that the Taliban are skeptical until actual investment come in. 
Additionally, the administration is aware that it must improve safety for Chinese workers and meet the Chinese concerns about security by restricting Uyghur militant activities within Afghan territory. These two issues would prove critical to sustainable Chinese investment flow. The Taliban are also looking to other avenues to rebuild the economy, as evidenced in recent secret talks with Qatari officials. 
What is clear is that China is not easily deterred, and it is determined for CPEC to succeed. Even with the increasing number of attacks targeted at Chinese personnel in Afghanistan and Pakistan, the occasional fighting along the Pakistan-Afghanistan border, and the cyclical disagreements between the Taliban and Pakistani authorities, Beijing remains steadfast in continuing diplomatic and economic engagement with both sides.
Assess how Beijing is leveraging China's influence with Pakistan to gain a broader foothold in Afghanistan and the region more broadly.
Initially in late 2000, Islamabad helped to facilitate Chinese engagement with the Taliban. Through the different Afghan governments, China maintained its diplomatic and economic engagement, with Pakistan's assistance. However, it started to chart its own path of engagement from 2017 on when it sponsored trilateral dialogue with Afghanistan and Pakistan at the foreign ministers' level to resolve political tensions between the two countries. 
Now, Beijing is comfortable in dealing with the Taliban on its own and continues to dangle economic prospects to secure its own security. To a large extent, Beijing's ability to rein in Afghanistan and Pakistan represents a boost for it to take up regional leadership in Eurasia. China has cultivated good relations with neighboring countries of Afghanistan and has actively worked with them bilaterally and through the Shanghai Cooperation Organization (SCO) to promote peace and realize common development.