China's Belt and Road Initiative and the Taliban's Economic Dreams
The specter of insecurity in Afghanistan has been replaced by a lack of governance and widespread incompetence. Investors from China or any other country can be expected to be deeply wary.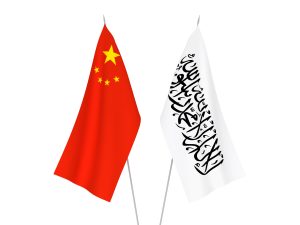 On October 17 and 18, leaders, delegations and representatives from more than 130 countries gathered in Beijing for the third Belt and Road Forum for International Cooperation, also marking the 10th anniversary of President Xi Jinping's ambitious global infrastructure and energy initiative. Among the invited was a Taliban delegation from Afghanistan led by acting Minister for Commerce and Industry Haji Nooruddin Azizi.    
Azizi's brief was to attend the meeting and invite "large investors" to Afghanistan. Azizi also held discussions in Beijing on plans to build a road through the Wakhan corridor, in northern Afghanistan, to provide direct access to China. However, what is of prime importance to both countries is the possible extension of the China-Pakistan Economic Corridor (CPEC) into Afghanistan. While all these projects look potentially promising, with the current state of affairs in the country, none are expected to come to fruition any time soon.
In January 2023, Taliban-run Afghanistan saw its first significant foreign investment when it signed a 25-year multimillion-dollar contract with a subsidiary company of the state-owned China National Petroleum Corporation (CNPC) to extract oil from the Amu Darya basin, which stretches between Central Asia and Afghanistan. The deal will see an investment of $150 million in the first year in Afghanistan and $540 million over the next three years, Taliban spokesperson Zabihullah Mujahid announced. The Chinese ambassador added that this "is an important project between China and Afghanistan." In February 2023, Afghanistan's Ministry of Mines and Petroleum announced the beginning of exploration in two blocks of the Afghan-Tajik oil zone and said that the process would be completed in two years. Three companies from the UAE and Turkey are carrying out the exploration.  
The Chinese record in seeing through investment proposals in Afghanistan, however, is sketchy at best. Initial expectations for various deals to result in employment opportunities for Afghans and revenue for the state have been belied. In 2008, a Chinese company took a 30-year lease on the Mes Aynak mines to extract nearly 11.08 million tonnes of copper. None of the mines has been developed, even 15 years later.
A deal to extract oil from the Amu Darya region had been signed with CNPC in 2011 before it was terminated by the government in 2012 after the Chinese company objected to independent auditors going through its expenditure records. It shut its office and the Chinese staff left the country.
Any company signing an investment deal with Afghanistan faces the enormously challenging task of working either to build refineries or to develop mines from scratch, before any actual production starts. Further, the lack of geological research on Afghanistan's natural resources also leads to an increase in pre-exploration expenditures. Earlier, security challenges to the projects were insurmountable. As a result, multiple efforts including the one organized by India to attract foreign investment into Afghanistan did not gain traction.
Even though the security situation may have improved with the prime source of insecurity in the past – the Taliban – now in the seat of power, what has replaced the specter of insecurity is a lack of governance and widespread incompetence. Investors from China or any other country can be expected to be deeply wary.
This is reflected in the meager investment that Afghanistan has been able to attract since August 2021. According to UNCTAD's World Investment Report 2023, FDI flows into Afghanistan have declined sharply over the past few years to $21 million in 2021, down from $119 million in 2018. This is primarily due to the worsened and weak business climate, which places any future investment under a thick cloud of uncertainty. Taliban policies also have depleted the country's skilled workforce and accelerated its brain drain. Underdeveloped financial markets and insufficient infrastructure may also deter major investors.
While Azizi has been banking on China to develop the Wakhan corridor, which connects China with Afghanistan via a 98-kilometer-wide strip of land at the Chinese end, the fact remains that the corridor needs significant investment to be developed into a potentially viable trade route. The high-altitude ancient corridor is operational only for five months a year. Even with Chinese expertise in building out such routes, operationalizing the route would require tens of billions of dollars and a permanent security arrangement, which Beijing would be reluctant to commit to without a careful cost-benefit analysis first. 
Much has been made out of China's offer to extend CPEC into Afghanistan to make the country a part of the Belt Road Initiative (BRI) and the Taliban's acceptance of the offer. In April 2023, China released an 11-point paper titled, "China's Position on the Afghan Issue," indicating Beijing's interest in transforming Afghanistan from a "land-locked" to a "land-linked" country. The paper noted that the Taliban had demonstrated interest in CPEC's extension into Afghanistan, something endorsed several months earlier by Azizi. In September 2022, he told the media, "In talks we had with China, it was mentioned that we should partner with China in the Belt and Road Initiative and China-Pakistan-Economic Corridor and other programs that China has at the international level."
However, Pakistan is the elephant in the room. Ever since August 2021, Taliban-Pakistan relations have been on a downslide. Islamabad's repeated accusations that the Taliban harbor the Tehreek-e-Taliban Pakistan (TTP) on Afghan soil, and its attempts to fence the international boundary on the Durand Line, have irked the Taliban. Pakistan's decision to deport thousands of visa-less and undocumented Afghans into Afghanistan has emerged as a new major diplomatic row between the two countries. Such vicious and unsettled acrimony is bound to find its way to disrupt any plan to extend CPEC into Afghanistan. Further, with CPEC projects encountering enormous implementation issues within Pakistan itself, the viability of the project's extension is necessarily suspect.
Some of the economic challenges encountered by the Taliban regime are the legacy issues of a conflict-ridden country. However, many are its own creations. The regime is hoping to substitute the reticence of the West with the supposed benevolence of China. Afghanistan under the Taliban seems to getting gradually sucked into the Chinese shadow. But Beijing's record of benevolence toward any nation in the long run is dubious; the Islamic Emirate should take note.