China's Overseas Police Service Stations in the Middle East 
Chinese Overseas Police Service Stations are known to be present in Israel and the UAE. However, their specific locations, functions, and extent are shrouded in secrecy.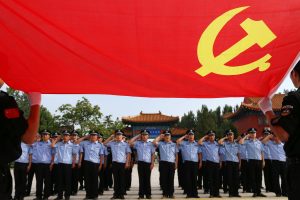 China's footprint in the Middle East has grown significantly over the past two decades. The region has become central to China's foreign policy within the Belt and Road Initiative (BRI) framework. Not surprisingly, the exponential growth in trade, investment, and commerce between China and the Middle Eastern states since 2000 has generated a large influx of Chinese nationals, businesses, and capital into the region. The estimated number of Chinese citizens in the Middle East is approximately 1 million, but the transient population of temporary Chinese visitors, merchants, and contract workers might increase the total.
Saudi Arabia, the United Arab Emirates (UAE), and Bahrain have emerged as top destination countries for Chinese expatriates in the Gulf. At the same time, Iran, Turkey, Jordan, Lebanon, and Israel are the leading destinations for Chinese migrant workers, tourists, and overseas students.
The successful opening of China's economy has fostered the expansion of Chinese companies and contributed to large diaspora communities of Chinese citizens worldwide. Following a surge of emigration in the 1990s, an estimated 10.5 million Chinese citizens live overseas, and with somewhere between 35 million to 60 million people temporarily traveling or working abroad. Importantly, the Chinese diaspora encompasses workers, emigrants, and dissidents, which has required the Chinese state security agencies to take a new approach to monitor them and assess their political stances. In addition, the growing Chinese diaspora is a primary target of the Chinese Communist Party (CCP)'s United Front strategy to increase its political influence globally.
Thanks to the combination of these trends, the extent of law enforcement activity by Chinese agencies outside their home country's jurisdiction against Chinese nationals has recently increased. The reports of "Chinese Overseas Police Service Centers" are part of this picture.
According to the human rights group Safeguard Defenders, which first drew attention to the issue in 2022, China has 102 overseas police stations in 53 countries spanning five continents. The considerable size of Chinese overseas communities has allowed China to field an extensive global presence through these stations. The Chinese overseas service stations network is managed by China's Ministry of Public Security and operated by local-level public security bureaus from three Chinese provinces (Jiangsu, Zhejiang, and Fujian). Their official tasks are to help Chinese citizens overseas with administrative issues, such as renewing their driving licenses.
Nevertheless, there are also reports of the stations being involved in "persuade to return" operations (attempts by the Chinese authorities, either directly or via proxies, to get criminal suspects or dissidents to return home for investigation and/or prosecution). According to China's Ministry of Public Security, between April 2021 and July 2022, the Chinese authorities arrested 230,000 suspects overseas, mainly from Southeast Asia, primarily relating to cases of suspected telecom fraud.
In some countries with good relations with China, these stations act as legitimate centers to help Chinese citizens abroad, and the existing and growing Chinese immigrant and worker communities will likely allow further expansion for Chinese overseas stations. They will continue to evolve to suit the environment of their host countries. The station's ongoing operations (both visible and hidden) show the increasingly sophisticated ways China aims to advance its interests, aid its citizens abroad, persuade others to return home, extend cooperation agreements, and influence activities worldwide.
The role of these stations' networks in advancing China's interests and extraditing Chinese citizens has naturally caused concern in the West, although their response was slow. More than a dozen countries have launched probes against the stations in recent months, and other countries have significantly scaled back their cooperation with them.
For its part, the Chinese government has consistently denied the existence of overseas police service stations. Chinese Ministry of Foreign Affairs spokesperson Wang Wenbin stated that China strictly follows the principle of non-interference in other countries internal affairs and abides by international law, respecting all countries' judicial sovereignty.
However, it is important to note that the United Nations Vienna Convention on Diplomatic Relations of 1961 prohibits countries from sending government representatives to other countries without the host government's consent. This means the Chinese government's overseas police stations are technically illegal in many countries.
Chinese Overseas Police Service Centers in the Middle East 
The presence and operations of Chinese Overseas Police Service Stations in the Middle East and other regions have been shrouded in secrecy and lack of transparency. The information available is often limited and difficult to verify independently. Surprisingly, given the warm and tightening relations between China and the Middle Eastern countries and the size of the Chinese population in the region (including residents, workers, students, and tourists), the number of police service centers, compared to other regions of the world, is negligible. According to Safeguard Defenders' report, Chinese overseas police service centers are located only in two countries in the Middle East: one in Israel and two in the UAE.
In Israel, China has operated a police service center since at least April 2020 to monitor Chinese nationals abroad and regime opponents without conforming to local judicial rules. The station in Israel, whose precise location is unknown, was opened on behalf of the police of Nantong in southeastern China. The exact nature of the cooperation between the station and Israel, including whether the station was established with the consent and cooperation of local authorities, remains unclear. The Israeli authorities have not commented on the matter, adding to the veil of secrecy.
In recent years, Israel has become an emerging, highly volatile tourist destination, attracting increasing numbers of Chinese tourists and becoming an important tourist source market. Currently, China is the 10th largest source of tourists to Israel. Beyond that, however, Chinese travelers comprise Israel's fastest-growing tourist source market and thus will play a key role in achieving the goal of 10 million tourists by 2030. In 2019, before the outbreak of the COVID-19 pandemic, more than 150,000 Chinese tourists traveled to Israel. Although Chinese tourists are back, numbers are still far from pre-COVID-19 pandemic levels.
In addition to attracting tourists, the Israeli government plans to bring in thousands of workers from China to help address the country's severe housing crisis. Chinese workers have a long history of working in the Israeli construction industry and are seen as reliable and skilled. The government hopes that by bringing in more Chinese workers, it will be able to build more housing units and reduce the cost of living. Today, Chinese workers represent the most significant proportion of foreign workers in construction in the country, numbering around 6,000. They work on various projects, employed mainly by Israeli firms.
In the UAE, China has established at least two Chinese overseas police service stations, one in Dubai and one at an unknown location. The Nantong and Wenzhou police departments reportedly operate these stations, and they are said to function in cooperation with local authorities. The UAE authorities have been concerned about the activities of these stations, and they have reportedly uncovered evidence of "black sites operated by Chinese intelligence agencies that were used as detention and investigation centers."
The UAE has a close relationship with China, which grants Chinese law enforcement agencies certain privileges, including freedom of movement and the ability to conduct surveillance and arrests. In the past, the local authorities have arrested dissidents or Uyghur Muslims and deported them to China.
Dubai hosts the largest and most diversified Chinese population in the Middle East. The estimated number of Chinese people in the UAE is 400,000, roughly 4 percent of the country's total population. In 2022, around 6,000 Chinese enterprises were operating in the UAE. In 2019, almost 990,000 Chinese tourists traveled to UAE. China was an emerging source market for Dubai's tourism sector. However, that changed with the outbreak of COVID-19, and while the UAE is performing better than most countries in terms of tourism, it is eager to attract more Chinese visitors.
In summary, China's presence in the Middle East has grown significantly in recent years, and the number of Chinese citizens living and visiting the region has risen accordingly. The issue of Chinese overseas police service stations in the Middle East is complex and non-transparent, requiring more in-depth investigation. The operations of these stations are often veiled in secrecy, and it isn't easy to ascertain their exact activities and purposes – or even their locations, which presumably should be readily available if they are truly meant to provide basic services to Chinese citizens abroad.
The level of cooperation between the Chinese police service stations and the host countries is also uncertain. The extent to which local authorities are aware of and involved in establishing and operating these stations remains undisclosed. The lack of transparency surrounding their presence raises questions about the nature of the relationship between the Chinese government and the host countries.
Since Chinese law enforcement has apparently established a worldwide chain of overseas police service stations, it is unlikely that there are no such centers other countries in the Middle East where Chinese interests and citizens are constantly growing. The future of the Chinese government's overseas police stations is still being determined in the Middle East. The Chinese government may continue to expand its overseas police stations in the region as it seeks to increase its influence. However, it is also possible that these stations will be forced to close as local governments become more aware of their activities and concerns regarding their legality and implications increase.