Germany Prods China on Ukraine War As Leaders Pledge To Work Together on Climate
Premier Li Qiang chose Germany as his first destination abroad since taking office, a sign that China is seeking to repair strained ties with Europe.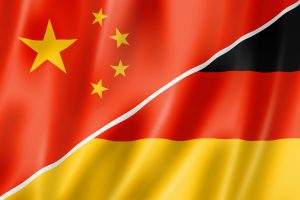 Germany's chancellor pressed China to lean harder on Russia over its war in Ukraine on Tuesday, while leaders from both countries pledged to work together to combat climate change as two of the world's biggest carbon dioxide emitters.
Chancellor Olaf Scholz and about half of his Cabinet hosted a delegation led by Chinese Premier Li Qiang, making his first foreign trip since becoming China's No. 2 official in March, as the two nations held high-level government consultations for the seventh time.
The meeting in Berlin comes a day after Chinese President Xi Jinping met with U.S. Secretary of State Antony Blinken, indicating an effort by Beijing to reach out to the West and improve frosty relations.
Germany is keen to maintain good ties with China, its biggest trading partner, despite wariness over Beijing's growing assertiveness and refusal to criticize the Russian invasion of Ukraine. Germany's recently published national security strategy describes China as "a partner, competitor and systemic rival."
Scholz prodded the Chinese delegation to do more to persuade Russia to end the war in Ukraine.
"I appealed again to the Chinese government to exert its influence even more strongly on Russia in this war," he said, standing alongside Li. "As a permanent member of the U.N. Security Council, China carries a very special duty here."
"It is important that China continues not to deliver weapons to the aggressor, Russia," Scholz said, adding that he is "thankful" that China continues to make clear there must be no threat to use nuclear weapons.
Li didn't respond directly or mention Ukraine in his statement. The two leaders took no questions.
Germany and China agreed at Tuesday's meeting to set up a "climate and transformation dialogue." Scholz pointed to extreme weather events such as droughts in China and floods in Germany to illustrate the importance of action.
In their agreement, the two sides pledged to work on achieving "practical results in the field of green and low-carbon development" that include combating emissions in the industry, energy, and transport sectors. They also committed to helping each other improve energy efficiency, recycling, and the development of emissions trading systems in both countries.
"As major emitters of CO2, Germany and China bear particular responsibility in the fight against climate change," Scholz told reporters. "We will face this responsibility together."
Li said that "dealing with climate change should become an important field of cooperation for both sides."
The Chinese premier emphasized trade and economic issues in his comments. "Deglobalization is flaring up again and the global economy is lacking growth dynamics," he said, according to an interpreter. He added that "China places great value on the development of relations with Germany and Europe."
After visiting the European Union's biggest economy, Li travels to France – the second-biggest – where he will attend the "Summit for a New Global Financing Pact," which is being held at French President Emmanuel Macron's initiative.
Scholz has said he wants to avoid over-reliance on Chinese trade and diversify Germany's supply of key goods – an approach he calls "derisking." He said he reassured Li that "we have no interest in an economic decoupling from China." The position was echoed last month by the Group of Seven leading industrial powers.
He noted that "access to the Chinese market and fair competition conditions for German and other foreign companies in China remain a challenge, on which we are pushing for concrete improvements."
During a later joint appearance at a German-Chinese economic forum, Scholz suggested that those improvements would also help in fighting climate change.
"For every country in the world, it will be easier to reach its climate targets if we allow fair competition, open market access and a level playing field," he said. "After all, competition fosters innovation."
As Scholz and Li met, German security officials warned of the continued danger posed by Chinese espionage.
A report by the BfV domestic intelligence agency, published Tuesday, notes that China's Ministry of State Security is actively trying to obtain information on areas of political, economic and scientific interest to Beijing, as well as on Chinese dissidents in Germany.
Interior Minister Nancy Faeser said the country is also examining the potential risks from the use of telecommunications equipment made by Chinese company Huawei in Germany's 5G networks.
"This inquiry will be completed in the summer and then we will provide an assessment," she said, adding that this could result in Huawei equipment having to be removed.