How Vietnam Can Disrupt China's Dominance in EVs
There's a long way to go, but the country has most of the ingredients it needs to be a significant player in global EV supply chains.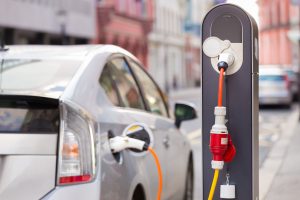 Vietnam has one of the fastest growing middle classes in Southeast Asia, with a recent McKinsey report estimating that more than 36 million people could join Vietnam's consuming class by 2030. This growing middle class, along with the associated increase in its consumption capabilities, is just one facet driving Vietnam's strong economic expansion, with the country's GDP forecast to increase from $327 billion in 2022 to $470 billion by 2025.
One of Vietnam's growing economic sectors is its electric vehicle (EV) industry, focusing on domestic and international manufacturing, infrastructure, and supply chain elements specific to EVs. Vietnam's increasingly important role in both the production and consumption of EVs will soon make it one of the world's most dynamic EV markets, potentially disrupting China's current dominance of the EV ecosystem on both levels.
Vietnam's Growing Importance in the EV Supply Chain
Manufacturing has contributed significantly to Vietnam's recent economic growth, with the manufacturing sector accounting for nearly 25 percent of the country's total GDP in 2021. As a result, interest in manufacturing EVs and electric batteries in Vietnam has skyrocketed, most recently with the announcement last month by Chinese EV manufacturer BYD of plans to manufacture EVs in Vietnam. BYD joins the ranks of companies like Hyundai, which opened a factory in Vietnam in November 2022 through a joint venture with Vietnamese company, Thanh Cong Group, specifically focused on EV production.
Michael Beda, the CEO of Eden Global Capital, an investment bank geared towards assisting Vietnamese companies to list in the U.S., said, "Vietnamese businesses have received record levels of foreign direct investment, with the government primarily focused on easing regulations in the green and blue economies. A large focus for the central government in the coming years is to increase the capacity of the power grid to support both clean manufacturing and a transition to EVs."
Vietnam's high concentration of nickel reserves, a key component in EV batteries, is also underlining its importance in the EV supply chain. Australian company Blackstone Minerals has invested heavily in nickel mining and refinement in Vietnam, most notably through its Ta Khoa refinery project in the north of the country. Additionally, VinFast, Vietnam's first automobile brand, has made significant strides not only in manufacturing EVs of its own – the company announced the establishment of an EV assembly plant in North Carolina in March 2022, after having previously done so in Vietnam in June 2019 – but also in building batteries crucial for the production of other EVs. In December 2021, the firm established a $175 million EV battery factory, Vietnam's first.
Domestic demand for EVs is also growing in Vietnam. In February of this year, Volvo Car Malaysia announced that it would begin EV exports to Vietnam, building upon Nissan's similar announcement in November 2022. Vietnam's growing status as a manufacturer of EVs, its importance in the EV battery supply chain, and growing consumer base for EVs, creates the perfect market conditions for it to disrupt China's current stranglehold on the EV market.
Support For Vietnam's EV Ecosystem
In December 2022, Vietnam announced its participation as one of the first three countries to participate in the Just Energy Transition Partnership, a financing mechanism that involves developed nations helping countries like Vietnam transition toward more sustainable energy sources. Garnering international support to assist in the financing and growth of the sustainable energy industry will help Vietnam develop its burgeoning EV ecosystem.
The Vietnamese government has also undertaken a variety of efforts to promote carbon neutrality through EV growth and implementation. These efforts include, but are not limited to, actions like the March 2022 issuance of Decree 10/2022, which exempts EVs from registration fees for the first three years of use, and reduces fees by 50 percent for two years after that. The Vietnamese government also passed Decision 1095 in June 2021, which aimed to formulate a national program for developing EV-specific public transit from 2022-2023.
Both domestic and international support is seeking to capitalize on the fact that Vietnam's growing middle class will result in increasing purchasing power. Vietnam's car ownership rate is currently one of the lowest in Asia, with only about 4-5 percent of families owning cars in 2018, with this number rising ever-so-slightly to 5.7 percent in 2020. Increasing fuel costs are highlighted as significant concerns for car-owning Vietnamese, with 64 percent of respondents to a survey conducted in mid-2022 highlighting lower fuel costs as a significant factor in purchasing an EV. The Vietnamese government is aware of this issue, and in March of this year asked its various ministries to construct a 50 percent cut in registration fees for domestically manufactured vehicles. With these factors in mind, combined with increasing governmental support for car ownership, EVs are a natural choice for Vietnam's growing middle class.
Additionally, VinFast has been aggressively pursuing domestic production of EVs in Vietnam, with the company seeing significant sales growth from 2022 to 2023. VinFast also recently launched EV taxis in April of this year, helping to grow and develop everyday use of EVs in Vietnam, but also helping to establish desperately-needed EV-charging infrastructure in Vietnam.
EV Growing Pains    
While Vietnam's EV market seems poised for economic takeoff, interest in such a dynamic industry has caused some growing pains for Vietnam, particularly when compared to China's existing status as the world's largest EV market, with 6.8 million EVs sold in 2022, compared to 800,000 in the United States. Electric grid and charging infrastructure, while capable of supporting electric micromobility options like e-bikes and e-scooters, will have difficulties supporting the larger energy needs of EVs.
Additionally, companies like VinFast, Vietnam's first automobile brand and EV manufacturer, have experienced some setbacks recently, including the recall in May of its first batch of U.S.-bound EVs and the announcement the same month of the pullout of its planned IPO in the United States.
However, Vietnam's ability to persevere through these challenges will set the country in good stead. The country's important position in the EV supply chain, strong government support, and other domestic factors all contribute to Vietnam's ability to expand its EV manufacturing capacity and help diversify the existing international EV ecosystem. All told, while there are many challenges to come, Vietnam has the potential to make a significant impact in the world's EV ecosystem as both a manufacturer and consumer, even to the extent of ensuring that the EV supply chain becomes less reliant on Chinese manufacturers and materials alike.