Why VinFast is Struggling In the US Electric Vehicle Market
The Vietnamese automotive firm's planned conquest of the American EV market has hit a number of hurdles.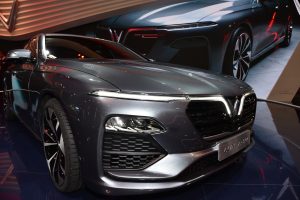 Vietnamese electric vehicle maker VinFast made waves when it announced it would be jumping directly into the U.S. auto market and constructing a $4 billion manufacturing facility in North Carolina. The company, which is majority owned by the Vietnamese conglomerate Vingroup, began preparing for an initial public offering in the United States back in 2022.
From the start, the plan was ambitious. A lot of Vietnam's recent economic success has been because big global brands, like South Korea's LG, find it attractive to manufacture products in Vietnam and then export them to global markets. It is unusual for an export-oriented industrializing country such as Vietnam to offshore manufacturing to the United States. And, as VinFast posts poor financial results and its U.S. plant struggles to get off the ground, we begin to get an idea of why.
The North Carolina factory was initially scheduled to begin producing cars in 2024, but the date of operation has been pushed back to 2025. Until then, any cars that VinFast sells in the U.S. will be imported from its Vietnamese production hubs. Yet even there, things have not gone smoothly, with the first batch of cars shipped to the U.S. being recalled after a safety warning was issued by the National Highway Traffic Safety Administration.
VinFast executives have been leaving the company, and the original straightforward IPO plan has been shelved and replaced by something called a SPAC, a kind of speculative financial vehicle that was popular when the stock market reached wild heights in 2021 but which the Washington Post recently referred to as a type of "silliness."
Looking at the financials that VinFast disclosed as part of the proposed SPAC deal, the company currently has negative equity and is losing billions of dollars from its operations. After-tax losses in 2022 were recorded at $2.1 billion. In the first three months of 2023, things have not improved with the firm recording $598 million in accumulated losses and reporting only $159 million in cash on hand. Total accumulated losses have reached nearly $6 billion.
It is true that as VinFast looks to make a big expansion in a tough overseas market you would expect the firm to spend money initially as it invests in its U.S. operations, and then recoup this investment over time. But U.S. operations are already struggling, and even given the necessity of large initial capital outlays these financials are not telling a very convincing story. So, what is going on here?
In order to encourage investment in domestic manufacturing, especially in industries like clean energy, the United States is doing industrial policy. On the supply side, big tax breaks and other sweeteners have become available to companies willing to build manufacturing facilities in the United States. On the demand side, financial incentives are being offered to encourage consumers to buy electric vehicles.
But many companies are finding that setting up shop in the United States is more difficult than they first thought. Costs are often higher, including labor, construction, permitting, and licensing, and the regulatory and political atmosphere is different from what they are used to. This is not just a VinFast problem. Taiwanese chipmaker TSMC is struggling to get its Arizona fab up and running, and has also pushed back the operational date to 2025.
VinFast's parent company, Vingroup, is profitable and closed in 2022 with over $1.1 billion in cash on hand and $5.7 billion in shareholder equity. They may have the wherewithal to keep this project moving forward, but it will be tricky. Investors are hardly clamoring for more SPACs these days, and the accumulated losses on VinFast's balance sheet are already substantial. Moreover, the EV market in the United States is shaping up to be very competitive. If VinFast continues down this path, it likely will not be for purely financial or market-based reasons.
I think these developments also cast an interesting light on the complexity of industrial policy. The U.S. government can indeed offer a grab-bag of incentives to companies in order to encourage investment in priority sectors. But firms will enter the market for a variety of reasons, and their experiences will be different and hard to predict. VinFast's bumpy road into the U.S. market is evidence of this complexity in action.