It's Official: US Secretary of State Blinken Will Visit China
The U.S. and Chinese governments confirmed Blinken's trip for June 18-19, while also giving a preview of their narratives on the engagement.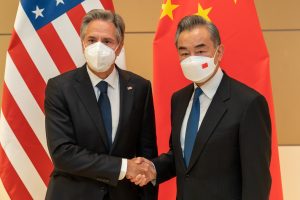 China and the United States have confirmed U.S. Secretary of State Antony Blinken's upcoming trip to China – a step never taken before his planned trip in February was canceled. China's Foreign Ministry and the U.S. State Department both issued press releases on June 14 stating that Blinken will arrive in China this weekend. It will be his first trip to the country since assuming office in January 2021; by contrast, Mike Pompeo, Rex Tillerson, and John Kerry, Blinken's three predecessors, all visited China within three months of taking office.
The U.S. statement noted that "Secretary Blinken will meet with senior PRC officials" to "discuss the importance of maintaining open lines of communication to responsibly manage the U.S.-PRC relationship. He will also raise bilateral issues of concern, global and regional matters, and potential cooperation on shared transnational challenges."
China's statement was much shorter, with the full announcement reading: "As agreed between China and the US, US Secretary of State Antony Blinken will visit China from June 18 to 19."
The terse language omitted a key phrase generally used to announce foreign minister visits: that the visiting dignitary was coming "at the invitation of State Councilor and Foreign Minister Qin Gang" (see, for example, the announcements of the five most recent foreign minister visits to China). Media reporting held that the United States heavily pushed for Blinken's trip to China; the pointed omission of Qin extending the invitation implicitly backs that up.
Both statements also avoided confirming exactly which officials Blinken will meet with while in Beijing. That leaves open the question of whether he will get any face time with China's top leader, Xi Jinping, or even China's top diplomat, Wang Yi, the former foreign minister who was promoted to head up the Chinese Communist Party's Foreign Affairs Commission in fall 2022.
The formal announcement was preceded by a phone call between Qin and Blinken. The U.S. readout didn't specify which issues were discussed, saying only that Blinken "addressed a range of bilateral and global issues, and made clear the U.S. would continue to use diplomatic engagements to raise areas of concern as well as areas of potential cooperation." It focused more on the big-picture state of the relationship, saying Blinken "discussed the importance of maintaining open lines of communication to responsibly manage the U.S.-PRC relationship to avoid miscalculation and conflict."
China's readout, by contrast, read as a list of demands: "the United States should respect" China's position on its core interests, including Taiwan; "stop interfering in China's internal affairs," and "stop undermining China's sovereignty, security, and development interests in the name of competition."
Qin also told Blinken that it's "clear" where the blame lies for the deterioration in China-U.S. relations since the beginning of the year.
The phone call serves as a useful lens through which to examine the U.S. and Chinese governments' attempts to position themselves before Blinken's trip. Both are trying, in their own ways, to justify the value of Blinken going to Beijing: The United States by emphasizing the need for continued engagement and China by bolstering its bona fides as a defender of "core interests." Remember that Washington is seen as the prime mover in seeking this visit; that means by granting Blinken a meeting Beijing risks being framed by hard-core nationalists as "giving in" to U.S. pressure. There was ample criticism by Chinese pundits of the decision to invite Blinken to China back in February, after all.
The pre-trip readouts thus highlight a troubling dynamic, where dialogue is seen as a necessity by one side and a concession by the other.