As Focus on Sanctions Evasion in Kyrgyzstan Intensifies, Government Promises Action
As consequences loom, Kyrgyz officials have moved quickly to acknowledge, rather than deny, allegations of sanctions evasion and promise action.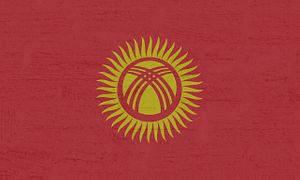 Kyrgyzstan's State Committee for National Security (SCNS) said in a statement on July 20 that private Kyrgyz companies may be involved in sanctions evasion but that the state, and state-owned companies, are not. Kyrgyz government officials also pledged to take measures to investigate and stop such activities.
The SCNS, Kyrgyzstan's intelligence and security agency, made its statement as focus intensifies on Kyrgyzstan as a route around sanctions on Russia. 
In late June, RFE/RL released an investigative report that found Kyrgyz and Kazakh companies had exported sanctioned dual-used technology to Russia. The report charts the convoluted pathway that Western technologies take into the Russian war effort. For example:
One Russian importer identified by reporters was incorporated in the defense-industry city of Izhevsk less than two months after Russia's full-scale invasion of Ukraine. While RFE/RL was unable to locate records showing the firm is a Russian military supplier, its director is a karate coach who has worked for a factory – also based in Izhevsk – that the U.S. government says "develops items and technologies for Russia's military."

A top trading partner of the Russian firm, customs records show, has been a Kyrgyz firm that was founded less than a month after the February 2022 invasion that exports advanced electronics to Russia.
RFE/RL's findings were followed a month later by reporting on July 18 in the Washington Post, which claimed that "[a]fter months of fruitless visits to the Kyrgyz capital of Bishkek by a stream of U.S. and European diplomats, the Biden administration is preparing new economic measures to pressure the country to halt the trade, according to two U.S. officials familiar with the plans."
Two days after the Washington Post report was published, the SCNS put out a statement in which it said it "admits the possible involvement of private companies and firms… which, as part of their business and production activities, could be involved in violations of sanctions restrictions, possibly without knowing who actually can be the end consumer and user of the products supplied to them." The statement went on to stress, however, that "neither the Kyrgyz state itself, nor any state structures and companies are involved in the violation of the regime of compliance with the sanctions restrictions imposed by the United States and Western countries against Russia." 
The SCNS also announced that it had launched an investigation into sanctions evasion activities by private companies, with the aim of stopping them.
Chairman of the Kyrgyz Cabinet of Ministers Akylbek Japarov (no relation to the president, Sadyr Japarov) said, "Measures will be taken in the future so that the sanctioned goods do not cross our border and go where there are sanctions."
In the past year, a steady stream of U.S. and European officials have indeed flowed through Central Asia, with Russia and the Ukraine war a major issue at hand. In April, Assistant Secretary of State for South and Central Asian Affairs Donald Lu visited Kyrgyzstan and Tajikistan. Fast on his heels through Bishkek the same month came Assistant Secretary for Terrorist Financing and Financial Crimes Elizabeth Rosenberg, from the Treasury Department, and the Commerce Department's Assistant Secretary for Export Enforcement Matthew S. Axelrod – traveling with sanctions coordinators from the United Kingdom and the European Union.
Soon after, a Kyrgyz company – Tro.Ya, LLC – was added to a list of companies sanctioned for "supporting the Russian military-industrial complex" held by the U.S. Department of Commerce's Bureau of Industry and Security (BIS). Tro.Ya is reportedly involved in importing and exporting, particularly the supply of electronic equipment, including semiconductors sourced from well-known international brands. The war in Ukraine appears to have been quite a windfall for the company, with RFE/RL's Kyrgyz Service reporting, using state tax data, that "If for 11 years since its opening the organization transferred only 6,647 soms to the state, then last year the payments amounted to almost 3.7 million soms."
Earlier this month, U.S. Ambassador to Kyrgyzstan Lesslie Viguerie told The Diplomat that sanctions evasion is an important issue in the relationship. "It's something that I often bring up: that this is important, that the United States is watching this closely," he said, acknowledging at the same time the close trading links Kyrgyzstan has with Russia.
"I think the goal here is, at this point, not to punish Kyrgyzstan but really to give them the information that they need so that they do not become a place of sanctions avoidance, and that message has been repeated by other visitors," Viguerie said.
"I think there's a recognition that they don't want to get the bad reputation of being a 'sanctions evader' and all the consequences that might flow from that."
The Washington Post report suggests that consequences might be looming closer and more heavily than a single sanctioned company, but the threat itself be sufficient. That the SCNS and other Kyrgyz officials moved quickly to acknowledge (rather than flatly deny) the issue may prove important – if only as a signal to Kyrgyz companies involved in sanctions evasion activities that the window for their bustling business is closing. 
Update: Shortly after this article was published, the U.S. Treasury Department announced a new round of sanctions targeting Russian and Kyrgyz companies. At least six of the newly sanctioned companies were featured in the abovementioned RFE/RL investigation.