Can US High-tech Restrictions on China Succeed?
U.S. export controls on China are set to tighten further, but will create many challenges, including in relations with Washington's European and Asian allies.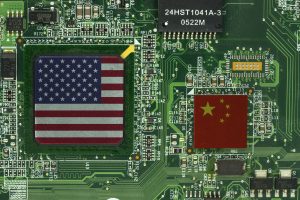 U.S. Treasury Secretary Janet Yellen's recent visit to Beijing aimed to help stabilize strategic relations between the United States and China, but it also cast into high relief their growing high-tech rivalry, especially in the area of semiconductor manufacturing. In the days prior to her arrival, reports surfaced of Washington's intention to seek further controls on transfers to China of know-how and technologies involved in semiconductor manufacturing, while Beijing announced new restrictions on the export of rare earths critical for the production of semiconductors. 
But the United States and China are not the only ones engaged in this geo-technological tussle. Other major high-tech powers in Europe and Asia are also rethinking their trade and investment relationship with China, often at Washington's prompting. What is behind these developments, how will they affect China-U.S. ties and the United States relations with key allies in Europe and Asia? And what are the prospects for the U.S.-led effort to slow China's access to sensitive technologies?
An Ongoing Process, With More to Come
In recent years, the United States has accelerated its efforts intended to blunt China's access to militarily relevant technologies, through measures including the passage of the Export Control Reform Act of 2018, the expansion of the controlled entities list, increasing scrutiny of Chinese investment in the United States, and the ending of Hong Kong's preferential trade treatment.
Under President Joe Biden, the United States has continued this effort, with a particular focus on the semiconductor sector. Originally, some hoped that Biden would review and reverse many aspects of the former Trump administration's export control policies. Instead, with the modernization goals of the People's Liberation Army (PLA) shifting toward "intelligentized" warfare (智能化战争) – that is, the operationalization of artificial intelligence (AI) and its enabling technologies for military purposes – the Biden administration has intensified its efforts to restrict and control China's access to dual-use technologies with potential military applications. This is especially true regarding semiconductor technology and equipment, which are crucial to the future development of China's AI sector and its associated military applications.
Last year saw the entry into law of the CHIPS and Science Act and the introduction by the U.S. Commerce Department of sweeping new export controls on advanced computing and semiconductor manufacturing items to China. These measures aim to prevent the sale of high-end semiconductors and their related design and manufacturing technologies and systems to any entity in China, including U.S. entities based there. More recently, reports indicate that the Biden administration will act to further curb semiconductor-related transfer to China, including by preventing U.S. firms from leasing cloud services with AI capabilities to Chinese companies.
Moreover, as of this month, the U.S. Department of Commerce had some 600 Chinese organizations and individuals on the "Entity List," with more than 110 of these added since the start of the Biden administration. Exports of specified technologies to these entities requires licensing approval from Commerce, with the intention of restricting and preventing their access to such U.S. technologies. These Chinese entities include companies, research institutions, and individuals supporting the PLA's modernization efforts, participating in China's military-civil fusion strategy, and involved in military technology and advanced dual-use technologies. 
The list includes China's minister of defense, Li Shangfu, who was sanctioned in 2018 – prior to his current appointment – for his involvement in arms imports from Russia.
Coordinating With Allies
Another key element of the Biden administration's approach is to limit China's ability to replace its lost access to U.S. semiconductor technology with access to relevant technologies from U.S. allies. An important step in this direction secured a January 2023 deal in which Japan and the Netherlands agreed to join the United States in adopting new export controls on advanced semiconductor technology and equipment, with China in mind. Beyond this agreement, recent reporting suggests the Biden administration will soon invoke a rule that prevents foreign equipment suppliers from selling to China any semiconductor manufacturing gear that contains even a modicum of U.S. components.
The Biden administration has also adopted a multilateral approach in coordination with other Group of 7 (G-7) countries. In April 2023, the trade ministers of the G-7 countries issued a statement pledging to cooperate with other states to strengthen exports controls on technology critical to military applications as well as for other activities that threaten global, regional, and national security, only days after Japan had announced its new export controls on semiconductor technology. Furthermore, the G-7 Hiroshima Summit in May unveiled a new coordinated approach toward China centered around "de-risking." 
Likewise, the European Commission has also released its European economic security strategy, which seeks to "fully implement the EU's export control regulation on dual use items." The European Union is also ready to coordinate a bloc-wide approach to export controls on advanced chips by making full use of existing dual-use legislation to adopt EU-level export controls. According to Valdis Dombrovskis, vice president of the European Commission, such steps are needed "to ensure coherence in a joint European policy on security, trade and technology." 
What to Expect From Here
While U.S. export controls on China will further tighten, they will face many challenges. One tricky balancing act – the same one that Yellen had to navigate during her recent trip to Beijing – is making a convincing case that Washington seeks a stable, constructive economic relationship with China, even as additional restrictions on high-tech trade are put in place in the name of national security. This is a tension that Beijing will expose and denounce, especially in its public diplomacy, as part of an effort to warn other advanced economies against following the same path.
As a result, another challenge will be keeping advanced European and Asian allies in agreement with expanded restrictions on high-tech know-how, technology, and manufacturing equipment. This will be especially true if U.S. restrictions reach beyond the most advanced realms of chipmaking to include other sensitive, dual-use, and militarily-relevant technologies, including naval and marine technologies (such as propulsion and undersea detection), aviation technologies (jet engines and avionics), navigation and communications systems, and advanced industrial manufacturing applications. 
U.S. pressures to limit foreign firms' exports of chips and chip manufacturing equipment to China have met with strong pushback from some quarters, such as from the South Korean government and the country's high-tech giant, Samsung Electronics. In a move closely monitored by governments and industries in other allied countries, the Biden administration announced last month that it would extend exemptions that would allow, without U.S. sanction, the continuing operations of major South Korean and Taiwanese semiconductor manufacturing firms in China.
In the end, export controls alone – certainly U.S. export controls alone – are insufficient to limit Chinese military modernization over time. Those institutions on the Commerce Department "Entity List" can still buy U.S. goods through subsidiaries that are not on the list or through shell companies established for the purpose of evading the controls. Such shell companies can be set up in a matter of weeks; however, identifying and blacklisting them can take years.
It is also true that many of China's less advanced – but nevertheless effective and lethal – military systems rely on less sophisticated chips and other dual-use components that are still widely available. 
In addition, while U.S. and other allied countries' controls probably constrain China's ability to make advanced chips on a commercial scale, they are less effective in preventing the technical capacity to produce them in limited numbers for specific military applications. As a result of these and other factors, a 2022 Peterson Institute report predicts that export controls will dent China's ability to produce advanced chips with military applications until about 2027 or so. 
But in spite of these many challenges, national security concerns will continue to define much of the U.S. government's economic policy toward China. Efforts to restrict and control China's access to advanced semiconductor and other dual-use technologies will probably have the greatest likelihood of stemming the future development of China's AI and other high-tech sectors and their associated military applications. Washington will increasingly expect its allies to take the same approach.