China Cancels Planned Visit by EU's Top Diplomat
It's unclear what caused the late-minute cancellation of Josep Borrell's trip, but the decision followed an EU summit that discussed China policy.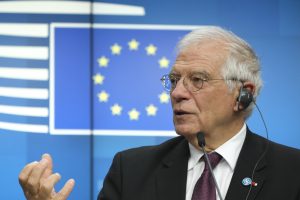 China has abruptly canceled a visit to Beijing by the European Union's top diplomat, the EU said Wednesday, amid ongoing disagreements between the two powers over trade, human rights and the Ukraine war.
Josep Borrell, the EU's high representative for foreign affairs and security policy, was due to arrive in China on July 10 for talks with Chinese Foreign Minister Qin Gang and other officials, according to an announcement by the EU ambassador to Beijing on Sunday. The European and Chinese diplomats were set to discuss topics including trade, human rights and China's stance on the war in Ukraine, according to Ambassador Jorge Toledo.
But China has canceled Borrell's visit, the EU announced, without saying why.
"Unfortunately, we were informed by the Chinese counterparts that the envisaged dates next week are no longer possible and we must now look for alternatives," EU spokesperson Nabila Massrali said in an emailed statement on Wednesday.
"It is for China to communicate on the reasons," she added. "We will adapt and find together a new date."
China's Foreign Ministry was vague on the topic.
"China attaches high importance to Sino-European relations and has maintained exchanges with Europe at all levels and in various aspects," Foreign Ministry spokesperson Wang Wenbing said at a routine briefing in Beijing on Wednesday. "We welcome Representative Borrell to visit China as soon as possible at the convenience of both sides, and we are ready to carry on exchanges with the European side."
Borrell was initially scheduled to visit Beijing in April but had to postpone after testing positive for COVID-19, the EU said.
While it remains unclear what has caused the latest cancellation, it comes on the heels of a summit by EU member states last week during which the bloc endorsed a strategy to try to procure critical materials from sources other than China, while insisting it did not want to entirely "decouple" from the world's second-largest economy.
The member states also affirmed the EU's "multifaceted" position on China, which the bloc labels as "simultaneously a partner, a competitor and a systemic rival."
The "systemic rival" designation, first adopted by the EU in 2019, has long irked Beijing, as have recent European efforts to align with the United States on reducing dependencies on Chinese trade and supply chains.
Brussels, on the other hand, takes issue with China's refusal to condemn Russia's invasion of Ukraine. Beijing claims it is neutral in the conflict but has backed Russia by organizing frequent state visits and joint military drills.
The EU member states last week urged China "to press Russia to stop its war of aggression, and immediately, completely and unconditionally withdraw its troops from Ukraine." European Commission President Ursula von der Leyen and French President Emmanuel Macron made similar requests during visits to Beijing earlier this year.
Borrell has been particularly critical of China's approach to the Russian invasion of Ukraine. In April, he said that "siding with the aggressor" was unacceptable, and added that China has "a moral duty to contribute to a fair peace."
"We have been clear with China that its position on Russia's atrocities and war crimes will determine the quality of our relations with Beijing," Borrell added.
The EU also opposes a change in the status quo of China's relationship with Taiwan, even as Beijing continues to threaten to take over the self-ruled island, which it considers a breakaway province.
China and the EU appeared to find more common ground during a high-level climate dialogue in Beijing on Monday between China's climate envoy Xie Zhenhua and the EU's top climate official, Frans Timmermans. It was the first in-person bilateral meeting on climate change and the environment between the two sides since the start of the pandemic.
Beijing and Brussels are supposed to hold two more summits, focused on economic and digital cooperation, in September, Toledo said. The last two recurring meetings on these topics failed to produce joint statements.