If India Has a Natural Ally, It's Probably France
As a middle power with a presence in the Indian Ocean, France has the right mix of strengths and weaknesses to be India's priority defense partner.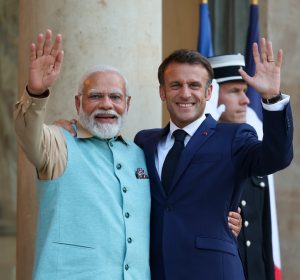 India's Prime Minister Narendra Modi is on a charm offensive overseas, as he seeks to shore up his image as a global statesman ahead of next year's parliamentary elections. Last month, Modi went to the United States and Egypt. This month, he has already visited France and the United Arab Emirates.
Much is made of India's strategic partnership with the United States. In Washington last month, U.S. President Joe Biden called it "one of the defining relationships of the 21st Century." Last year, his Treasury Secretary Janet Yellen called India and the U.S. "natural allies."
Yet, of all those countries which Modi visited, France is perhaps the one with which India has the most common ground.
Take defense — the backbone of India-U.S. ties in contemporary times. In recent years, India has tried to diversify its defense supplies, which have traditionally been dominated by Russia. But even as New Delhi has done that, the biggest winner has not been the United States but France.
Before 2016, France accounted for less than 5 percent of India's annual arms imports, according to the Stockholm International Peace Research Institute (SIPRI). But between 2018 and 2022, some 30 percent of India's arms came from that country. France is now India's second-largest arms supplier behind Russia and ahead of the U.S.
Part of this is because France is more able and willing than the U.S. to share advanced technology at affordable prices. As one report by the Stimson Center in Washington put it, "The United States is seen as a second-tier technology partner behind Russia, Israel, and France in terms of ease of working with U.S. companies, technology-sharing, and costs."
But perhaps more importantly, as a middle power with a presence in the Indian Ocean, France has the right mix of strengths and weaknesses to be India's priority defense partner. As tensions heat up between the U.S. and its rivals, New Delhi often worries that Washington might become more demanding on geopolitical alignment and likelier to withdraw support if India refuses to align on those fronts. With France, by contrast, India enjoys greater leverage, owing to its relatively weaker footing in the global power hierarchy.
Modi also has far more in common on China with France's President Emmanuel Macron than with Biden.
In recent times, Macron has courted controversy by attempting a middle path with Beijing. Early this year, while tensions continued to mount around Taiwan, Macron went to China and called on Europe to resist becoming "America's followers." Macron warned his neighbors against getting sucked into a war between China and the United States, especially over Taiwan.
Macron was quickly denounced by his own colleagues in Europe and found himself at odds with the European Commission President Ursula von der Leyen, who landed in China at the same time. But for India, Macron's rhetoric means that a defense partnership with France will be less likely to provoke Beijing than one with the U.S.
France's concerns around Beijing are also more limited and better aligned with India's own: freedom of navigation in the seas, containing Chinese aggression in the neighborhood, and general peace and security in the Indo-Pacific. That stands in sharp contrast to America's all-encompassing strategic rivalry with China within the international system. Washington sees China's rise as a direct threat to its world order and its norms and values in global governance — a concern that Modi and Macron are less passionate about.
None of this is to say that there aren't differences. When Modi went to Paris last week, Ukraine loomed large, and even though Macron has been far less aggressive in rhetoric than leaders in the U.S. or Eastern Europe, the more devastating the war gets, the more will India's ties to Russia become contentious.
There were also other increasingly familiar troubles. Amidst Modi's visit, the European Parliament considered a resolution on the ongoing violence in Manipur in India's Northeast and human rights in India more generally. In striking language, the resolution read, "The European Parliament … strongly condemns the acts of violence, loss of life and destruction of property in Manipur [and] denounces in the strongest terms nationalistic rhetoric deployed by leading members of the BJP party [Modi's Bharatiya Janata Party]." That sentiment was echoed by Jean-Luc Mélenchon, the leader of the leftist opposition France Unbowed Party, and various sections of the French media.
Yet, for Macron, the strategic convergence on China, global geopolitics and defense trade far outweighs any of these concerns. If India has a natural strategic ally at the moment, it's probably France.