In Cambodia, Hun Sen Searches for the Magic Political Formula
The winner of next week's election is clear, but the long-serving PM will face challenges in handing power to his eldest son while avoiding significant internal conflicts.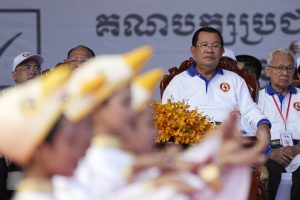 Cambodia's long-time head of government had not seen this coming. At the end of June, a good three weeks before the parliamentary elections, Facebook announced that it would suspend the account of Prime Minister Hun Sen, who has 14 million followers, for six months. The reason for this was a speech by Hun Sen in January, in which he threatened political opponents with violence, and which has since been publicly accessible as a video. The independent Oversight Board of Facebook's parent company Meta considered this to be a violation of the user guidelines. To at least mitigate the loss of face of a ban, Hun Sen unceremoniously deleted his profile and the thousands of posts he had published there since 2016.
The good news for Hun Sen is that he will not have to face any more adversity in the coming weeks. With parliamentary elections scheduled for July 23, Cambodia's autocratic leader, in office since 1985, has taken precautions and excluded the Candlelight Party, the only party that would have had a real chance of winning at least a few seats. Thus, as in the current legislative period, the National Assembly will probably continue to consist only of politicians from the post-socialist Cambodian People's Party (CPP), which has been in power since 1979. Meanwhile, independent media that could criticize these blatant violations of the liberal-democratic constitution of 1993 have mostly ceased to exist.
A Fragile Political Phase

But the real work for Hun Sen, whose political career began in the late 1960s as a soldier of the Khmer Rouge, will begin after election day. The composition of the new cabinet marks another and the most significant step yet in the generational transition in Cambodia's top political posts. Some long-serving ministers may soon find themselves in retirement, even against their will. But much is likely to remain "in the family." For years, the old cadres have been preparing their sons (there are other plans for the daughters) for succession, whether as members of parliament, provincial governors, or state secretaries. Cambodia's ministries are on the verge of becoming family-run hereditary farms, making it clear once again that the political elite does not like to make a distinction between state and private property. It is not for nothing that Cambodia has been rated for many years as one of the most corrupt states in the world by Transparency International. The BTI Cambodia Country Report 2022 comes to the conclusion: "Ultimately, the autocratic government serves one aim – enabling a few families and their close associates to plunder Cambodia's public assets."
Notably, Hun Sen decided to be part of this dynastic generational change some time ago. In December 2021, he proclaimed his eldest son General Hun Manet (born in 1977) as his successor. Clearly, he does not trust anyone else to ensure the physical and judicial security of the Hun clan, which is by far the richest family in Cambodia. Since then, however, all observers inside and outside Cambodia have been puzzling over when and how the handoff will take place: Whenever the central figure of a thoroughly personalized system retires (or abruptly disappears), there is always the question of how power will be reorganized. Therefore, Cambodia is entering its most fragile political phase in at least 25 years.
The Benefits of a Protracted Transition
Even if major (armed) conflicts over the redistribution of decision-making authority and access to public resources are not currently expected to break out, father and son will be concerned with rallying the relevant actors in the party, the state, and the security forces behind the new structures of power. It will do them no good if the second and third ranks of the CPP only grudgingly accept it. But Hun Sen has not yet found the magic formula that can satisfy everyone. It, therefore, seems likely that he will drag out the actual transfer of power and retreat one small step at a time.
Even if the handover of the office of prime minister to his son is at least not ruled out immediately after the parliamentary elections, Hun Sen's resignation is likely to drag on until the middle of the coming legislative period, around 2025. In any case, this would also be in the interest of his son, who, with a career in the military, has not yet held any parliamentary or government office and could benefit greatly from being able to look over his father's shoulder for a while as a member of parliament and as a possible deputy prime minister.
Hun Sen Remains Cambodia's Most Powerful Man
While Hun Sen is slowly withdrawing from day-to-day politics, he will at the same time undoubtedly remain Cambodia's most powerful individual, even without public office. As the president of the CPP, elected for life, and protected by a bodyguard militia comparable to a private army, he has adequately secured himself. These are sufficient power resources to nip any criticism in the bud or, in an emergency, to break down regime-internal resistance.
Thus, Hun Sen is likely to continue to dominate Cambodia's strategic direction and veto operational matters whenever he deems it necessary. For Hun Manet, this will be both a blessing and a curse: On the one hand, initially, only his father's massive authority will protect him from potential rivals. On the other hand, Hun Sen's presence and protection might inhibit his ability to build up his own power resources, independent of his father, as quickly as possible. Even if he wanted to, he could hardly gain the necessary recognition in a role as moderating prime minister, given the CPP's political culture.
Hun Manet Inherits a Tough Legacy
In addition to his roots in the armed forces, Hun Manet has much more to offer. A graduate of the U.S. Military Academy at West Point and with a doctorate in economics from the University of Bristol, he has a first-class education. In recent years, he not only advanced to the CPP's Politburo, but also earned a national reputation for his involvement in social programs. He is especially popular with younger Cambodians because he is approachable, and his speeches are much more conciliatory than those of his father. However, it cannot be assumed that these qualities will lead to a new style of politics, at least not in the next few years.
In some respects, Hun Sen leaves his son (or anyone else in his place) a poisoned political legacy. His rule, which is based on corruption, nepotism, compliant courts, and, if necessary, the use of force, is increasingly difficult to reconcile with the requirements of managing a modern industrialized economy. It is true that between 2010 and 2019 Cambodia was one of the fastest growing economies in the world, and in some respects the country even emerged stronger as a result of the COVID-19 pandemic. But it is becoming increasingly obvious that social-cultural development, just like state-administrative development, is not keeping pace with the remarkable economic growth.
Cambodia Needs China, but also the West

However, the contradictions of being a competitive location in international value chains on the one hand, and having virtually no legal security, inefficient bureaucracy, and corruption at almost all levels of government as systemic constants on the other, are glaring. The model still works, primarily due to the close ties with Chinese companies, which is why Cambodia is considered China's extended workbench. However, their investments and the immense subsidies from the government in Beijing – China holds around half of Cambodia's public debt – have created a dependency from which it is becoming increasingly difficult to break free. In the long run, Hun Manet will have to overcome his father's governance approach if he does not want to degrade Cambodia into a mere Chinese satellite state or avoid the path of a military dictatorship as in Myanmar. The great challenge will be for him to achieve this goal without losing the domestic political balance.
At least his father opened a foreign policy window for him: In 2022, Cambodia surprisingly voted to condemn Russia's war in Ukraine in the United Nations General Assembly and this year voted in favor of a resolution calling on Russia to leave Ukraine. This was commonly interpreted as an attempt to reengage with the European Union and the United States, which are still by far the most important export markets for Cambodia. Although there has been renewed criticism from Washington and Brussels this year in light of the repression of Cambodia's opposition, unlike previously – such as in 2020, when the EU partially suspended the country's trade preferences – this time it is mostly appealing, suggesting that the West will ultimately condone the political status quo after the elections. Hun Sen will certainly make good use of the political leeway this will give him.