Treason, Contempt, Exposing Secrets. Legal Challenges Against Imran Khan Keep Growing
Since his ouster from power in a no-confidence vote in the parliament in April last year, the former Pakistani PM has been slapped with more than 150 legal cases.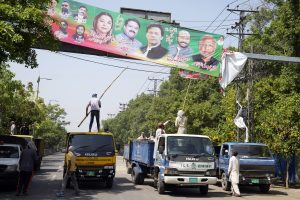 Pakistan's former Prime Minister Imran Khan was granted bail Monday by the country's Supreme Court in a case related to a lawyer's murder while the nation's election oversight body demanded his arrest in a separate, contempt case in which he failed to show up for questioning.
The developments are the latest in unprecedented legal imbroglios surrounding the former premier, now the country's top opposition leader.
Since his ouster from power in a no-confidence vote in the parliament in April last year, Khan has been slapped with more than 150 legal cases, including several on charges of corruption, "terrorism" and inciting people to violence over deadly protests in May that saw his followers attack government and military property across the country.
Also last week, the government of Khan's successor, Prime Minister Shehbaz Sharif, said it would bring charges against Khan for "exposing an official secret document" in an incident last year when he waved a confidential diplomatic letter at a rally, describing it as "proof" that he was threatened and claiming his ouster was a conspiracy.
On Monday, the election oversight body ordered police to arrest Khan after he repeatedly failed to show up before its tribunal to face contempt charges over his public outbursts against election commission officials.
During the outbursts, Khan had said the officials were nothing but "personal servants" to Sharif.
Following the order, Khan's legal team said he would appear before the tribunal on Tuesday. It was unclear whether he would submit a formal apology, which would be sufficient to make the case go away, or whether he would contest the contempt charges.
Also on Tuesday, Khan is to appear before the country's Federal Investigation Agency to face charges of exposing secret documents, related to the letter-waving incident. The document, dubbed Cipher, has not been made public but was apparently a diplomatic correspondence between a Pakistani ambassador to Washington and the Ministry of Foreign Affairs in Islamabad.
In his Monday appearance before the Supreme Court, Khan was granted brail — automatically meaning protection from arrest under Pakistani law — in the June killing of a lawyer Abdul Razzaq in Quetta by unidentified gunmen.
The family of Razzaq, who was supposed to appear as a petitioner and attorney in yet another treason case against Khan, has accused the former prime minister of conspiring to kill him, a charge Khan denies.
Despite his ouster from power, Khan, a cricket star turned Islamist politician, still has a huge grassroots following in Pakistan. After his arrest in May, days of rioting by his followers subsided only after he was released on an order from the Supreme Court.