How Will China's Rare Earth Export Controls Impact Japan?
Access to gallium, in particular, is crucial for Japan's defense and energy priorities.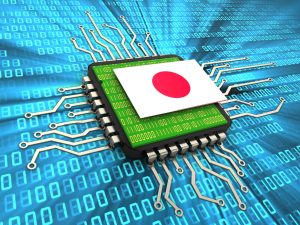 On August 1, Chinese export controls on its gallium and germanium supplies, coming in the form of stricter export licensing requirements, went into effect. Since their announcement in early July, analysts widely perceived the restrictions as a direct response to U.S., Japanese, and Dutch export restrictions on chipmaking tools to China. Japan doubled down on these restrictions, along with the United States, a few weeks after China's announcement. 
Given the crucial role of gallium semiconductor technology in the defense and energy sectors, and Japan's ambitions to build up its defense and clean energy capacity, one major question stands: Does Japan's alignment with the United States' China policy compromise its defense and energy security priorities? 
Gallium is a key component for the production of gallium nitride (GaN), a compound used as the base material for semiconductors. The application of GaN chips is most prevalent in cutting-edge technologies crucial for both Japan's defense build-up and green transformation strategy.
Not only can GaN more efficiently amplify high-power radiofrequency signals, it also has a higher radiation tolerance compared to its silicon counterpart. This makes GaN chips the preferred choice for technologies such as radars, jammers, and satellite communication. Indeed, GaN is a key component for the AN/SPY-7(V) 1 radar, a Long Range Discrimination Radar (LRDR) that is set to be deployed on two Aegis-equipped vessels in lieu of Japan's now-canceled Aegis Ashore ballistic missile defense system.
The importance of these technologies is highlighted in Japan's latest national security documents. The National Defense Strategy,  Defense Build-Up Program, and 2023 Defense Technology Guidelines collectively underscore the importance of developing these technologies, pointing out that they are needed to protect Japan from missile strikes, as well as threats emerging from outer spaces and the electromagnetic domain. 
Switching to Japan's green transformation strategy, GaN may be key to realizing the Japanese government's clean technology ambitions. Two major projects being undertaken within the Green Innovation Fund, one of Japan's strategies to achieve carbon neutrality by 2050, are to reduce the cost of offshore wind energy and improve the energy efficiency of "automated driving software and sensor systems." By converting and transferring the energy generated in wind turbines, and regulating the software in EVs, semiconductors play an important role in determining the cost effectiveness of wind turbines and the energy efficiency of EVs. Compared to silicon semiconductors, GaN chips hold a greater capacity to minimize energy consumption and material requirements within power electronics. In other words, GaN has the potential to decrease wind energy costs by optimizing material requirements and energy output for wind turbines. For EVs, GaN can potentially reduce software power consumption. 
So how exactly will China's stricter gallium export license requirements affect the development of these technologies? Despite China's 98 percent share of the world's primary low-purity gallium – a raw material necessary for the production of GaN – the impact of the restrictions will be limited. 
In the short term, although Japan's cheap offshore wind technology might be undermined, the impact of China's new export restrictions on defense and EV technology advancement will most likely be minimal. Talking to CNBC, trade expert Clete Willems stated that the restrictions will "be more of a price impact than an overall supply impact." 
Indeed, after China initially announced its gallium restrictions in early July, the price of gallium jumped 27 percent as buyers feared a future supply shortage. Though prices leveled off shortly after, the threat of further price hikes in the coming months looms. Such price increases could inhibit Japan's goal of developing cheaper wind energy, as more expensive gallium would ultimately drive up the levelized cost of energy.
Even as gallium prices rise, however, Japan's overall ability to meet its gallium demand will most likely be unaffected. This supply-side resilience was demonstrated in the past when China imposed similar critical mineral export restrictions in 2010, a precedent that several experts anticipate will repeat with China's latest restrictions. 
Moreover, a Center for Strategic and International Studies report pointed out that Japan's gallium supply chain is relatively resilient to Chinese sanctions. Although cheaper gallium would be more ideal, defense and EV tech pursue priorities that outrank affordability; as long as the gallium supply is available to develop these technologies, they will remain mostly unaffected by the restrictions. 
It is also key to note that, although vital, gallium is but a small component of these technologies. For instance, the layer of GaN utilized in semiconductors is only about the width of nine strands of hair. This low gallium intensity is further reflected in the fact that despite having the world's largest number of applications for GaN power devices, less than 5 percent of Japan's gallium supply is used for GaN production. 
In the mid- to long-term, Japan may actually benefit from China's gallium restrictions, as it can be leveraged by Tokyo to further diversify or even shore Japan's gallium supply chain. Through the Japan Organization for Metals and Energy (JOGMEC), the government is actively investing in companies to explore new sources of gallium overseas. Should Japanese firms integrated in the global gallium supply chain, such as Dowa Holdings and Mitsubishi Chemicals, perceive China as an unreliable gallium source, there will be a larger incentive for them to participate in government efforts aimed at establishing alternative supply sources.
Japan already has a track record of successfully diversifying its critical mineral supply chains, as it managed to reduce its dependence on Chinese rare-earths from 82 percent in 2010 down to 58 percent in 2018. If the Japanese government can once again de-risk from China, Japan will have gained not only a more stable source of gallium for its defense and energy sectors, but also an economy that is more resilient to Chinese economic pressures.
However, such an outcome largely depends on the willingness of the Japanese government and private companies, considering the time and concerted efforts needed to diversify a country's supply chain. So far, both the Japanese government and companies are simply observing the situation, waiting to see how China enforces its restrictions. If Beijing is serious about locking Japan away from its gallium supplies, we may see a Japan that is less dependent on Chinese critical minerals in the future.