Muslim Mobs Attack Churches in Pakistan After Accusing Christians of Desecrating the Quran
A death sentence for blasphemy has never been carried out. But often, an accusation alone can trigger riots and incite mobs to violence.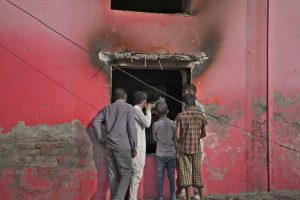 Muslims in eastern Pakistan went on a rampage Wednesday over allegations that a Christian man had desecrated the Quran, demolishing the man's house, burning churches, and damaging several other homes, police and local Christians said. There were no immediate reports of casualties.
The scale of the violence prompted the government to deploy additional police forces and send in the army to help restore order.
The attacks in Jaranwala, in the district of Faisalabad in Punjab province, erupted after some Muslims living in the area claimed they had seen a local Christian, Raja Amir, and his friend tearing out pages from a Quran, throwing them on the ground and writing insulting remarks on other pages.
Police chief Rizwan Khan said this had angered the local Muslims. A mob gathered and began attacking multiple churches and several Christian homes, burning furniture and other household items. Some members of the Christian community fled their homes to escape the mob.
Police eventually intervened, firing into the air and wielding batons before dispersing the attackers with the help of Muslim clerics and elders. Authorities also said they have started launching raids in an effort to find all the perpetrators. Dozens of rioters were arrested.
Police chief Bilal Mehmood told reporters they were also looking for Amir, who went into hiding to escape the mob, and would detain him to determine whether he had desecrated the Quran.
Videos and photos posted on social media show an angry mob descending upon a church, throwing pieces of bricks and burning it. In another video, two other churches are attacked, their windows broken as attackers throw furniture out and set it on fire.
Several policemen are seen in the videos watching the situation without intervening to stop the vandalism.
In yet another video, a man is seen climbing to the roof of the church and removing the steel cross after repeatedly hitting it with a hammer as the crowd down on the road cheered him on.
Khalid Mukhtar, a local priest, said most of the Christians living in the area had fled to safer places. "Even my house was burned," he added.
Mukhtar said there are 17 churches in Jaranwala and he believes most of them were attacked. The authorities did not immediately confirm that figure.
Father Gulshan Barkat, who teaches church history at the National Catholic Institute of Theology in Karachi, described the blasphemy allegations as a "false accusation" and said the local mosques were also to blame because loudspeakers erected on minarets had earlier in the day called on Muslims to gather and "attack the churches and Christian community."
"The emotion of our Muslim brethren flares up very quickly, even at hearsay," he said.
None of the clerics at Jaranwala mosques could be reached to confirm the allegation about the loudspeakers.
Khan said additional police forces were later deployed and an investigation was underway. He said all involved in the attack would be prosecuted. "Our first priority was to save the lives of all of the Christians," he said.
Later in the evening, troops arrived to help the police. Angry Muslims were urged to go back to their homes, allegedly with promises that the man who desecrated the Quran would soon be arrested.
A delegation of Muslim clerics also arrived in Jaranwala from the city of Lahore to express solidarity with the Christians.
Blasphemy accusations are common in Pakistan. Under the country's blasphemy laws, anyone found guilty of insulting Islam or Islamic religious figures can be sentenced to death. While authorities have yet to carry out a death sentence for blasphemy, often just the accusation can cause riots and incite mobs to violence, lynching, and killings.
In one of the worst attacks on Christians, a mob in 2009 burned an estimated 60 homes and killed six Christians in the district of Gojra in Punjab, after accusing them of insulting Islam.
Wednesday's attack drew nationwide condemnation from top leaders and major political parties. Caretaker Prime Minister Anwaar-ul-Haq Kakar said he was "gutted" by the images coming out of Faisalabad.
"Stern action would be taken against those who violate law and target minorities. All law enforcement has been asked to apprehend culprits & bring them to justice," he wrote on the social media platform X, formerly known as Twitter.
A senior Christian leader, Bishop Azad Marshall, appealed for help on social media and said he was "deeply pained and distressed."
"We cry out for justice and action from law enforcement and those who dispense justice and the safety of all citizens to intervene immediately and assure us that our lives are valuable in our own homeland that has just celebrated independence and freedom," he posted on X.
Former Prime Minister Shehbaz Sharif also condemned the rampage. "There is no place for violence in any religion," he said.
In the southern port city of Karachi, the capital of southern Sindh province, dozens of Christians rallied to denounce the attacks in Jaranwala.
Domestic and international human rights groups say blasphemy allegations have often been used to intimidate religious minorities in Pakistan and settle personal scores.
In December 2021, a Muslim mob descended on a sports equipment factory in Pakistan's Sialkot district, killing a Sri Lankan man and burning his body publicly over allegations of blasphemy.
———-
Associated Press writers Riazat Butt in Kabul, Afghanistan, and Babar Dogar from Lahore, Pakistan, contributed to this report.