The UK Factor in India-Argentina Defense Relations
Given the Falklands dispute, India will face an uphill battle in selling high-end defense tech – like the LCA Tejas – to Argentina.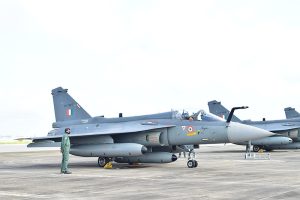 India and Argentina, two diverse nations geographically separated by vast oceans, have found common ground in bolstering their defense relations. Over the years, these countries have witnessed a gradual evolution in their ties, with the involvement of a significant third player – the United Kingdom. This trilateral dynamic has once again hit the headlines in India after news reports mentioning the possibility of a defense deal on LCA Tejas between India and Argentina became public.
This article explores the history, current status, and the role of the U.K. in shaping India-Argentina defense relations.
Historical Context
India and Argentina established diplomatic ties in 1948, but it was only in recent decades that they started exploring avenues for deeper cooperation in defense. Both nations share a commitment to democracy, multilateralism, and international peacekeeping, which laid the foundation for their defense collaboration. However, historical factors have influenced their relations, including the British colonial legacy that directly impacted both countries.
The United Kingdom's historical role in India and Argentina has significantly influenced their defense relations. For India, the colonial period under British rule resulted in a complex relationship that has had implications for its security and foreign policy approach. The colonial past instilled a sense of self-reliance and strategic autonomy, leading India to prioritize partnerships based on mutual interests rather than being heavily influenced by historical ties.
Similarly, Argentina's historical experience with Britain also plays a part in shaping its defense relations with India. The Falkland Islands sovereignty dispute between the U.K. and Argentina – which calls the islands the Malvinas – in the early 1980s created tensions that affected regional dynamics and security perceptions.  Argentina lost the Falklands War to the U.K. and bilateral relations have been tense since then. 
Today, the islands are virtually controlled by the U.K. The defense policy and foreign affairs of Falklands are still managed by the British (as an overseas territory), while in matters of internal governance, a separate autonomous system exists. But Argentina hasn't backed off from its claims to the islands, and technically the U.K. and Argentina are still in conflict over their ownership. This has prevented the normalization of ties between the two nations.
Since the U.K. has a conventional and un-conventional advantage over Argentina, however, the possibility of another war has been virtually ruled out by observers of foreign policy. This difficult position has given birth to an Argentinian desire to diversify the country's international partnerships, encouraging it to seek collaborations with countries like India.
Argentina-India Defense Relations and the U.K. Factor
In recent years, India and Argentina have actively sought to deepen their defense cooperation. One significant area of collaboration is military training and capacity building. India, with its well-established defense industry and expertise, has been providing training opportunities to Argentine military personnel, contributing to Argentina's efforts toward enhancing its military capabilities. Additionally, joint military exercises and defense dialogues between India and Argentina have become more frequent, enabling both nations to exchange knowledge, tactics, and best practices in various fields of defense. 
The bilateral defense trade between India and Argentina has also seen a positive trajectory. India is emerging as a significant exporter of defense equipment and technology, while Argentina has sought to modernize its armed forces by acquiring advanced weaponry and equipment from India. The defense trade will not only strengthen their bilateral relations but also foster mutual trust and confidence.

Both India and Argentina also actively participate in various multilateral forums and organizations, such as the United Nations peacekeeping operations. Their shared commitment to global peace and security has facilitated closer coordination on international platforms, strengthening their strategic partnership.
Amid these developments, India has taken care not to antagonize the British, since defense relations with the U.K. are more important for India. In that context, the current discussions on the possible sale of the LCA Tejas fighter jet, manufactured by the state-owned Hindustan Aeronautics Limited (HAL), to Argentina has propped up some tensions.
Though this jet is largely indigenous, an important component – its ejection seat – is still foreign made. The LCA Tejas uses the ejection seat manufactured by Martin Baker, a defense company headquartered in the U.K. And this precisely is the root cause of the current tensions. As per British laws and the agreements signed between India and Britain, India cannot export any defense equipment that has British components to any third party without the permission of the British government. Though the arms sales embargo imposed on Argentina by the British ended in 2018, the Argentine authorities have shown reluctance about purchasing the Tejas aircraft with its British components onboard.
There's no way the U.K. would allow India to sell the LCA to Argentina with the Martin Baker ejection seat onboard. The ejection seat market globally is dominated by a few companies that have mastered this technology and thus have established a huge monopoly. It must be mentioned here that most countries prefer using the Martin Baker ejection seats rather than developing one of their own, due to its affordable costs and proven technology. All fighter jets of the Indian Air Force also mostly use ejection seats manufactured by Martin Baker, which supplies them to more than 90 countries globally.  
No company or country would ever sell such an important technology to any other entity, especially if it has acrimonious relations with the buyer. 
The Argentinian authorities are also reported to have informed HAL about their inability to go ahead with the LCA deal if an alternative is not found for the ejection seat. HAL is reported to have responded positively to this request and Indian authorities are now on the lookout for an alternative ejection seat. 
However, besides the ejection seat, the LCA Tejas uses around 15 other components with British origins, like the nose-cone and radome. To replace all of them with substitutes would be costly, and Argentina would have to shell out extra money to bear these increased costs. At present the estimated cost of the export variant of the LCA Tejas is estimated to be around $30-34 million which will further increase if HAL replaces all 16 British components in jets bound for Argentina. 
Keeping a long-term view, the Indian government had decided in 2022 to gradually phase out all the British parts used in the LCA Tejas in a phased manner. But that would take a good amount of time, resources, and money. On the other hand, if the LCA deal goes through successfully, it would serve as a big boost to India's emerging defense industry and put a hallmark on the high quality and affordable costs of Made-in-India defense products.
But while doing so, India will have to navigate its way through the complex geopolitical challenges tactfully. While Argentina may be an important prospective customer, the U.K. has been a reliable defense partner for India, a factor that will continue to shape any strategic deal between India and Argentina till the time that London and Buenos Aires resolve their bilateral issues. 
Conclusion
India and Argentina's defense relations have come a long way since the establishment of diplomatic ties. Their mutual interests, shared commitment to democracy and multilateralism, and the desire to bolster regional and global security have served as the driving forces behind their strengthening ties. The U.K.'s historical presence has influenced their bilateral relations to some extent, but both countries have exhibited pragmatism in charting their individual paths.
As India and Argentina continue to deepen their defense cooperation, they are setting an example of how two nations with different historical backgrounds and geographical locations can build meaningful partnerships based on shared values and interests. In an increasingly interconnected world, their dynamic triangular defense relationship holds the potential to contribute significantly to regional and global security. 
In the coming decades, this dynamic will be a test of India's ability to adapt and evolve its defense and foreign policies according to the situational demands, a skill that will eventually determine its standing and posture in the international arena.