Why Malaysia's Government Had to Prosecute Muhammad Sanusi for Sedition
For years, the caretaker chief minister of Kedah state and his party have whipped up Malay grievances that threaten to undermine the country's ethnic and social cohesion.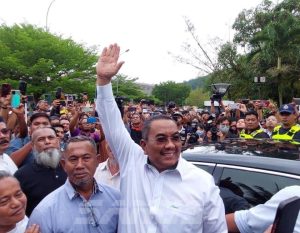 The recent prosecution of Muhammad Sanusi Md Nor, the caretaker chief minister of Kedah state and a prominent member of the Malaysian Islamist Party (PAS), under the Sedition Act highlights the challenges that Malaysia faces in its ongoing battle against right-wing extremism. With state elections due on August 12, this development has ignited a nationwide debate between right-wing supporters and liberal advocates over the bounds of permissible political speech.
In recent years, Sanusi has become a divisive figure. His political tactics include grandiose public rallies and the use of state power to silence his critics, including the instigation of charges against those who "insult" him. He has positioned himself as a prominent leader of the Malay-Muslim community, spreading supremacist and anti-minority propaganda both online and offline.
The sedition charge refers to remarks that he made at a recent campaign rally of the opposition Pakatan Nasional (PN) coalition, in which he disparaged the intelligence of the Sultan of Selangor for appointing the state's chief minister from the multi-ethnic Pakatan Harapan (PH) coalition. This is not the only recent comment that has threatening to create political tensions ahead of next month's important elections.
In May, Sanusi ignited controversy by claiming that Penang, a neighboring state ruled by the predominantly ethnic Chinese Democratic Action Party (DAP), belonged by right to Malay-majority Kedah. The following month, he escalated the tension by comparing Penang's government to Constantinople and PN's supporters to the forces of Ottoman Sultan Muhammad al-Fateh, who conquered it in 1453. These actions undermined the sovereignty of a Malaysian state and intensified rhetoric against the DAP; Sanusi employed violent war imagery that captivated a fervent crowd at Kedah's state stadium. These maneuvers added to the pressure on the government and the Malaysian police, particularly given the ongoing state sovereignty issues involving the legal claims of the Sulu Sultanate heirs over Sabah.
During the event, Sanusi rallied his followers with the "#TheGreaterKedah" slogan, emphasizing Kedah's historical role in spreading Islam and fueling a sense of persecution. He portrayed his movement's "enemies" as envious of the "Kedahan Malay race," promising its "awakening" followed by religious chants. Additionally, he donned "Malay warrior-like" attire, popularized at right-wing rallies after the release in 2022 of "Mat Kilau," a Malay-Muslim nationalist film.
Sanusi's anti-minority sentiments have also been manifested in his misogynistic claim, made during a PN political rally in November 2022, that women are biologically limited and unfit for leadership. He has openly disparaged ethnic Indian Malaysian leaders who expressed concerns about the demolition of a Hindu temple, likening them to being "drunk on toddy." Along with PAS President Hadi Awang, Sanusi has perpetuated the racist narrative that bribery is more prevalent among non-Muslims and non-Bumiputera, the official term for "native" Malaysians.
Sanusi's state administration has not only legitimized but actively collaborates with the notorious moral vigilante group "Skuad Badar al-Kubra" (formerly "Skuad Badar") to suppress the civil liberties of those suspected of "moral crimes."
Sanusi operates with alarming impunity, relentlessly propagating these extremist behaviors to an audience of millions, evading accountability for their radicalizing impact, while the PN coalition tolerates and defends it for political gain.
Liberal Naivety
As Prime Minister Anwar Ibrahim's administration has moved to challenge Sanusi's impunity, liberals, including human rights NGOs and certain political elites, have swiftly shifted the focus to the supposed abuse of the Sedition Act by the PH coalition, arguing that its use of this law against Sanusi has undermined Malaysian democracy. However, this perspective exposes their naivety about the right-wing forces represented by PAS.
It is crucial to acknowledge that no government, including the Anwar administration, has dared to abolish the Sedition Act due to the political risks of doing so. In particular, Anwar cannot afford to lose the Malay support enjoyed by his coalition partner, the United Malays National Organization (UMNO), which during its long years in power, frequently used the Sedition Law to silence critics under the guise of protecting the royal institution.
Furthermore, there is significant pro-royalist sentiment on the ground in Malaysia. In contrast to Thailand, where the Move Forward Party has successfully garnered public support for its plans to amend the lese-majeste law, the effort to repeal the Sedition Act in Malaysia lacks widespread grassroots backing and political endorsement, which is confined to a relatively small liberal circle.
Malaysian liberals also fail to grasp the essence of right-wing politics. Leaders from PAS and Bersatu, the two parties within the PN coalition, do not engage in democracy to strengthen it but rather to further their own illiberal interests and undermine democratic institutions. There are parallels next door in Indonesia, where former Jemaah Islamiyah members joined political parties in order to neutralize their image and legitimize their exclusivist agenda through democratic means.
During PAS's participation in the federal government led by the Malay-Muslim coalition from 2020 to 2022, which also included Bersatu and UMNO, Malays held nearly all cabinet positions, a practice replicated in the four states under their control since last year's general election, enabling the unilateral passage of right-wing policies with minimal opposition. This encompassed the expunging of a government record in 2022 linking their leader to the communal violence of the 1981 Memali incident.
In this context, it is crucial to comprehend the modus operandi of right-wing actors who infiltrate democratic platforms, deviously advancing their Malay-Muslim hegemonic agenda with impunity, curtailing freedom of dissent, minority representation, and other basic rights.
Minimizing Risks of Blowback

The truth is clear: PN leaders have so far faced no consequences for their dangerous actions, as right-wing narratives have become normalized. However, the decision to charge Sanusi with undermining the royal institution is a strategic move that strikes a chord with Malays, who consider the protection of the monarchy as non-negotiable. Notably, Indonesian President Joko Widodo's government deftly used the COVID-19 emergency law to imprison Islamist leader Rizieq Shihab, effectively managing blowback by focusing on public health questions.
If anything, Sanusi's remarks have revealed that PAS' aggressive political stance will amplify mass defiance against the royal institution. This attitude is not unfamiliar within Islamist parties like PAS, who have increasingly embraced ethnocentric rhetoric under Hadi Awang's leadership in a bid to position themselves as champions of the silent Malay majority. This tactical prowess was evident in the "Green Wave" of the 2022 election, when PAS secured substantial Malay backing, increasing its share of parliamentary seats and establishing a dominant position within the opposition bloc.
While some contend that Sanusi's prosecution may trigger another "Green Wave" at the upcoming state elections, attributing any further gains by PAS solely to this factor would oversimplify the situation. The Islamist party's progress has been the result of years of indoctrination driven by deep-seated bigotry and the promotion of Malay-Muslim hegemonic politics. This ideology thrives within educational institutions, mosques, and community networks, amplified through both conventional and social media. Regardless, right-wing actors will continue to exploit race and religion, orchestrating large-scale campaigns and rallies, adroitly employing combative religious narrative – a strategy apparent since the 2018 general election.
What can be done is to minimize the risks, especially with the state elections taking place next week. A coordinated effort involving the government, police force, and social media companies is required to actively monitor and suppress disinformation campaigns and the mobilization of extremist networks seeking to portray themselves as victims and heroes.
Therefore, it has become vital to thwart the threats that extremist perpetrators and their interconnected networks pose to social cohesion and national security. In the case of Sanusi, taking legal action through the Sedition Act is a just response to the impunity that he has long enjoyed. The investigation against him must proceed through the proper channels. Withdrawing or ignoring these proceedings would be a disservice to the citizens and raise concerns about the indirect complicity of certain Malaysian liberals who oppose this move.