Will a China-Led Global Recession Influence Beijing's Russia Policy? 
China's domestic economic realities are colliding with Xi's geopolitical ambitions and impacting Beijing's Russia policy.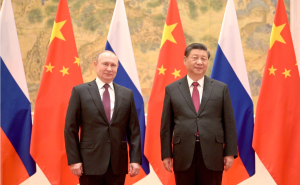 The Chinese economy is in trouble. Weak investment and consumer spending – what some have termed a "general erosion of public faith" – is compounding other, structural problems in the Chinese economy. A China-led global slowdown or recession may hit commodity exporters, including Russia, relatively hard while leaving other, less China-dependent economies relatively unscathed. 
China's economic stumbles may also have significant geopolitical consequences, as governments of all types tend to scale back foreign policy ambitions amid economic difficulties. Concretely, China's economic weakness may incentivize Beijing to play a more active role in pressuring Russia to enter negotiations over the war. Still, while Beijing may dial back its support for Moscow's war due to domestic economic considerations, China's pro-Russia tilt will nevertheless persist. 
The signs of a sharp Chinese economic slowdown are everywhere. Official data shows that consumer prices dropped 0.3 percent last month, potentially signaling China's descent into a Japan-style deflationary spiral. Imports and exports are slumping, and anecdotal but compelling evidence suggests Chinese consumers have fallen into a "psycho-political funk" amid concerns over black swan events like a future invasion of Taiwan or a real estate collapse. 
These real-time indicators are of little surprise to long-time observers of the Chinese economy. Some analysts have been warning for over a decade that China's excessive reliance on debt would ultimately leave it with few good options, while recent gold-standard studies have warned that economic growth of 1-3 percent is achievable in the medium term – but only if China undertakes major structural reforms. China's bill for decades of economic mismanagement, including historic misallocations of investment, surging debt loads, unfavorable demographics from Mao-era policies, and repressed consumption, is coming due. 
There are signs that domestic economic difficulties are compelling Beijing to adopt a softer foreign policy. China's policy toward Australia is often a leading indicator of its posture toward the West, and Beijing appears to be easing tariffs on Australian goods as quickly as politically feasible. In early August, China rolled back tariffs on Australian barley that had been in place for three years; further tariff reductions on other products may be forthcoming. 
Washington has also detected a newfound interest in engagement from the Chinese side in recent months, likely triggered by Beijing's domestic economic anxieties. Evidence to support this thesis includes China's interest in holding certain economic and climate government-to-government dialogues; conducting meetings with cabinet-level U.S. officials; resuming the travel of Chinese government-affiliated think tanks to Washington; and lifting a ban on group tourist travel to the U.S., U.K., and other key allies. 
Beijing's participation in the Jeddah peace negotiations over Ukraine suggests it also may be considering modulating its policy toward the Russian invasion of Ukraine. Russia was not invited to the talks, which were attended by representatives from over 40 countries, including Ukraine, the United States, and other Western powers. The Chinese and Russian foreign ministers spoke by phone soon after the talks concluded, with newly (re)appointed Chinese Foreign Minister Wang Yi stressing China's "independent and impartial stance" on Ukraine. While Beijing's attendance at Jeddah was at least partially motivated by a desire to repair China's image in Europe, there was also an undeniable substance to this symbolic act. While China's participation at Jeddah is not dispositive proof of a shift in Russia policy, it is nevertheless important. 
There are other signs that Beijing is altering its approach to Russia. There is strong evidence that the Prigozhin mutiny spooked Beijing, which is now modifying tactical political engagement with the Russian political elite. During Russian Federation Council Speaker Valentina Matviyenko's recent visit to Beijing, Chinese Communist Party General Secretary Xi Jinping framed Sino-Russian relations as a "strategic choice made by the two countries based on the fundamental interests of their respective countries and peoples." Xi's novel characterization of the relationship suggests Beijing seeks to institutionalize ties with Moscow and de-emphasize the Putin-Xi personal relationship. 
China's slumping economy is likely curbing many of its foreign policy ambitions and prompting a rethink of its policy toward the Russian invasion of Ukraine. Still, a systematic transformation of Beijing's perspective on Ukraine or other key foreign policy matters is unlikely. Xi shares Moscow's anti-Western hostility; demonstrates a very shaky grasp of economics, limiting his understanding of the scope of China's domestic problems; and presides over a system that does not make major self-corrections easily. Xi may dial back China's pro-Russia neutrality, but only reluctantly and partially.