Biden and Modi Look to Tighten US-India Ties as Concerns Over China Rise
The two leaders are poles apart ideologically, but are drawn together by China's military and economic maneuverings in the Indo-Pacific.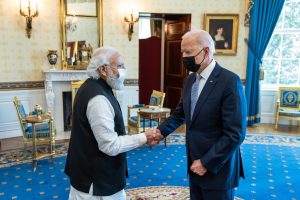 U.S. President Joe Biden frequently says that what sets him apart is his ability to make friends on a global stage. His presence at the Group of 20 summit in India could reveal just how deep and sincere those friendships are.
For more than two years, Biden has been cultivating a relationship with the G-20 host, Indian Prime Minister Narendra Modi. The prime minister's home was Biden's first stop after he arrived in New Delhi on Friday. The U.S. president received a Bollywood-style greeting after Air Force One landed, with dancers in flowing purple outfits gyrating to pop music.
Having feted Modi with a state visit to Washington in June, Biden is banking on the idea that successful diplomacy depends on personal connections. But any connection will largely be outside of the public view. White House reporters traveling with Biden were denied access to the leaders' meeting. Indian state media released on social media pictures of the leaders during the 52-minute meeting.
A White House statement issued after the meeting reaffirmed U.S.-India partnerships on several fronts, especially with regard to computer chips, telecommunications, higher education, access to shipping lanes in the Indo-Pacific, and the reduction of carbon emissions that contribute to climate change.
The two have had more than a dozen in-person or virtual engagements since 2021 as both look to tighten the U.S.-India partnership amid shared major concerns. Those include an increasingly assertive China and monumental challenges posed by climate change, artificial intelligence, global supply chain resilience, and other issues.
Modi has heavily branded the summit as his own. The Indian prime minister has pictures of himself posted along the highway from the airport, greeting G-20 delegates with quotes about climate change, innovation, and India's unique role as an advocate for developing countries. As a result, Biden was something of a houseguest when meeting with his Indian counterpart.
"This meeting will be taking place at the prime minister's residence – so it is unusual in that respect," White House National Security Advisor Jake Sullivan told reporters Thursday aboard Air Force One. "This is not your typical bilateral visit to India with meetings taking place in the prime minister's office."
Biden, a center-left Democrat, and Modi, a conservative Hindu nationalist, are hardly ideological soulmates. Yet, both leaders are increasingly drawn together by China's military and economic maneuverings in the Indo-Pacific.
India late last month lodged an objection through diplomatic channels with Beijing over China's new standard map that lays claim to India's territory along their shared border.
The version of the Chinese map published by the Ministry of Natural Resources website shows Arunachal Pradesh and the Doklam Plateau – over which the two sides have feuded – included within Chinese borders, along with Aksai Chin in the western section that China controls but India still claims. The Philippines, Vietnam, and Malaysia have also lodged protests over the new Chinese map.
The map was released just days after Modi and Chinese President Xi Jinping met on the sidelines of a summit of the BRICS bloc of developing economies – Brazil, Russia, India, China, and South Africa – and agreed to work to de-escalate tensions at their disputed border.
China and India have had thousands of troops facing off in a disputed region of the Himalayas since 2020, when skirmishes led to the first deadly clashes in decades. Both countries are nuclear armed.
China, which is also a member of the G-20, has said that Xi will not attend this weekend's India summit. Instead, Premier Li Qiang will represent China.
U.S. Vice President Kamala Harris, in an interview with The Associated Press on the sidelines of a summit of Southeast Asian leaders in Indonesia, spoke out against China's new map.
"It's a violation of the law. And that's where I put that map," Harris told the AP.
The U.S. government outreach to India goes beyond Biden. U.S. Treasury Secretary Janet Yellen told reporters on Friday, during her fourth trip to India in the past year, that India has shown leadership in helping provide loans to developing nations as well as needed debt relief.
The White House was tight-lipped about the outcomes of Biden's latest talks with Modi. But the administration seems eager to build on the momentum from the June state visit, which included announcements on climate, health care, and space as well as some major private sector projects.
The two sides set the groundwork for U.S.-based General Electric to partner with India-based Hindustan Aeronautics to produce jet engines for Indian aircraft in India and the sale of U.S.-made armed MQ-9B SeaGuardian drones. U.S.-based Micron Technology agreed to build a $2.75 billion semiconductor assembly and test facility in India, with Micron spending more than $800 million and India financing the rest. The administration also plans to discuss civil nuclear issues.
The White House has sought to play down Biden and Modi's differences over Russia's war in Ukraine. India abstained from voting on U.N. resolutions condemning Russia and refused to join the global coalition against Russia. Since the start of the war, the Modi government has dramatically increased its purchase of Russian oil.
Biden's effort to pull India closer has been shadowed by concerns from activists and some American lawmakers about India's human rights record under Modi.
The prime minister has faced criticism over legislation amending the country's citizenship law that fast-tracks naturalization for some migrants but excludes Muslims, over a rise in violence against Muslims and other religious minorities by Hindu nationalists, and the recent conviction of India's top opposition leader, Rahul Gandhi, for mocking Modi's surname.
India also ranks 161st out of 180 countries in this year's Press Freedom Index published by Reporters Without Borders.
Biden will travel on Sunday to Vietnam, another country with a poor track record for press freedoms and human rights. Sullivan, the White House national security advisor, told reporters this week that Biden and his advisers have been consistent in raising human rights and press freedom concerns.
"President Biden himself has spoken to questions related to democracy and human rights as recently as the state visit earlier this year," Sullivan said. "The United States, our position on these issues is clear."