China's Food Security After the Collapse of the Black Sea Grain Initiative
While food supplies remain a priority for Beijing, the impact of Russia's withdrawal from the grain export scheme has been limited.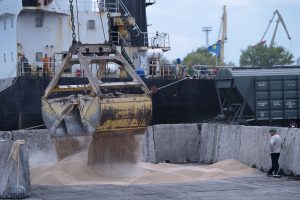 Russia's decision not to extend the Black Sea Grain Initiative amid the ongoing Ukraine-Russia conflict has raised further concerns about grain and fertilizer prices. As the world's largest food importer, food security has always been a top concern for China, and even more so amid the current global food crisis. In recent years, a plethora of challenges, including pandemic-related disruptions, systemic competition with the United States, and the impact of climate-related shocks have cast a shadow over the resilience of China's food system, raising domestic and international concerns about the country's ability to feed its 1.4 billion population. 
Nevertheless, amid rising food security concerns, China's mild reaction toward Moscow's withdrawal from the Black Sea Grain Initiative – under which China has been the biggest recipient of Ukraine's agricultural exports – seems to be quite puzzling. To unpack this puzzle, it is necessary to examine the state of China's food security and its approach to safeguarding the country's food supply.
The Black Sea Grain Initiative and Its Impact on China 
Before the Russian invasion of Ukraine in February 2022, the two countries were ranked as the world's leading and fifth-largest wheat exporters, respectively, as reported by the Observatory of Economic Complexity. Both countries occupied significant positions as exporters of grain and edible oils, which are the bedrock of global food security. Notably, Ukraine alone contributed 40 percent of the global trade in sunflower meal, 35 percent of sunflower oil, and 5 percent of wheat, barley, and corn exports. Aside from being a major grain exporter, Russia is also a key supplier of potassium-based fertilizers, thereby exerting a substantial influence on global agricultural dynamics.
In July of last year, a significant grain agreement – the Black Sea Grain Initiative – was orchestrated by the efforts of the United Nations and Turkey, to help address the global food crisis precipitated by the ongoing conflict. Under the terms of this accord, Ukrainian agricultural products were permitted for export from three key Ukrainian ports: Chornomorsk, Odessa, and Pivdennyi/Yuzhnyi. In return, U.N. officials agreed to assist Russia in exporting agricultural products and fertilizer. Under this agreement, Ukraine shipped grain exports to 45 countries. 
Under the grain deal, China was the biggest single buyer of Ukrainian grain, having imported 8 million tonnes out of a total of 33 million tonnes. As such, multiple international news media suggest that Moscow's withdrawal from the Black Sea Grain Initiative would hurt China, suggesting that China would intervene. Indeed, Beijing has consistently emphasized food security and the Black Sea Grain Initiative in its response to the war, including in its formal position paper on a "political settlement." The paper declared, "All parties need to implement the Black Sea Grain Initiative … fully and effectively in a balanced manner."
Nevertheless, it's important not to overestimate the potential impacts of the grain deal on China's food supplies, lest we risk overlooking China's continued efforts to strengthen its food supply resilience both domestically and internationally.
Impact of the Black Sea Grain Initiative on China's Food Supply 
For Beijing, the suspension of the agreement has so far had limited domestic impact. To be sure, China has been the largest grain importer in the world. However, it should also be noted that it is concurrently the biggest grain producer as well as a major exporter. China's grain output, based on official Chinese statistics, has been above 650 million tonnes for seven solid years. 
Although China imported 147 million tonnes of grain in 2022, most of the imports – around 91.08 million tonnes of soybeans and 20.62 million tonnes of corn – were in the form of feed grains. Furthermore, China's soybean imports have fallen over the past two years, partly due to efforts to boost domestic production and reduce feed grain demand, and partly due to soaring prices and ongoing supply chain disruptions.
Additionally, the country's enormous wheat and rice imports reflect the large gap between domestic and international prices as well as structural imbalances. In 2022, China imported 10 million tonnes of wheat and 6 million tonnes of rice. However, using rice as an example, the country has a surplus of japonica rice yet a deficit of indica rice. To address this, China has sought to import indica rice from Southeast Asia and South Asia, while also exporting japonica rice to other countries. In 2022, the country's rice exports amounted to over 2 million tonnes. 
In addition to being the world's biggest food producer and a leading food exporter, China also has the world's biggest food reserve systems and a large foreign reserve holding. This huge domestic grain reserve can serve as a strong buffer against international supply disruptions, and with its deep foreign reserves China can afford to continue to import grain, even at higher prices. 
In the meantime, food inflation in China has remained relatively low in recent years. Notably, the country's food prices dipped 1.7 percent in July 2023 compared with a year ago, after a 2.3 percent rise in June. In particular, pork prices were down by 26 percent in July. This is in stark contrast to the high food inflation experienced in many countries, such as India, the United States, and various European countries. In other words, there have so far been fewer concerns about the social impact of rising food prices in China. 
In this light, the limited impacts of Russia's withdrawal from the Black Sea Grain Initiative, alongside China's geopolitical preferences, at least partially explains Beijing's low-profile reaction. In response to the Russian withdrawal, the Chinese Foreign Ministry merely expressed its "hope that parties concerned will properly resolve the international food security issue through dialogue and consultation." There was no specific demand for the deal to be resurrected.
Later, though, Zhang Jun, China's permanent representative to the United Nations, said that the grain agreement had had a "positive impact on maintaining global food security," and called for the immediate resumption of Ukrainian agriculture exports and Russian fertilizer exports.
China's Measures to Safeguard Its Food Security
While the short-term impacts of Russia's withdrawal from the grain deal on China's food supply appear limited, Beijing remains concerned about safeguarding its food security over the long term. Faced with pandemic-related disruptions, climate shocks, and an increasingly complex geopolitical environment, China has elevated food security to the highest level in terms of political priorities in recent years. 
In a further sign of President Xi Jinping's emphasis on food security as a "matter of national importance," a recent report from the State Council to the Standing Committee of the 14th National People's Congress proposed eight tasks to ensure national food security, including strengthening the country's food security system and capacity-building. 
First, China has taken various initiatives to boost its domestic food production. While the principle of self-sufficiency continues to underpin China's overarching food security strategy, there has been a discernible shift in focus. The goal has gone from achieving self-sufficiency in grains to ensuring basic self-sufficiency in cereals (wheat, rice, and corn) and absolute security in staple crops (rice and wheat). To support these measures, China has also implemented key policies and substantial financial resources to support both national and provincial food-production policies and strategies. These include increased pressure on local governments to bolster grain production efforts alongside the implementation of stricter rules regarding the protection and usage of farmland. 
Second, to boost domestic grain production and achieve relevant targets, China has heavily invested in various technologies, including agricultural biotechnologies, space seed breeding, agricultural autonomous systems, and artificial intelligence. More recently, China announced plans to expand its pilot planting of genetically modified (GM) corn and soybeans to help boost the domestic production of these crops.
Third, Beijing has launched a nationwide campaign to cut food waste as well as decrease soybean and corn use in animal feed, seeking to reduce demand for both food and feed grains. As noted above, the latter is particularly significant, as feed grains represent the bulk of China's agricultural imports.
Fourth, the Chinese central government is seeking to strengthen China's external food supply resilience through agricultural import diversification, particularly with Belt and Road Initiative (BRI) countries. Since 2013, China had forged agricultural cooperation partnerships with more than 90 countries and international organizations, inaugurated 650-plus agricultural investment projects worth $14 billion, established customs inspection and quarantine cooperation with 171 countries and regions, and signed nearly 400 international cooperation agreements on the access of agricultural and food products. These moves underpinned significant increases in the variety and volume of food trade between China and BRI countries. China's food trade with BRI countries reached over $139 billion in the first eight months of 2023, a 162 percent increase from the same period 10 years ago. 
 As part of this strategy, Beijing aims to expand its agricultural investments and food cooperation projects overseas and also create new supply routes. Amid worsening relations with the West, China has steadily been importing an increasing amount of agricultural products from friendlier countries (such as Russia, Kazakhstan, and various Eastern European countries), while also expanding agricultural investments in these regions. 
While Beijing's efforts to safeguard food security may have received much media attention, food security should also be a concern for advanced economies – after all, as food security is inherently part of national security. Rising food prices, exacerbated by export bans and climate change impacts, could lead to social, political, and economic instability, as recent examples show, with the potential to rebound even to those countries and regions able to source food from elsewhere.