India's Balancing Act Viewed Through Recent Military Exercises
India dabbles in opposing camps, for example, engaging in simultaneous military exercises with both the U.S. and Russia in an effort to balance its strategic interests.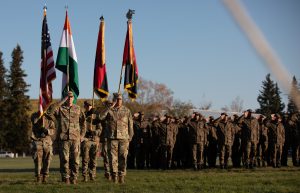 India has been trying to make sure that it has good relations with all major powers. This has become one of the key goals of Indian foreign policy. At the political level, India has been trying to make it work with the Quad as well as BRICS, the Shanghai Cooperation Organization (SCO), and many more minilateral partnerships in recent years. Extending this to military and security domains, India is again dabbling in opposing camps, engaging in simultaneous military exercises with both the United States and Russia, trying to balance its strategic interests. 
The annual India-U.S. military exercise called Yudh Abhyas is being held in Alaska from September 25 to October 8. According to a statement from the Indian Ministry of Defense, the 19th edition of the exercise involves an Indian army contingent of 350 personnel, led by the Maratha Light Infantry Regiment. The U.S. side includes the 1-24 Infantry Battalion of 1st Brigade Combat Team. This edition is centered on the theme, "Employment of an Integrated Battle Group in Mountain/ Extreme Climatic Conditions" under Chapter VII of the United Nations mandate and will involve both sides engaging in "a series of tactical drills to enhance interoperability" as well as exchange their experiences and best practices while deployed in U.N. peacekeeping operations.
As part of the field exercise, the two armies' engagement will include "validation of Integrated Battle Groups against hostile forces at the Brigade level, Integrated Surveillance Grid at the Brigade/ Battalion level, employment of Heliborne/ Airborne elements and Force Multipliers, validation of logistics and casualty management during operations, evacuation and combat medical aid and other aspects as applicable to High Altitude Areas and Extreme Climatic Conditions." The two sides will further engage in a command post exercise and expert academic discussions to talk through a range of issues from the field exercise. The Indian Army tweeted ahead of the exercise that "[t]he Exercise will entail exchanging best practices and enhancing interoperability to mutually learn from each other & strengthen the bond between the two Armies." 
Meanwhile, the Indian Army was out on another joint exercise, starting the same day. A small contingent of Indian troops is participating in a multinational exercise being held in Russia this year. An Indian Ministry of Defense statement said that 32 personnel from a battalion of the Rajputana Rifles have joined the ASEAN Defense Ministers Meeting (ADMM) Plus Expert Working Group (EWG) on Counter Terrorism Field Training Exercise (FTX) 2023. This is a joint military exercise that involves India's ASEAN partners. The current edition is being hosted by Russia, as a co-chair of the EWG, along with Myanmar.
The exercise from September 25 to 30 in Russia had an earlier session that involved a table top exercise of the ADMM Plus EWG on Counter Terrorism at Naypyidaw, Myanmar, from August 2 to 4. The exercise, which includes a series of counterterrorism drills, was meant to forge greater regional counterterrorism cooperation among the participating countries. 
While India values its relationship with the ASEAN countries, the exercise taking place in Vladivostok is strange in many ways. Even as India and China are still locked in a border conflict, the Indian Army and the Chinese military are participating in the six-day military exercise together. Given the current stalemate in the border talks and the worsening security equations between India and China, it appears somewhat odd that the two sides would work together on counterterrorism issues. In fact, Sino-Indian cooperation on counterterrorism has long been tricky because of China's approach of shielding Pakistan-based terrorist groups that have targeted India. China's antagonistic approach at the United Nations on counterterrorism issues of concern to India makes it unclear what New Delhi hopes to achieve with participation in such exercises.
It is also strange given the overall state of the India-Russia relationship, which used to be fairly stable and predictable. But increasingly, that relationship has seen serious stress, although New Delhi is in no mood to completely abandon Moscow. 
Military and strategic partnerships with the ASEAN countries, on the other hand, have assumed particular significance in the last few years, with the China factor driving closer security and military engagements between India and ASEAN countries. After being apprehensive for several years, India and ASEAN began joint military exercises earlier this year. India and several ASEAN countries individually conduct military exercise on a regular basis – in fact, the 30th edition of the Singapore-India Maritime Bilateral Exercise (SIMBEX) was concluded on September 28. These partnerships have become important in the context of the rapidly worsening geopolitics in the Indo-Pacific. 
Following the same logic, India has grown closer also to the United States and several U.S. partners, including Japan and Australia. Most recently, while addressing the press on the 13th Indo-Pacific Army Chiefs Conference (which India was hosting for the first time along with the U.S.), Indian Army Chief General Manoj Pande, without calling out China by name, referred to the kind of challenges posed by China, including "from territorial disputes over land masses, or in some cases even over artificially expanded islands to acquire real estate and establish military bases, [and] transnational threats of terrorism…" Characterizing the importance of land power as "decisive," Chief of Staff of the U.S. Army General Randy George highlighted the need to deepen "unity and collective commitment." 
A key aspect of India's strengthened relationships with its new partners is military ties. Over the two decades, India-U.S. joint military exercises, for instance, have grown in complexity and sophistication in terms of the kind of maneuvers undertaken by the two militaries. Given their shared perspective on the strategic consequences of China's rise and the broader Indo-Pacific strategic dynamics, the military-to-military relationship will likely continue to grow despite occasional irritants that creep into the relationship.