Pakistan Watches Closely as India Hosts G20 Summit This Weekend
Islamabad could ask its friends in the G-20 to ensure that the final statement is not hostile to Pakistan in any way.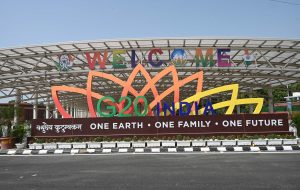 Pakistani officials are worried about the Group of 20 (G-20) summit that India is hosting in New Delhi on September 9-10. They are apprehensive that India will use the multilateral event to downplay the significance of the India-Pakistan conflict over Kashmir and try to legitimize its control over the disputed territory.
The summit holds immense significance as it brings together leaders from the world's major economies to discuss global issues related to climate change, economy, and development. However, Pakistani policymakers fear that instead of utilizing this platform to address pressing global challenges, India may exploit it as an opportunity to castigate Pakistan and escalate tensions ahead of the upcoming general elections.
In preparation for the major event, India convened a tourism working group meeting in the part of Kashmir it controls, which Pakistan and its long-time ally China opposed. India's Prime Minister Narendra Modi said on Sunday that G-20 meetings should be held in Kashmir and Arunachal Pradesh in spite of objections from Pakistan and China. "Such a question would be valid if we had refrained from conducting meetings in those venues. Ours is such a vast, beautiful and diverse nation. When G-20 meetings are happening, isn't it natural that meetings will be held in every part of our country?" he said.
Pakistan believes that India may attempt to use the Delhi summit to downplay alleged human rights violations in Kashmir. It is concerned too that with India holding the presidency of the G-20, it may leverage its influence to push for a joint press release targeting Pakistan.
Russian President Vladimir Putin and Chinese President Xi Jinping will not be attending the summit. While the Kremlin said that the Russian president will be unable to attend the Delhi event due to his "busy schedule," it is more likely that with the Russian invasion of Ukraine expected to be a talking point at the Delhi summit, Putin would have preferred to stay away.
As for Xi, while the Chinese Foreign Ministry has not provided a reason so far for his staying away, the decision must be seen in the context of the tense Sino-Indian relationship along their disputed border in Ladakh. It is being seen as a sign that China is unwilling to cede to India the prestige of having organized a successful G-20 summit. Putin and Xi will be represented by Russian Foreign Minister Sergei Lavrov and Chinese Premier Li Qiang respectively at the Delhi meeting.
In light of reports that Western nations are adamant about including Russia's invasion of Ukraine in the joint statement and Moscow asking India to remove the "Ukraine paragraph" from the statement, Pakistan may attempt to make it more difficult for India to secure a joint communique at the G-20 Summit.
Crown Prince Muhammad Bin Salman of Saudi Arabia is reportedly scheduled to visit Pakistan before going to India to attend the summit. Pakistan may utilize the Crown Prince's presence in Islamabad to generate headlines of its own emphasizing Pakistan's role in maintaining regional stability and the necessity of peaceful conflict resolution. Pakistan might also attempt to influence its friends, including China, Turkey, Saudi Arabia, and others, to play a more proactive role in shaping any G-20 forum statements that touch on terrorism and regional conflicts.
This raises questions about whether a joint statement will even be issued at all.
"We cannot allow India to divert attention away from human rights violations in Kashmir through big branding and international events like the G-20 summit," a security official told The Diplomat on condition of anonymity, adding that "if such tactics are allowed to succeed, they could undermine Pakistan's efforts to address these issues at the global level."
Amid these developments, Islamabad is also keeping an eye on the Indian Air Force's preparations for a major exercise that will take place this week close to the Pakistan and China borders. The drill is scheduled to take place from September 4 to 14, even as global leaders are in New Delhi on September 9–10.
The northern sector, which comprises Ladakh, Himachal Pradesh, Jammu and Kashmir, and Punjab is expected to host the drills. For Pakistan, the military exercise in the midst of a major multilateral event only shows India's belligerent attitude toward its neighbors.
The Pakistani official emphasized that "the world shouldn't allow India to use such events to promote hostility in the region."
"Western nations are concerned about including the Ukraine issue in the G-20 joint statement, but have overlooked the need to discuss Kashmir, a nuclear flashpoint that poses a far greater threat to world peace," he cautioned.