What Happened at the First-Ever Central Asia-US Leaders' Summit?
Biden met with Central Asian presidents on the sidelines of UNGA to discuss security, economic cooperation, and critical minerals.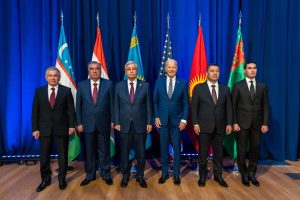 U.S. President Joe Biden met with the leaders of Kazakhstan, Kyrgyzstan, Tajikistan, Turkmenistan, and Uzbekistan at the United Nations General Assembly on September 19.
The summit represents a first for Central Asia-United States relations, as no U.S. president has ever met with these leaders in this format. High-level diplomatic meetings between the U.S. and Central Asia have historically been infrequent, in line with what political scientist Edward Schatz has called "hegemony from a distance." Relative to other global powers, the United States has tended toward a light footprint in Central Asia, even with renewed security interests in Afghanistan throughout the 21st century. 
2015 marked a shift in that "hegemony from a distance" with the establishment of the C5+1 format, which facilitates dialogue between the U.S. secretary of state and foreign ministers from the five Central Asian states. Recently, U.S. diplomatic visits have expanded beyond the secretary of state, which Catherine Putz identified as a reaction to Russia's large-scale invasion of Ukraine in February 2022. 
Biden didn't mention Russia directly at the summit, but his emphasis on territorial integrity in the region nods to Russia's border belligerence.
So if not Russia, what did Biden talk about with his Central Asian counterparts?
It wouldn't be a meeting about U.S. foreign policy without a discussion of counterterrorism, and Biden pledged to strengthen cooperation with Central Asia in this sphere as well as on border security and law enforcement. As of 2020, the United States had invested $90 million into border security, through trainings and the provision of vehicles and equipment to prevent the smuggling of terrorists, drugs, and weapons.
Economic relations also featured prominently in the summit. Biden spoke of the importance of facilitating trade with U.S. companies and private sector investment. The State Department previously reported that the private sector has "very, very conservatively invested over $31 billion in commercial ventures in the region." Central Asian countries are hungry for more investment and have been pushing bigger, flashier projects for foreign investment. Economic connectivity will remain a focus of Central Asian-U.S. diplomacy in 2023, with a C5+1 meeting in the region this October specifically about sustainable development.
Activist watchdogs may be disappointed by Biden's silence on human rights during the summit. Human Rights Watch had urged the United States to "put human rights at the center of planned talks," citing repressive laws across the region and a lack of accountability for violent crackdowns in Kazakhstan, Tajikistan, and Uzbekistan in 2022.
Instead, Biden underscored the importance of civil society advocacy for disability rights and women's empowerment. The White House readout specifies a commitment to women's economic empowerment, a significant distinction that narrows the focus away from more polarizing topics in feminist activism in the region. Both of these issues are relatively safe arenas for activism in the authoritarian environments of Central Asia, where reformist leaders want to present themselves as tolerant of dissent – so long as it's about non-threatening topics.
Perhaps the most surprising point of discussion was the proposed launch of a C5+1 Critical Minerals Dialogue. Critical minerals like chromium, copper, and lithium are needed for manufacturing clean energy technology.
Central Asian countries – especially Kazakhstan and Uzbekistan – have great potential to leverage their mineral resource bases for geopolitical gain, especially as the United States is eager to shed its dependence on China for minerals. China currently dominates the global critical minerals market, and it is the largest source of imports to the U.S. for 26 critical minerals. A C5+1 dialogue focused just on mineral wealth stands to be mutually beneficial for all participants.
However, it's not a done deal yet. Biden noted only that "we are also discussing the potential for a new critical minerals dialogue." Given the importance China also attaches to the critical minerals sector, close cooperation with the United States may be politically difficult for Central Asian states.
The only potential hiccup is in the optics. Biden posted a photograph commemorating the historic summit on Twitter, but the photo he used leaves out Turkmenistan's new president, Serdar Berdimuhamedov.
Given that Berdimuhamedov only recently replaced his father as president, the White House's choice of photograph may rankle Ashgabat. Summits are largely performative pieces of foreign policy, ones where the visual details and photographs matter a lot (think of the grandeur of the red carpet that greeted Central Asian leaders on a diplomatic visit to China this May). It would be a shame, though, for a social media beef to outshine what was otherwise a substantively successful meeting.