Will We Soon See a Central Asia-US Leaders' Summit?
If Biden does indeed meet with the Central Asian presidents in New York on the sidelines of UNGA it will be with both Russia and China in mind.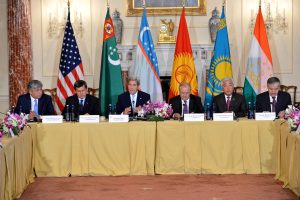 In the last year, there's been a steady stream of U.S. officials filtering through Central Asia. Assistant Secretary of State for South and Central Asian Affairs Donald Lu stopped in Kyrgyzstan and Tajikistan in April, followed that same month by Assistant Secretary for Terrorist Financing and Financial Crimes Elizabeth Rosenberg from the Treasury Department, and the Commerce Department's Assistant Secretary for Export Enforcement Matthew S. Axelrod. This week, Michigan Senator Gary Peters, chairman of the U.S. Senate Committee on Homeland Security and Governmental Affairs paid visits to Kyrgyzstan and Kazakhstan.
It was during Peters' stop in Kazakhstan that a bit of news broke: Kazakh President Kassym-Jomart Tokayev, according to a Kazakh readout of the meeting, "expressed gratitude to President Joe Biden for his personal invitation to participate in an inaugural C5+1 Leader's Summit on the sidelines of the U.N. General Assembly, which will be held in September." 
A Brief History of the C5+1
The C5+1 has for almost a decade now brought together the foreign ministers of the five Central Asian countries — Kazakhstan, Kyrgyzstan, Tajikistan, Turkmenistan, and Uzbekistan — with their U.S. counterpart. In November 2015, then-Secretary of State John Kerry became the first secretary of state to visit all five Central Asian countries in one trip, a jaunt that began with his bypassing Uzbek capital Tashkent (and the country's deeply problematic President Islam Karimov) to meet with the Central Asian foreign ministers in the ancient city of Samarkand. The new format had been previewed in September that year, when Kerry met with the region's foreign ministers on the sidelines of the U.N. General Assembly. In 2016, the C5+1 met in Washington in early August. 
Then there was a change of administration, and although the C5+1 platform chugged along it was diminished in part by repeated absences of top U.S. diplomats.
The Central Asian foreign ministers met with Donald Trump's first secretary of state, Rex Tillerson, in September 2017 on the sidelines of UNGA. Earlier in the year, a C5+1 branded security working group met in Dushanbe, but below the minister level.
In July 2018, the C5+1 met again in Uzbekistan — this time in Tashkent, under new leadership — but without the U.S. secretary of state. Tillerson had been replaced earlier in the year by Mike Pompeo, but the U.S. delegation was led by Acting Deputy Assistant Secretary of State for Central Asia Henry Ensher. The group gathered in the Kazakh capital — in its brief Nur-Sultan days — in August 2019, where once again, the U.S. secretary of state was absent from what was branded a "C5+1 High-Level Security Discussion." On the sidelines of the UNGA that year, Pompeo finally hosted his first C5+1 meeting.
Then came 2020. Before the year went off the rails due to COVID-19, Pompeo made the trek to Central Asia where he met his regional counterparts in Tashkent on February 3.
In 2021, a new U.S. administration took up the C5+1. The group met with new Secretary of State Antony Blinken virtually in April 2021. An in-person meeting was held in July that year, with the U.S. delegation led by Deputy National Security Advisor Elizabeth Sherwood-Randall.
In 2022, U.S. interest in Central Asia was transformed by the war in Ukraine. The C5+1 met on the sidelines of UNGA once again and by November the United States had announced a new $25 million economic initiative focused on the region.
Other Ones-Plus-the-C5
The United States did not invent the concept of the C5+1 (that honor seems to belong to Japan, which started its "Central Asia + Japan" dialogue in 2004), but Washington did make it a platform to replicate. And it's not hard to grasp why: External powers find it easiest to deal with Central Asia as a region. 
But the United States' great power rivals, China and Russia, moved to trump U.S. efforts by soon elevating the format to the presidential level. In 2020, China held its first (virtual) C5+1 meeting of foreign ministers, but the next year — in January 2022 — Beijing kicked the meeting up a notch and took it presidential, albeit still virtually. In May 2023, however, the five Central Asian presidents — Kazakh President Kassym-Jomart Tokayev, Kyrgyz President Sadyr Japarov, Tajik President Emomali Rahmon, Turkmen President Serdar Berdimuhamedov, and Uzbek President Shavkat Mirziyoyev — traveled to Xi'an, where Chinese leader Xi Jinping rolled out the red carpet. (Both literally and figuratively: there was a red carpet, though I doubt Xi unrolled it personally).
Although Russian President Vladimir Putin sees his Central Asian counterparts on the sidelines of several other shared forums — some under the auspices of the Collective Security Treaty Organization (CSTO), others with the Shanghai Cooperation Organization (SCO) — in October 2022 Moscow proclaimed its hosting of the "first Russia–Central Asia Summit" in Astana, the Kazakh capital.
Elevating the C5+1?
Earlier this summer, while in Bishkek, a student at the OSCE Academy asked me if there was any chance that a U.S. president would meet with all five Central Asian presidents as Xi and Putin had done. I had my own answer: that it was unlikely beyond the sidelines of UNGA, as no sitting U.S. president has ever even visited the region — other than Afghanistan — and there are complicated political dynamics to the optics of such a gathering. Still, I asked U.S. Ambassador to Kyrgyzstan Lesslie Viguerie the same question. He dodged it diplomatically, stating, "There's always a chance. But that is really a White House decision."
If the Kazakh president's comments are anything to go by, it seems the White House has made a decision: that the time has come for a U.S. president to sit down with his Central Asian counterparts.
The Biden administration has not announced such a plan, to be clear. That said, it seems unlikely Astana would state such a thing so openly if it wasn't in the works.
The logistics and politics are tricky. Central Asian presidents do not often travel to the United States. It's a long trip and the political distance is even greater. No Central Asian president has been invited for a state visit, for example, the optics of which would be heavily scrutinized. Kazakh presidents have made the most visits to the U.S., but these have largely been "working visits" or for other specific purposes, such as NATO's 50th Anniversary Summit in 1999 or the Nuclear Security Summit in 2010. When Central Asia presidents do physically travel to the United States, it is almost always to attend the U.N. General Assembly — and all five do not come every year.
As Washington continues to seek ways to bolster Ukraine, nothing is more important than marshaling international solidarity behind Kyiv's fight against Moscow. As we've covered in great detail, the states of Central Asia are in an admittedly difficult position, trapped geographically and politically between Russia and the rest. But as Central Asian capitals have sought to walk the tightrope of neutrality regarding the war, the rope is getting thinner and the wind is picking up. Central Asian publics are sharply divided over the war in Ukraine, while governments see economic suicide in rocking Russia's boat too much.
The West has been understanding, to a point. Last summer, the United States slapped secondary sanctions on an Uzbek company for its part in circumventing sanctions on Russia; this summer it did so on Kyrgyz companies for the same reason (a Kazakh company was also sanctioned, but for ties to a defunct Russia-North Korea arms deal.)
Then there's China. If Russia's war in Ukraine is undermining its relations with Central Asia, China stands ready to be a strong, stable partner. Beijing's gains aren't necessarily Moscow's losses, given the synergy in ideological approach to the international order between Russia and China. But it could be a missed opportunity for the United States and Europe, if they don't seize on this moment to deepen engagement with Central Asia at a time that the region faces a whole host of difficulties, many of them economic.
And so, if Biden does indeed meet with the Central Asian presidents in New York, it will be with both Russia and China in mind. It would be a mistake, however, for Washington to frame U.S. engagement with Central Asia in such starkly geopolitical terms, ignoring regional interests and concerns. The nuances matter, and no country wants to be viewed as merely a tool to solve a bigger problem.