Australians Vote on a Voice for First Nations Peoples
Although the referendum's suggested change would be small, the campaign against it has grown on the back of misinformation, lies, and a deep well of racism. Supporters are preparing for it to fail.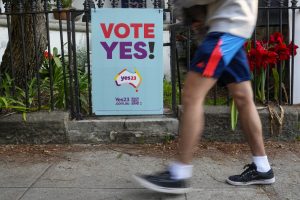 The result of Australia's first referendum in 24 years, taking place on October 14, may mean a modest change to the constitution granting First Nations peoples – the oldest continuously living culture in the world – recognition and an advisory Voice to Parliament. But the measure very well may fail. 
Some of this is down to the Australian psyche. As my colleague Grant Wyeth noted last month, Australians are a conservative nation politically. The critical view of the nation is that it was colonized by prison guards in 1788 and its populace has remained rule-abiding ever since.
However, the referendum campaign hasn't been one of intellectual debate. It hasn't been one based around the weighing up the pros and cons of – by the even the most conservative of estimates – a very slight change to the constitution that, in theory at least, would start to help close the horrific gap in nearly every metric for Indigenous Australians. 
Instead, it has been a campaign of lies, misinformation, and political wrangling that has left the country shamefully exposed to its own racial problems.
The Liberal/National Party coalition have been firm in their stance against the Voice. The members who have defied the party and honorably campaigned for the Voice have been castigated. Both parties have argued that they don't like the proposal that was put forward, but this would require people to forget that the National Party formally rejected the proposal in November 2022, and the Liberals in April this year – both before Labor even officially announced the Voice proposal. It is hard not to take the view that they were never inclined to accept it, no matter its content.
Former Liberal Minister for Indigenous Australians Ken Wyatt, whose mother was a member of the Stolen Generation, quit the party in April, saying that a failed "Yes" vote would only confirm what he said he knew to be true: that internationally, people viewed the increasingly conservative Liberal party to be racist and that the Liberals were putting forward arguments that "are not factual."
He said one woman told him that a "No" vote would be felt personally. 
"…After 72 years of contributing to Australia, she said, I personally will take it as rejection," he recounted. 
This week Wyatt went a step further, criticizing opposition leader Peter Dutton, with Guardian Australia reporting that he believed his former party was using "Trumpian" and "fearmongering" tactics. 
"Some of the tactics are copybook out of America. The fake news, the statements of 'you'll end up paying Aboriginal people, you'll lose land, you won't be allowed to do this,'" he said.
Take for example, a press conference held in Perth on October 3, where Dutton cosplayed a barista, before saying that if the Coalition were voted in, "there will be improvements made for people living in Indigenous communities like Alice Springs." This despite nine years of Coalition rule before last year seeing little to no improvements in Indigenous outcomes, and Wyatt saying Dutton has rarely talked to him on such issues. 
Dutton has at times criticized "elites" for donating money to the "Yes" campaign. He has claimed the apolitical Australian Electoral Commission was assisting the "Yes" campaign and that the entire campaign was dividing Australia. 
It was a vapid comment, divorced from the reality of Australia's history. Indigenous peoples existed in Australia for 65,000 years, but were murdered en masse in the frontier wars, taken from their homes to be assimilated, and even today are still subjected to racial over-policing. For these communities, there was never anything but division; to state otherwise is sadly or willfully wrong. 
Long-time Indigenous leader Noel Pearson, who has led the campaign valiantly, seemed to have conceded this week that the result would be a "no."  With polling showing his efforts becoming more and more futile, Pearson said he feared "for the future of my people" if the referendum failed, and said he would walk away from reconciliation advocacy. 
"What I do know is I'll never be an advocate for conciliation and compromise again, for trying to find a middle path," he told Guardian Australia. "I'll follow the new leadership that will emerge. It will become time for a new leadership to chart a direction."
He lamented that Australia was a "hard country," and he was fearful of having to tell his fellow First Nations people "the faith I implored them to place in white Australia was misplaced."
As a journalist who reports on First Nations issues, I am fortunate to talk to some of the kindest people, with a diverse range of views – much like any group of people. 
In the First Peoples' Assembly, an independent and Indigenous parliament in Victoria that talks directly to the Victorian state government, there are some who view the Voice as not going far enough – a common enough view for what is an incredibly minor alteration. 
It is so minor, in fact, that conservative constitutional lawyer Greg Craven wrote in The Australian a few weeks ago that the idea of a non-binding advisory body was designed almost entirely to appease conservatives. "Frankly, the voice is a proposal so pathetically understated that I'm amazed most Indigenous people are settling for it… after all, I helped design it as something so modest that no reasonable non-Indigenous Australian could reject it. More fool me," he said. 
However, the overwhelming view is hopeful that the opportunity the Assembly has in Victoria to have direct dialogue with the government can be replicated nationally. 
Reuben Berg, Gunditjmara man and co-chair of the Assembly, told me how difficult the entire campaign had been for First Nations people. 
"Every time we put our voice out there, to have so much negativity come back and have to try and deal with so much misinformation and disinformation; every time our community comes out and says something about this really important initiative, it's really quite overwhelming at times for our community," he said.
Misinformation swirling around the referendum has been fueled by a media that seems to operate exclusively on shock value. 
Sky News – the media arm of Murdoch's News Corp – has excelled at this specifically, with up to 70 percent of their coverage being "anti-Voice."
Andrew Bolt, who in 2011 was found guilty of breaching the racial discrimination act, has at times – without evidence – said the Voice proposal would form an Aboriginal nation and claimed the referendum will start apartheid in Australia.  His fellow Sky News host and chief-of-staff to former Prime Minister Tony Abbott, Peta Credlin, led a concerted campaign to try and prove that the "Yes" campaign lied and attempted to divide the nation.
Both hosts, who garner low viewer numbers but maintain a strong influence in Australian politics, are the equivalent of a one-time Hollywood actor who now appears on the lowest rated soap opera, trying desperately to stay in the spotlight. 
Influential political journalist Nikki Savva, who lays claims to having as many politicians speak on the record to her as Bob Woodward, didn't hold back in her views of the "No" campaign. 
"In the post-mortems which will inevitably continue for decades, we can and we will blame No campaigners for playing filthy dirty, for putting politics above everything else, for using loudhailers to whistle up the neo-Nazis, racists, and bigots with lies and misrepresentations," Savva said.
The saddest thing about this referendum is that most Aboriginal people want it – even if it is a very modest proposal – but it will have no real influence or impact on non-Indigenous people. So denying it comes down to a fear that shouldn't exist and has no rational basis. 
This has only been exacerbated by misappropriation of everything to cause fear. 
Victorian Aboriginal Community Controlled Health Organization (VACCHO) CEO and Gunditjmara woman Aunty Jill Gallagher told a story on Thursday at a press conference I attended. Like she noted in an interview with Luke Hunt published by The Diplomat, non-Indigenous Australians should not feel any guilt about past atrocities committed against Aboriginals and Torres Strait Islanders. But they do have the chance to make a change.
Her mother, born in 1926, survived having six of her ten children removed, "not because she was a bad mum. It was just because she was black." She "grew up without hope, and hope is such a powerful medicine."
"Please vote yes, because that hope is such a powerful thing, and you can do that," she said. 
Perhaps, naively, many "Yes" voters in Australia believed that the country was mature enough to have a conversation without slogging through a torrent of lies, misinformation, and name-calling. These lies – that the country will be divided by race if people vote yes (it won't) – tap easily into a deep well of racism that exists in Australia. 
Perhaps the saddest thing is how easily people believed this story would be different after 230 years of it being the same.