Bolivia Lithium Contracts Make It Complicit In China's Uyghur Abuses
Chinese firms involved in extracting the country's large reserves of the vital mineral have well-documented links to forced labor and other abuses in the Xinjiang region.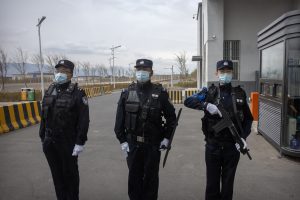 It has been well established that China's lithium processing sector is deeply connected to the abuse of ethnic Uyghurs in the Xinjiang region. The current largest supplier of this mineral is the Bolivian government, which has handed Chinese conglomerates large stakes in raw lithium extraction, which will then be processed in China and used to manufacture electric vehicle (EV) batteries and other products.
Currently, Bolivia's lithium reserves stand at 21 million tons, by far the largest exploitable lithium reserves in the world. China possesses the overwhelming majority of the industrial capacity and technology needed to process these reserves and now owns the extraction rights for the largest Bolivian lithium sites, including the Uyuni Salt Flat in the department of Potosí, the single largest lithium deposit on Earth.
A large chunk of China's lithium processing and product manufacturing facilities are located in the Xinjiang Uyghur Autonomous Region (XUAR), where China has been credibly accused of the mass internment and forced labor of Uyghurs and other minority groups. The lithium plants are documented to use forced labor, mostly from the Uyghur Turkic Muslim ethnic and religious minority group.
In state-sponsored labor transfers, tens of thousands of Uyghurs are coercively recruited by state agency labor recruiters and sent to farms and factories in Xinjiang and other regions of China. Sectors such as mining, farming, and manufacturing are tainted by Uyghur forced labor, which is then tied to global supply chains.
The Chinese company Contemporary Amperex Technology Co., better known as CATL, is the global leader in lithium-ion battery development and manufacturing. It was the largest company included in the Bolivia-China lithium extraction deal, representing a 66 percent stake in the total $1.4 billion deal for China. CATL is one of the most significant manufacturers of lithium-ion batteries, producing about 35 percent of the world's EV batteries.
As the deal between China and Bolivia was signed, CATL subsidiary Zhite New Materials won the rights to exploit a lithium mine in Xinjiang. Uyghur forced labor has been shown by the Canadian government to be used to mine critical minerals, including gold and lithium, in Xinjiang. CATL also has indirect ownership of Xinjiang Zhicum Lithium Industry Company, which has been accused by the U.S. Congress of using forced labor. Ford was recently called out for signing a deal with CATL due to its link to Uyghur forced labor.
Materials mined in Xinjiang for lithium batteries, including nickel and cobalt, also have connections to forced labor, including child labor. Previously, the Bolivian government had contracted Xinjiang TBEA Group to test its lithium brine for impurities. The company has various facilities in the XUAR, where some 300 Uyghurs have been forced to work through coercive recruitment.
Other manufacturers in China will also be using Uyghur forced labor to process and manufacture Bolivian lithium into batteries. Xinjiang Asia-Europe Rare Metal Company controls 20 percent of China's lithium production capacity and is accused of participating in China's state-sponsored labor transfer program. Its parent company, Xinjiang Nonferrous Metals Group, has also created locked-down training programs for the workers compelled to participate in the program. They are both located in the XUAR. A number of mining and manufacturing companies in Xinjiang, which produce and supply the largest car and electronics manufacturers in the world with lithium-ion batteries, are also accused of using Uyghur forced labor.
These deep ties between the Bolivian government's billion-dollar lithium contracts and Xinjiang-based production, processing, and manufacturing companies make clear that the Bolivian government is complicit in the forced labor and oppression of China's Uyghur minority.
In response to these claims, the Bolivian government has remained silent. Bolivian government officials also did not respond to our requests for comment. However, Bolivia remains one of the few signatories to a Chinese-sponsored statement to the United Nations Human Rights Council claiming that the proposed investigation of Uyghur mistreatment represents "an existing trend to western polarization and politicization of human rights." Other signatories of the statement include Cuba, Venezuela, Nepal, Russia, and Eritrea, all close partners of Beijing.
China denies all allegations of abuses against its Uyghur population and has instead called on the U.N. to investigate alleged Uyghur abuses. China's wish comes despite its repeated efforts to block U.N. Security Council and General Assembly resolutions. China has also harassed journalists and researchers attempting to cover the issue in China, and detained and deported observers who got too close.
There is much that can be done in response to this appalling business partnership. The Bolivian public should be concerned about how its governing representatives are using taxpayer money to exploit their country's largest resource, which is being commercialized, in part, by forced labor by an oppressed ethnic minority group in China.
The U.S. has taken some action against forced labor by expanding legislation aimed at removing it from U.S. supply chains. Just last month, the U.S. expanded the Uyghur Forced Labor Prevention Act to include lithium-ion batteries among the goods prohibited for import to the U.S. This step ensures that lithium-ion batteries that use lithium extracted in Bolivia and processed in Xinjiang under Uyghur forced labor conditions cannot enter the U.S. market. This comes as the EU and other countries ramp up import restrictions for products made with forced labor, including lithium-ion batteries.
Still, while minor measures have been taken against Western companies connected to Uyghur forced labor, these abhorrent commercial practices continue, with Western countries and consumers profiting from the low labor costs. Sanctions against actors and groups involved have not restricted illegal commerce from Xinjiang, and low penalties against forced labor practices do not discourage companies from engaging in it.
In response, the Bolivian people should ask their government for more transparency on its foreign investment dealings, particularly with lithium and China. A copy of the investment agreements with Chinese and Russian companies, including CATL, Zhite New Materials, and Uranium One Group, should be promptly published for the public to see, in accordance with the Bolivian Plurinational Constitution.
The same could be done for other critical minerals in Bolivia, including gold, silver, and nickel, which also implicate foreign extractive companies. Transparency could also be demanded by other countries in the Lithium Triangle, namely Argentina and Chile, as their lithium extraction deals may also very well be tainted by ties to Uyghur forced labor in Xinjiang. Argentina is currently in talks with Zijin Mining Group, a Chinese company with operating sites in the XUAR, for a lithium battery manufacturing deal. Chile, however, has opted to nationalize its lithium, a decision that has been extensively criticized by the Chinese government and state media.
In the past, complaints about corruption and abuse on Chinese-run mining sites in Bolivia have been suppressed by the companies. As the lithium extraction process is only beginning, further transparency and accountability to ensure human and labor rights are respected will be needed in future extractive activities.