During Australia Visit, Fijian Prime Minister Calls for 'Ocean of Peace'
Rabuka said Fiji was "more comfortable" dealing with nations like Australia, taking a measured tone and notably shifting Fiji further away from entanglement with China.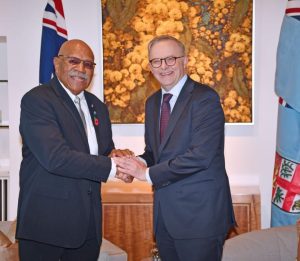 Fiji's Prime Minister Sitiveni Rabuka called for the Pacific Ocean to be an "Ocean of Peace" amid a visit to Australia this week in which he seemed to edge Fiji further away from China.
Rabuka, a former senior military commander who led two coups in 1987, said in a speech at the Lowy Institute that he was no longer a "Rambo figure," saying he noticed in his reading of the Bible that "blessed are the peacemakers."
"Many years ago, I became a convinced democrat … and now this democratic politician will do what he can to be an apostle of peace," he said. "It's because I have repented; I am reborn. My past cannot be removed, but I can compensate to some extent for what I did."
His comments come during a tour of Australia where he has belied his strongman reputation and presented himself as a dove, vowing to maintain his nation's sovereignty and avoid action "that may jeopardize regional order and stability."
"I know that it is naïve to believe that can happen, but that's the way we must conduct our domestic affairs so that we do not appear to be aggressive in our relationship with our neighbors and also with our friends that we have had cordial international bilateral relationships with," the Fijian prime minister said.
Rabuka reiterated his intention to scrap a policing deal with China and allow Fiji to "go back to its traditional and comfortable relationships of the past." 
The policing deal "has been put on hold. Particularly because of the differences in our systems of policing and investigations and our legal system," he said to the ABC.
In a pointed critique of China, Rabuka also stated that his island nation would not take any aid that came with strings attached. 
"Unfortunately, some aid donors expect us to be compliant, to submit to their demands, so we have to be very, very careful, even at the risk of being [asked] why should you be looking a gift horse in the mouth," he said. "Sometimes we'll do that to make sure that we're still in control of our own situation."
His speech outlined the "zone" or "Ocean of Peace," which while still in its embryonic stage – as acknowledged by Australian Prime Minister Anthony Albanese – could involve Pacific Island nations agreeing to refrain from jeopardizing the international order and simultaneously "maintaining respect for each other's sovereignty and territorial integrity."
"We would like to develop the concept of a Zone of Peace and the concept of friends to all, enemies to none," he said to reporters during a joint press conference with Albanese. 
Rabuka also suggested that the "zone" could involve Pacific nations with military forces doing more heavy lifting to help regional states deal with internal issues. He pointed to Fijian forces playing a role in managing the escalating tribal conflicts in Papua New Guinea. 
If Pacific nations could agree to this new sphere of governance, Rabuka argued the concept could help moderate the behavior of larger, international powers, as well as set a powerful example to the world currently involved in large-scale conflicts in Ukraine and Gaza. 
The idea is likely to be discussed further at the Pacific Islands Forum in the Cook Islands next month, following on from the Fijian prime minister raising it at the United Nations in August. 
During a joint press conference on Wednesday, Australia pledged AU$68 million in budget support, as well as agreeing to the sale of 14 bushmaster armored vehicles for Fijian peacekeepers. 
"Both of us agree that Pacific unity is central to the relationship in our region," Albanese said. "And Fiji plays a critical leadership role. And I want to single out the prime minister for the role that he played in ensuring that the Pacific Island Forum is more united, to make sure that all countries are working together."
Australia has also pledged to support Fiji's efforts to launch a new ePassport by providing early access to "new mobile technologies." 
Since being elected leader last year, Rabuka has re-aligned himself with Australia and New Zealand, and moved Fiji away from China. On Wednesday, he was pointed in his reasoning, noting Fiji was "more comfortable" dealing with nations like Australia. 
"We have similar systems of government, our democracies are the same brand of democracy coming out of the Westminster system of parliament and based on British law that we inherited," he said. "So, our justice system, our policing system, we're more comfortable with friends that we have had over a longer period."
There remains tension over Western nations' lack of meaningful action around climate change, which Fiji has led the charge in rectifying. Rabuka adopted a measured tone in Canberra, however, and backed Australia's push to co-host the United Nations Conference of the Parties summit on climate change with Pacific nations in 2026. 
He called for restraint on the comments of some other Pacific nations, who have argued Australia has not done enough to mitigate climate change in the region. 
"Which of the COP hosts have done enough? None. What we have to do is talk with them while hosting it," he said.
"I would encourage the Oceania region and leaders of Pacific Island Forum, let us support Australia. It's the only time we can bring the world to us … that will resonate with the rest of the world."