East Asian Tensions and the Lessons From Hanoi
Vietnamese diplomacy offers some useful reminders for key actors in a troubled region.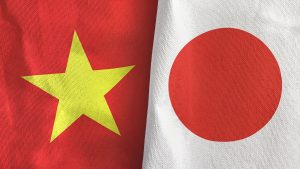 In September, Hanoi celebrated the 50th anniversary of the establishment of diplomatic relations between Japan and Vietnam. Marking the occasion, I delivered my first ever lecture in Vietnamese at the Vietnam Academy of Social Sciences. What follows is an outline of that lecture.
The Japanese government normalized diplomatic relations with North Vietnam three years prior to the unification of North and South Vietnam, when the Vietnam War was still very much ongoing. Looking back, it was an astonishing achievement of "independent diplomacy." It is precisely because of the courage mustered back then that Vietnam has become a valuable friend of Japan. Vietnam remains a one-party communist dictatorship, but it has deepened its cooperation with Japan in the domains of security and policing. The two countries' interests are aligned over a wariness about an increasingly powerful China, allowing them to overcome differences in their political systems.
Also in September, U.S. President Joe Biden visited Hanoi and agreed with the General Secretary Nguyen Phu Trong of the Communist Party of Vietnam to upgrade the relationship to a comprehensive strategic partnership. Vietnam is now approaching the former "American Empire" in the same way it does China and Russia. Along with the economic development that has resulted from the Doi Moi policy, there is something quite remarkable about Vietnam's "omnidirectional diplomacy."
A breakthrough came with the second U.S.-North Korea Summit in February 2019. Hanoi was chosen as the host, a clear sign that Vietnam had earned the trust of both the United States and North Korea. North Korean leader Kim Jong Un engaged in historic "denuclearization" negotiations with the hope of having economic sanctions lifted and normalizing diplomatic relations with the United States. The effort ultimately failed as neither side was willing to compromise.
The cost of the failure is now evident. North Korea is pushing forward with arms development without showing any signs of wanting negotiations with the United States. Kim chose Russia as his first international destination in four years and five months. At the summit meeting with Russian President Vladimir Putin, the two leaders were apparently in full agreement on "anti-imperialism" announced military cooperation in a common struggle against the United States.
The sudden warmth between Russia and North Korea reflects mutual needs, attributable to Russia's isolation after its invasion of Ukraine and North Korea's economic exhaustion and failure to successfully launch military reconnaissance satellites. North Korea has referred to "ever-lasting strategic relations," but the reality is that relations were strained for years after the Cold War, with Putin noticeably cool during his last meeting with Kim. As such, predicting how long this "New Cold War" setup will last is difficult, given factors such as a possible change of administration in the United States.
In response to the strengthening military cooperation between Russia and North Korea, Japan, the United States, and South Korea not only need to discuss defense systems but also try diplomatic approaches. Unlike Russia, North Korea is a country that struggles to be self-sufficient, meaning that there is some scope for dialogue. It is worth noting that, ahead of its meeting with former U.S. President Donald Trump in Hanoi, North Korea suspended ballistic missile tests entirely.
Japan and North Korea have a very long way to go before they can normalize diplomatic relations, given a range of issues such as nuclear weapons, missiles, and the abduction of Japanese nationals. Yet there have been successes in the past, such as when former Prime Minister Koizumi Junichiro visited North Korea in September 2002 and had then-North Korean leader Kim Jong Il admit to, and apologize for, the abduction of Japanese citizens, also bringing back five victims. Extracting an apology from North Korea's supreme leader is quite a feat of "independent diplomacy."
With the situation in Northeast Asian becoming increasingly unstable, the key actors would do well to draw some lessons from Hanoi. There seems little doubt that if Kim had made even a small concession to the United States in Hanoi, some sanctions would have been lifted. North Koreans might even have been able to experience real economic development, perhaps with the diversion of funds it spends on its military.
The same holds true for the United States. During Trump's sojourn in Hanoi, revelations by his former confidant Michael Cohen suddenly surfaced. They made Trump so nervous that he felt he had to portray himself as a strong leader by storming out rather than reaching a compromise with Kim. As a result, Pyongyang has now given up on reconciliation with Washington and fully supports Putin's invasion of Ukraine.
Fifty years ago, Japan established diplomatic relations with North Vietnam, seeking to set itself apart from the United States amid the Vietnam War. Today, the outstanding issues in Japan-North Korea relations have deteriorated to such an extent that they cannot be resolved by pressure and sanctions alone. There is a need for diplomatic solutions through bold political initiatives. Now is the time to remember the "lessons from Hanoi."